Join us as we explore the world of entrepreneurship. Ymunwch â ni wrth i ni archwilio byd entrepreneuriaeth.
About this Event
Feed your curiosity!
Bwydwch eich chwilfrydedd!
You've probably been told that we all need to be more entrepreneurial to tackle the challenges of the 21st Century, you may even see yourself as an entrepreneur, but what exactly do we mean by entrepreneurial, or to be an entrepreneur?
Mae'n debyg y dywedwyd wrthych fod angen i ni i gyd fod yn fwy entrepreneuraidd i fynd i'r afael â heriau'r 21ain Ganrif, efallai y byddwch hyd yn oed yn gweld eich hun fel entrepreneur, ond beth yn union ydyn ni'n ei olygu wrth entrepreneur, neu i fod yn entrepreneur?
Join us as we meet 15 inspirational people, business founders and heroes. Each week we will also explore one characteristic that makes up the way entrepreneurs think and act. We will help you to learn how you can increase your ability to be more entrepreneurial, and what this will mean for you, whether you want to start a business, get a meaningful job or transform the world in which we live.
Ymunwch â ni wrth i ni gwrdd â 15 o bobl ysbrydoledig, sylfaenwyr busnes ac arwyr. Bob wythnos byddwn hefyd yn archwilio un nodwedd sy'n ffurfio'r ffordd y mae entrepreneuriaid yn meddwl ac yn gweithredu. Byddwn yn eich helpu i ddysgu sut y gallwch gynyddu eich gallu i fod yn fwy entrepreneuraidd, a beth fydd hyn yn ei olygu i chi, p'un a ydych am ddechrau busnes, cael swydd ystyrlon neu drawsnewid y byd yr ydym yn byw ynddo.
Each session is split into two sections; an opportunity to hear from someone who has walked the walk and is running their own business followed by an interactive workshop to get you thinking about how you can develop and use new skills.
See below for details of each week.
Rhennir pob sesiwn yn ddwy adran; cyfle i glywed gan rywun sydd wedi cerdded y daith ac sy'n rhedeg ei fusnes ei hun ac yna gweithdy rhyngweithiol i'ch annog i feddwl sut y gallwch ddatblygu a defnyddio sgiliau newydd.
Gweler isod am fanylion bob wythnos.
This series of online events is being delivered in collaboration with all 27 Welsh FE and HE institutions and Big Ideas Wales and is open to any student from participating colleges/universities.
Cyflwynir y gyfres hon o ddigwyddiadau ar-lein mewn cydweithrediad â holl sefydliadau AB ac AU Cymru ynghyd â Syniadau Mawr Cymru ac mae'n agored i unrhyw fyfyriwr o'r colegau / prifysgolion sy'n cymryd rhan.
This event will be delivered using Zoom - registered attendees will receive an email by 10am on the day of the event with the relevant link.
Cyflwynir y digwyddiad hwn ar-lein gan ddefnyddio Zoom - bydd mynychwyr cofrestredig yn derbyn e-bost erbyn 10am ar ddiwrnod y digwyddiad gyda'r ddolen berthnasol.
Workshops will primarily be delivered in English with live Welsh interpretation available. Occasional workshops will be delivered in Welsh with live English interpretation.
If you attend multiple events from this series we will award you with a digital certificate to add to your CV or your linkedin profile.
6 events - Bronze
9 events - Silver
12 events - Gold
Os ydych chi'n mynychu digwyddiadau lluosog o'r gyfres hon, byddwn yn dyfarnu tystysgrif ddigidol i chi i'w hychwanegu at eich CV neu'ch proffil LinkedIn.
6 digwyddiad - Efydd
9 digwyddiad - Arian
12 digwyddiad - Aur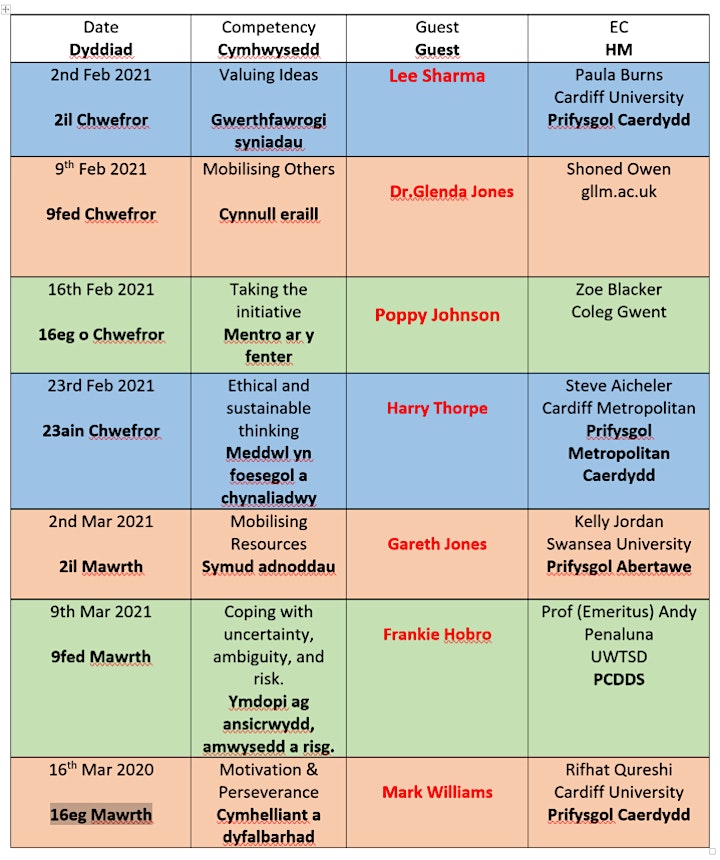 Week 9; Lee Sharma
Lee is CEO of Simply Do Ideas, an award-winning, B2B platform reducing the time, cost and risk of innovation. The product has been featured by the likes of Forbes and Huffington Post and used internationally across sectors including education, public services and engineering. Use cases range from employee idea capture through to fully-managed, global innovation marketplaces. Prior to Simply Do Ideas, Lee led European and Government change management programmes encompassing innovation, entrepreneurship and business improvement. He has also worked in academia delivering curriculum and service innovation focusing on simplifying connectivity between education and industry
Wythnos 9; Lee Sharma
Lee yw Prif Swyddog Gweithredol Simply Do Ideas – llwyfan B2B llwyddiannus sy'n lleihau'r amser, y gost a'r risg o arloesi. Mae'r cynnyrch wedi cael sylw gan sefydliadau fel Forbes a Huffington Post ac mae'n cael ei ddefnyddio'n rhyngwladol ar draws sectorau, gan gynnwys addysg, gwasanaethau cyhoeddus a pheirianneg. Mae'r achosion lle mae modd ei ddefnyddio yn amrywio o gasglu syniadau gan weithwyr, i farchnadoedd arloesi byd-eang sydd wedi'u rheoli'n llawn. Cyn Simply Do Ideas, roedd Lee yn arwain rhaglenni rheoli newid ar gyfer y Llywodraeth ac Ewrop, a oedd yn cynnwys arloesi, entrepreneuriaeth a gwella busnes. Mae hefyd wedi gweithio yn y byd academaidd yn darparu arloesedd mewn gwasanaethau a'r cwricwlwm, gan ganolbwyntio ar symleiddio'r cysylltiad rhwng addysg a diwydiant.
Data protection information;
Your personal data will be stored securely and only kept for the purposes of organising the event and recording attendance. We will share personal data with the Enterprise Champion at the college or University that you are attending. The Zoom meeting will be recorded and shared within secure virtual learning environments at participating colleges and universities.
Gwybodaeth diogelu data;
Bydd eich data personol yn cael ei storio'n ddiogel a'i gadw at ddibenion trefnu'r digwyddiad a chofnodi presenoldeb yn unig. Byddwn yn rhannu data personol gyda'r Hyrwyddwr Menter yn y coleg neu'r Brifysgol rydych chi'n ei mynychu. Bydd cyfarfod Zoom yn cael ei recordio a'i rannu o fewn amgylcheddau dysgu rhithwir diogel mewn colegau a phrifysgolion sy'n cymryd rhan.