Join us as we explore the world of entrepreneurship. Ymunwch â ni wrth i ni archwilio byd entrepreneuriaeth.
About this Event
Feed your curiosity!
Bwydwch eich chwilfrydedd!
You've probably been told that we all need to be more entrepreneurial to tackle the challenges of the 21st Century, you may even see yourself as an entrepreneur, but what exactly do we mean by entrepreneurial, or to be an entrepreneur?
Mae'n debyg y dywedwyd wrthych fod angen i ni i gyd fod yn fwy entrepreneuraidd i fynd i'r afael â heriau'r 21ain Ganrif, efallai y byddwch hyd yn oed yn gweld eich hun fel entrepreneur, ond beth yn union ydyn ni'n ei olygu wrth entrepreneur, neu i fod yn entrepreneur?
Join us as we meet 15 inspirational people, business founders and heroes. Each week we will also explore one characteristic that makes up the way entrepreneurs think and act. We will help you to learn how you can increase your ability to be more entrepreneurial, and what this will mean for you, whether you want to start a business, get a meaningful job or transform the world in which we live.
Ymunwch â ni wrth i ni gwrdd â 15 o bobl ysbrydoledig, sylfaenwyr busnes ac arwyr. Bob wythnos byddwn hefyd yn archwilio un nodwedd sy'n ffurfio'r ffordd y mae entrepreneuriaid yn meddwl ac yn gweithredu. Byddwn yn eich helpu i ddysgu sut y gallwch gynyddu eich gallu i fod yn fwy entrepreneuraidd, a beth fydd hyn yn ei olygu i chi, p'un a ydych am ddechrau busnes, cael swydd ystyrlon neu drawsnewid y byd yr ydym yn byw ynddo.
Each session is split into two sections; an opportunity to hear from someone who has walked the walk and is running their own business followed by an interactive workshop to get you thinking about how you can develop and use new skills.
See below for details of each week.
Rhennir pob sesiwn yn ddwy adran; cyfle i glywed gan rywun sydd wedi cerdded y daith ac sy'n rhedeg ei fusnes ei hun ac yna gweithdy rhyngweithiol i'ch annog i feddwl sut y gallwch ddatblygu a defnyddio sgiliau newydd.
Gweler isod am fanylion bob wythnos.
This series of online events is being delivered in collaboration with all 27 Welsh FE and HE institutions and Big Ideas Wales and is open to any student from participating colleges/universities.
Cyflwynir y gyfres hon o ddigwyddiadau ar-lein mewn cydweithrediad â holl sefydliadau AB ac AU Cymru ynghyd â Syniadau Mawr Cymru ac mae'n agored i unrhyw fyfyriwr o'r colegau / prifysgolion sy'n cymryd rhan.
This event will be delivered using Zoom - registered attendees will receive an email by 10am on the day of the event with the relevant link.
Cyflwynir y digwyddiad hwn ar-lein gan ddefnyddio Zoom - bydd mynychwyr cofrestredig yn derbyn e-bost erbyn 10am ar ddiwrnod y digwyddiad gyda'r ddolen berthnasol.
Workshops will primarily be delivered in English with live Welsh interpretation available. Occasional workshops will be delivered in Welsh with live English interpretation.
If you attend multiple events from this series we will award you with a digital certificate to add to your CV or your linkedin profile.
6 events - Bronze
9 events - Silver
12 events - Gold
Os ydych chi'n mynychu digwyddiadau lluosog o'r gyfres hon, byddwn yn dyfarnu tystysgrif ddigidol i chi i'w hychwanegu at eich CV neu'ch proffil LinkedIn.
6 digwyddiad - Efydd
9 digwyddiad - Arian
12 digwyddiad - Aur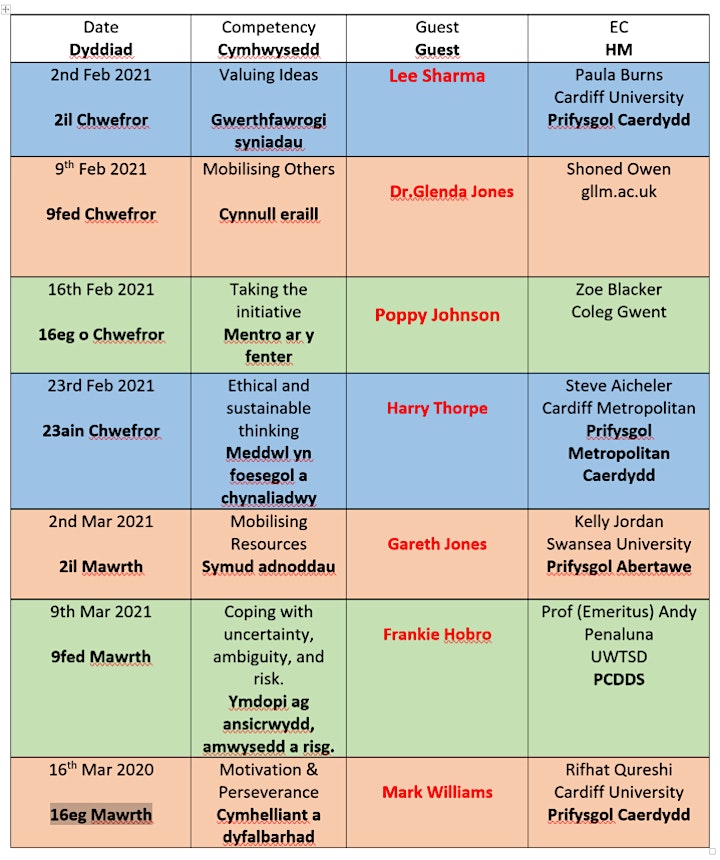 Frankie Hobro is the Director and Owner of Anglesey Sea Zoo and Marine Resource Centre. Her vast experience from working on hands-on conservation projects with critically endangered species in difficult conditions abroad in terrestrial and marine environments makes her a passionate advocate for conservation and sustainability.
Frankie spent a large amount of her childhood in North Wales, returned to do postgraduate studies at Bangor University School of Ocean Sciences in 2001, then settled on Anglesey 14 years ago when she bought the Anglesey Sea Zoo, becoming the sole Owner and Director of the business in 2013.
Frankie has transformed the business into the only exclusively British aquarium, housing native species with natural sea water and specialising in the captive breeding of endangered species including seahorses and lobsters for reintroduction into the wild. As well as being a major tourist attraction and local employer, the Anglesey Sea Zoo is an essential community, research and environmental hub, uniquely focussing on sustainability, education and marine conservation and a marine animal rescue centre.
Frankie is a Role Model and Inspirational Speaker for Big Ideas Wales in schools and colleges across North Wales promoting entrepreneurship and skills-based learning, particularly STEM, whilst also constantly working on increasing the sustainability of the business and local community involvement in marine based activities and projects.
In July 2019 Frankie was honoured with the extremely prestigious award of Alumnus of the Year from Bangor University, she is also a Director of North Wales Tourism and the North Wales Wildlife Trust.
Frankie Hobro yw Cyfarwyddwr a Pherchennog Sw Môr Môn a'r Ganolfan Adnoddau Morol. Mae ei phrofiad helaeth o weithio ar brosiectau cadwraeth ymarferol gyda rhywogaethau sydd mewn perygl difrifol, mewn amgylchiadau anodd dramor, ar y tir ac yn y môr, yn ei gwneud yn eiriolwr brwd dros gadwraeth a chynaliadwyedd.
Treuliodd Frankie lawer iawn o'i phlentyndod yng Ngogledd Cymru, dychwelodd ar gyfer astudiaethau ôl-radd yn Ysgol Gwyddorau Eigion Prifysgol Bangor yn 2001, ac yna fe ymgartrefodd ar Ynys Môn 14 mlynedd yn ôl pan brynodd Sw Môr Môn, gan ddod yn unig Berchennog a Chyfarwyddwr y busnes yn 2013.
Mae Frankie wedi trawsnewid y busnes i fod yr unig acwariwm cwbl Brydeinig, sy'n cadw rhywogaethau brodorol mewn dŵr môr naturiol ac yn arbenigo mewn bridio rhywogaethau sydd dan fygythiad mewn caethiwed, gan gynnwys morfeirch a chimychiaid er mwyn eu hailgyflwyno i'r gwyllt. Yn ogystal â bod yn atyniad o bwys i dwristiaid ac yn gyflogwr lleol, mae Sw Môr Môn yn ganolbwynt hollbwysig i'r gymuned, ymchwil a'r amgylchedd, ac yn unigryw yn y modd mae'n canolbwyntio ar gynaliadwyedd, addysg a chadwraeth forol ac yn ganolfan achub anifeiliaid morol.
Mae Frankie yn Fodel Rôl ac yn Siaradwr Ysbrydoledig ar gyfer Syniadau Mawr Cymru mewn ysgolion a cholegau ledled Gogledd Cymru, ac yn hyrwyddo entrepreneuriaeth a dysgu yn seiliedig ar sgiliau, yn enwedig STEM. Mae hi hefyd yn gweithio'n gyson ar gynyddu cynaliadwyedd y busnes a chyfranogiad y gymuned leol mewn gweithgareddau a phrosiectau morol.
Ym mis Gorffennaf 2019, cafodd Frankie ei anrhydeddu gyda gwobr hynod nodedig Alumnus y Flwyddyn Prifysgol Bangor, ac mae hi hefyd yn Gyfarwyddwr Twristiaeth Gogledd Cymru ac Ymddiriedolaeth Bywyd Gwyllt Gogledd Cymru.
Data protection information;
Your personal data will be stored securely and only kept for the purposes of organising the event and recording attendance. We will share personal data with the Enterprise Champion at the college or University that you are attending. The Zoom meeting will be recorded and shared within secure virtual learning environments at participating colleges and universities.
Gwybodaeth diogelu data;
Bydd eich data personol yn cael ei storio'n ddiogel a'i gadw at ddibenion trefnu'r digwyddiad a chofnodi presenoldeb yn unig. Byddwn yn rhannu data personol gyda'r Hyrwyddwr Menter yn y coleg neu'r Brifysgol rydych chi'n ei mynychu. Bydd cyfarfod Zoom yn cael ei recordio a'i rannu o fewn amgylcheddau dysgu rhithwir diogel mewn colegau a phrifysgolion sy'n cymryd rhan.