Description
Our Explore Ensemble Summer Project is a special 4-day event just for our Primary 5 - 7's allowing them to take part an arts project and gain an Explore Arts Award Qualification (A National 2 Scottish equivalent).

During this time participants young people will work together to respond to a challenge set at the start of the project week, which may come in the form of a question to answer, problem to solve or task to respond to!
The project will work with different arts forms as drama, performance, drawing, film, photography as ways to do this. Allowing those joining us to learn about a broad range of creative skills and creative ways of thinking over the duration of the four days.
The project will take place across different locations and sites within the area such as the Beach, Ardrossan Castle, parks, and local theatre venues to challenge young people to think about the ways we can use these spaces in imaginative and exciting ways.
Participants will also work to gain a "Explore" Arts award qualification which will also give them space to reflect, write about and document their journey across the four days. The project will conclude with a short sharing of everything created over the four days, as well as a provisional arts award celebratory event.
What will achieving Explore Arts Award involve?
Take part in more than one arts activity

Research Arts organisations or Artists

Make a piece of artwork

Present what you achieved and enjoyed to other people.
FAQs
Please note this event is for 4-day Event
Who is Capall Dorcha Ensemble?

Capall Dorcha Ensemble is the education outreach of Capall Dorcha Theatre Company, a not-for-profit social enterprise based in Ardrossan founded in 2015. Since then we have delivered professional development workshops throughout North Ayrshire and Arran in which over 2100 young people have attended and produce small theatre productions touring the west of Scotland.

Though Capall Dorcha Ensemble we will be delivering, youth theatre, adult classes, professional qualifications through Arts Awards and Dementia Friendly events throughout the year. So why not join us?
Where can I read your Child Protection Policy?

Via our Website or in Person on the day of the workshop

How do I Opt-out from my child from having a photo/film being taken?

Please let us know at the questions section provided before making your purchase or speak to us on the day.

What can I bring/wear to the event?
Please bring lunch and water to the workshop. Please wear something comfortable, we will be working outside so do bring a jacket incase of a change of weather but please do not wear any football shirts. Alternatively, check out our official Capall Dorcha Tshirts for you to wear - see below for more details.
What if I need to Cancel my purchase?
You can receive a refund up to 7 days before the event starts.

Do you offer a discount?

We have three pricing structures for taking part in Capall Dorcha Ensemble.
A standard fee that you see above.
Please visit our website for further information.

How can I contact the organiser with any questions?
We reply to customer queries via three platforms:

Contact us via our website via email.
You can contact us via our Facebook page.

Via Telephone: 01294 475648
Or lastly in person at our office: The Michael Lynch Centre for Enterprise, 71 Princess Street, Ardrossan, KA22 8DG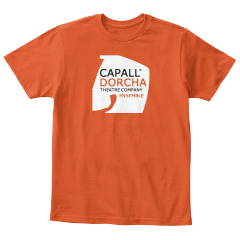 Ensemble Children's Clothing
£9.99
We partnered with Teespring to create some awesome merchandise for this event. Show your support and look good wearing it. Check it out!