Description
Come and try a FREE taster experience - mini lectures from our expert tutors in our welcoming centre on the 4th floor at Commercial Union House. These popular taster events include three lectures from tutors in areas chosen from history, science, art and literature.
PROGRAMME for 7th January 2020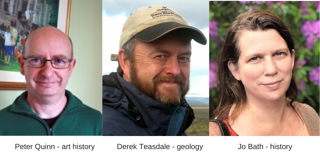 ART 'Pictures at an Exhibition: art in the Seventies' Peter Quinn
SCIENCE 'An Introduction to the Heroic Age of Geology' Derek Teasdale
HISTORY 'Defence against the Dark Arts - how seventeenth-century people protected themselves against witchcraft' Jo Bath
The above sessions will be tasters for the tutors' courses on the same topics in our new season starting on 13th January 2020. FInd out more here
Free tea / coffee and delicious homemade cake will be available!
Enjoyable learning in a friendly environment - improve your well-being and learn at the same time
Flexible - attend as much or as little as you like
Good value
Check out the programme for the next season on our website here
Find out more about Explore in a new film introduced by our patron, John Grundy - click here to watch the short film.