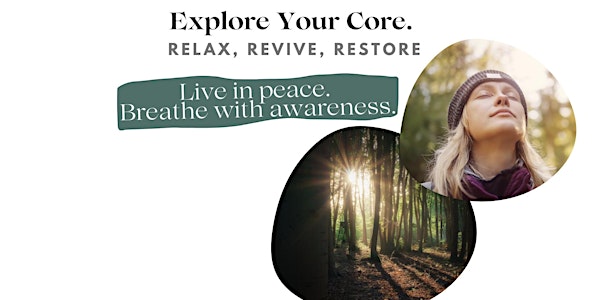 Explore Your Core - Relax, Revive, Restore. Yoga and Psychotherapy workshop
Location
Saxton Village Hall
Cotchers Lane
Saxton
LS24 9QA
United Kingdom
Refund policy
Contact the organiser to request a refund.
Eventbrite's fee is nonrefundable.
This thought-provoking workshop amalgamates Yogic/Psychotherapeutic techniques, which will leave you feeling empowered and recharged.
About this event
Yoga Theory and Practice.
No previous Yoga experience is necessary.
Is stress or anxiety dragging you down? Do you have trouble sleeping or difficulty relaxing? Are you low on energy?
Life can get overwhelming. While we may not be able to control all the external factors causing us to not feel ourselves, we can control how they affect us. We can choose to live a life of happiness, peace, and harmony, we can choose to live life to the fullest. This thought-provoking three-hour workshop will amalgamate Yogic and Psychotherapeutic techniques which will give you the knowledge and skills to change how you approach life and leave you feeling relaxed and rejuvenated.
The workshop will also include some delicious vegan/vegetarian snacks which you can wash down with a cup of Binny's tasty homemade chai.
The Practice – Presented by Binny Chandra.
Yin Yoga - gives us the space to slow down and stay with our experiences rather than always rushing and striving to achieve. You will be guided through some slow-paced asanas (postures), which will be held for enough time to allow your body to surrender to a deeper level - rejuvenation for the body-mind-heart.
Yoga Nidra - (Yogic sleep), a technique which guides us into a deep state or relaxation between waking and sleeping, allowing you to experience bliss mind and body.
The Theory – Presented by Kim Leaf.The theoretical part of this workshop will be broken down into palatable pieces and will be complimentary to the practice. Application of contemporary Western theories, psychotherapeutic traditions, and yogic philosophies will be implemented to guide you to remain calm and focused amongst life's challenges.
The theory will offer an insight into how external stresses effect our bodies autonomic nervous system, otherwise known as the fight or flight response (Polyvagal theory) and how we can regulate our nervous system with simple techniques. We will present the fundamental concepts of the Polyvagal theory in a way that guides and refines your practice of asana (Yoga postures) and of pranayama (breath).
There will be exploration into how we deal with some of the over-whelming fears, frustrations and challenges that life presents and how we can redecide self-limiting beliefs and unlock our full potential.
About the practitioners.
Binny Chandra – is a 500-hour advanced yoga teacher, with over a decade of experience in yoga practice and philosophy. She has had the privilege to share extensive expertise to students from all over the world. Binny is a certified integrative nutrition health coach, her background in Buddhist tradition, satvik living, natural sciences Yoga, Ayurveda and meditation render her with a rare capacity to eloquently convey the richness of spiritual life in contemporary world.
Kim Leaf – is a 500-hour advanced Yoga teacher and trainee Psychotherapist (Transactional Analyst). Kim's journey to Yoga began during her professional dance training more than 20 years ago, her career as a dancer, dance teacher/ choreographer and yoga teacher has allowed for a deep understanding of mind body connectivity, creativity, and expression through music. Kim is about to complete her third year of training to be a Psychotherapist, she is looking forwards to enriching the lives of others in sharing her knowledge and expertise.