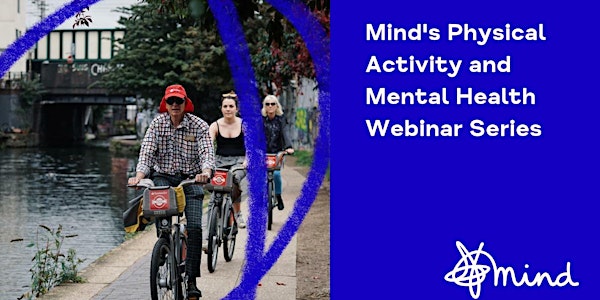 Exploring a healthy relationship with physical activity webinar-one year on
This webinar will explore developing a healthy relationship with physical activity through people with experience of mental health problems
About this event
At Mind, we deliver a series of webinars to support organisations and professionals within sport, physical activity and mental health. This is part of our Sector Support programme which is funded and supported by Sport England and the National Lottery.
The aim this webinar is to provide insight on when physical activity can become unhealthy for some people and how to support them to take steps to develop a healthy relationship.
Although we know the many positive benefits physical activity can have on mental health it may not work for everyone. For some people the relationship between physical activity can become unhealthy and can impact negatively on both physical and mental health, but this side of physical activity is rarely talked about.
One year on from us starting this work, this webinar will explore the work we have done to date including speaking to our working group of experts by experience and professionals working in this space. We will share the ways you can provide provide person-centred support and launch our new resources to support you to better understand the other side of physical activity and how balancing the message is key to providing effective support.
By attending this webinar, you will:
Learn how to develop an understanding of a healthy/unhealthy relationship with physical activity.
Learn how to spot the signs and symptoms of someone with an unhealthy relationship with physical activity
Learn how you can support them and where you can signpost them to for additional support.
Learn how to promote rest and 'active rest' during activities.
Have increased confidence to engage in a conversation with people about developing a healthy relationship with physical activity.
The webinar will take place 13:30 - 14:30 on Zoom.