Why does connectivity matter in a warehouse? What's the difference between wi-fi, 4G & 5G? How can technology be applied?
About this Event
Join this event to find out how technology can make your warehouse more productive, not only because of its effects on labour costs, productivity and tracking but for communication and route optimisation as well.
During this session, we'll discuss:
What's right for you? The difference between Wi-Fi 6 vs 5G & 4G
Overcoming Adoption Challenges: The Joy of Change
Encouraging organisational transformation: How to make people change without setting things on fire
Practical Applications
This event is hosted by Electronic Media Services
Agenda
3pm Andrew Lambert: Welcome, Intros & Agenda
3.04 Mike Flynn: Overcoming Adoption Challenges: The Joy of Change
3.17 Stephen Muldowney: What's right for you? The difference between Wi-Fi 6 vs 5G
3.30 Q&A
3.40 Lawrence Walker: Rapid Connectivity at new and temporary locations
3.45 Summary & Close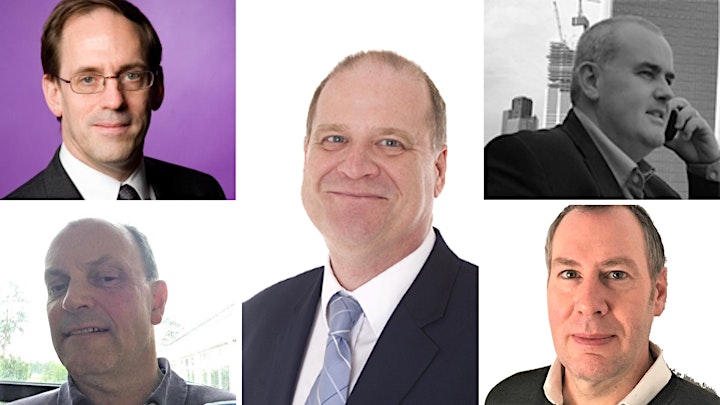 Speakers
Andrew Lambert
Andrew Lambert CEng FIET MIoD is the Founder and CEO of Electronic Media Services Ltd (EMS) and Founder and COO of Fibre Ltd.
Andrew is a Chartered Engineer and an experienced board-level executive with a proven record of developing new technology to solve business problems with extensive practical experience of working in Europe and Asia.
In 1995 he founded EMS, a Technology Consultancy and Telecoms Company, which manufactures, the award-winning i-MO® 4G/5G WAN router appliances and associated Optibond® Software Defined Networking (SDN) cloud management software.
Andrew is a Founder of Fibre Ltd a telecoms company that installs full-fibre broadband to new housing developments.
He is passionate about supporting innovative SMEs and International Trade and recently retired from the boards of the Enterprise M3 LEP and the China Britain Business Council. He is Chair the IoD London International Trade SIG, Vice-Chair of the techUK UK-China Tech Forum and a member of the UK5G International Trade and SME/LEP Working Groups.
Michael Flynn
With 30 year's experience in the logistics industry, Michael has seen the good and the bad of implementing technology change in general management, operations, business development, and supply chain consulting roles. For the past 20 years, as Business Solutions Director on Gist's Board, Michael directed the development and implementation of new supply chain systems and processes. He lead the development of a systematic approach to delivering operational and technology changes for internal and external customers, including how to develop stakeholder 'buy in' and overcome change resistance. These have included new warehouses, transport networks, and supply chain planning systems. The changes encompassed new hardware technologies and significant changes to how the people in the operations interact with systems, customers, suppliers, and their peers. Michael has a technical background in engineering and software development coupled with years of operational line management delivering organisational change through enabling people to exploit new technology.
Stephen Muldowney
Over 20 years' experience of working with CSP's in the fixed and mobile sectors in helping them deliver new advanced services and dealing with their pain points. Deep understanding of multiple markets, as well as solutions from in home and mobile devices, video, access, voice, wireless RAN, small cell etc.
Lawrence Walker
Lawrence is a Director at Electronic Media Services. Prior to that he spent 15 years working in the UK and internationally for the Interactive Media and Recording Media businesses of the Dutch multinational Philips Electronics.
After joining EMS in 2001, Lawrence works with clients in creative, construction, retail, logistics and broadcasting industries and public sectors delivering connectivity to remote and temporary locations.
James Deadman
James is Director of SD-WAN and Edge Computing at Electronic Media Services. Prior to that James worked at Panasonic and Thomson Reuters. James is experienced in disruptive and first to market solutions, most recently with multi-WAN/SD-WAN technology, and secure hybrid networking solutions incorporating 4G/5G and WAN bonding, for live broadcast and rapid situational awareness markets.
Warehouse Industry Booms
In November 2020 36 per cent of retail sales were made online in November, up almost 20 percent from February of the same year. UK consumers spent £141 billion online in 2020, up a massive 34.7% (£105bn) from 2019 with additional growth predicted over the next 5 years. Every extra £1bn spent online needs around another 1 million square feet of logistics space so it's not hard to see why COVID crisis triggered a boom in the sector that has most investors looking for warehouse opportunities and saw huge deals like Blackstone's £473m acquisition of Prologis' platform!
To cope with the increased volume technology in the sector is also undergoing huge transformation including IoT innovations and adoption to maximise effectiveness of 'just in time', smart labelling, robotics, big data and artificial intelligence and blockchain traceability. Connectivity, whether it's 4G, 5G or wireless is improving as well as systems and use cases develop to produce smart improvements in communication, connected tools & tracking.
Top innovations in the sector include:
1. Warehouse management systems which may include inventory management, which typically can increase productivity and lower costs. The best ones integrate with order management systems, third-party logistics systems and even ERP;
2. Automation Technology optimise warehouse space by automating storage & retrieval systems by optimising picking & labor productivity and integrate with warehouse management systems, logistics & transport tech;
3. Labour planning machine learning which predicts the future work requirement and so can optimise man-hours, one of the most expensive resources in warehouse management. The machine learning system can integrate with warehouse management system, ERP & transport systems;
4. Voice activated systems for the picking / warehouse manager – these improve accuracy & efficiency because pickers can do more work in less time in a safer way by keeping their hands free. Voice-activated systems can integrate with the warehouse management system or the ERP system;
5. Solar & renewable energies for power to the building. Excess power can be sold back to the grid.
All these systems need to connect – Electronic Media Services are hosting an event on Exploring Connectivity in Logistics, Digital Warehouses of the Future at 3-4pm on Thursday 18 March 2021 which will outline the difference between Wi-Fi 6 vs 5G & 4G, adoption & encouraging digital transformation and practical examples, interested parties can sign up for free here.