EXPLORING GLOBAL SUPPLIER DIVERSITY: WHAT IS IT ALL ABOUT? WHY DOES IT MATTER?
About this event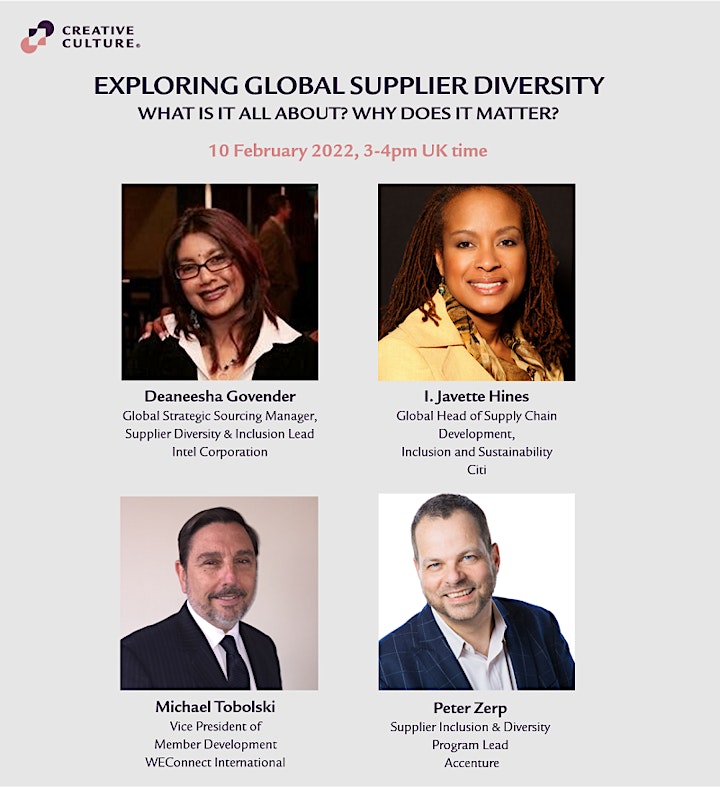 EXPLORING GLOBAL SUPPLIER DIVERSITY
WHAT IS IT ALL ABOUT? WHY DOES IT MATTER?
10 February 2022 at 3-4 pm UK time
Over the past two years, Diversity, Equity and Inclusion (DEI) have been at the forefront of many corporation's minds. While efforts have been focused on audiences and representation externally, and people, recruitment and policies internally, there often is a piece of the jigsaw that is being overseen or deprioritised: the supply chain.
Now, more than ever, corporates have a role to play in supporting the growth of smaller businesses, particularly among under-represented groups. A diverse team leads to greater performance and results. This is also possible with diversity at a supplier level.
Join us and our great panel of experts on 10 February to learn more about global supplier diversity and how it can positively impact your organisation. What is it all about? Why is it important? How do you go about it? And when is it the right time to start this journey?
Our experts will share their experiences, success stories and challenges, as well as various models and approaches to supplier diversity.
Our experts:
Deaneesha Govender is Global Strategic Sourcing Manager and Supplier Diversity and Inclusion Lead for Corporate Strategic Procurement at Intel Corporation. Deaneesha has been with Intel for 13 years working in South Africa and the UK, including 10 working within the sourcing department. She is an advocate for Supplier Diversity and Inclusion and leads the initiative for Sales and Marketing globally as well as being a champion for the UK and South Africa.
I. Javette Hines is Global Head of Supply Chain Development, Inclusion and Sustainability at Citi. She has over 20 years of experience in procurement, leadership, diversity, and management. She leads Citi's efforts to ensure the consideration and inclusion of diverse firms within Citi's sourcing practice and works across the firm to align supplier selection efforts with the Sustainable Development Goals, global expansion and overall ESG considerations.
Michael Tobolski is Vice President of Member Development for WEConnect International, and his role focuses on member development and engagement, and member support with Supplier Diversity & Inclusion development efforts. He was previously Sr. Director of Supplier Diversity at Marriott International, where he developed Marriott's formal supplier program and began the global supplier diversity journey. Dedicated to community service, he has served as Chair of the Board of the Capital Region Minority Supplier Development Council, among others.
Peter Zerp is Supplier Inclusion & Diversity Program Lead at Accenture, and one of the drivers of the company's global Supplier Inclusion & Sustainability program, currently running in 21 countries. He also supports Accenture's ambitions around building an inclusive and accessible virtual workplace by ensuring their technology supplied by partners and vendors is accessibility compliant. Peter represents Accenture on the WEConnect International Global Board and Executive Committee and is an active contributor to Disability:IN and the European LGBTIQ Chamber of Commerce.