"Exploring Happy Business", Fresh Air Business Walk, Pontneddfechan Waterfa...
Description
What is it? And is it for me?
Fresh Air Business Walking is a membership and pay-per-walk programme for business leaders and their guests seeking fresh air, fresh perspectives, and fresh conversations.
This particular business walk is being organised for Bristol-based VALUABLE CONTENT and their community; and we are going to explore "Making my business a Happy Business!"
The walk will be led, and the discussion facilitated, by Dave Stewart, MD of the Fresh Air Learning Company. Read more about him below.
The route will take us through the stunning scenery of "waterfall country" in the southern Brecon Beacons, starting and finishing at Pontneddfechan.
It is an ABSOLUTELY STUNNING walk, and presents an opportunity to relax and draw energy and inspiration from the natural surroundings. It is also a powerful alternative to indoor meetings; a more creative and engaging form of networking; and an opportunity to share and resolve major work challenges.
Where is the start/finish point? Where can I park? What about toilets?
We can offer a free return lift from Bristol in our very fine Land Rover Discovery. This is on a first come, first serve basis.
The walk will start and finish outside the Angel Inn, Glynneath, Neath SA11 5NR. It is possible to use the pub car park and facilities on the understanding you will give the Inn - which serves meals and refreshments throughout the day - your custom.
In addition to the pub's toilets, there are also public toilets beside the small public car park by the Inn. Once we are on the walk, toilets will be provided my Mother Nature - so bring any items you need to make this a comfortable experience!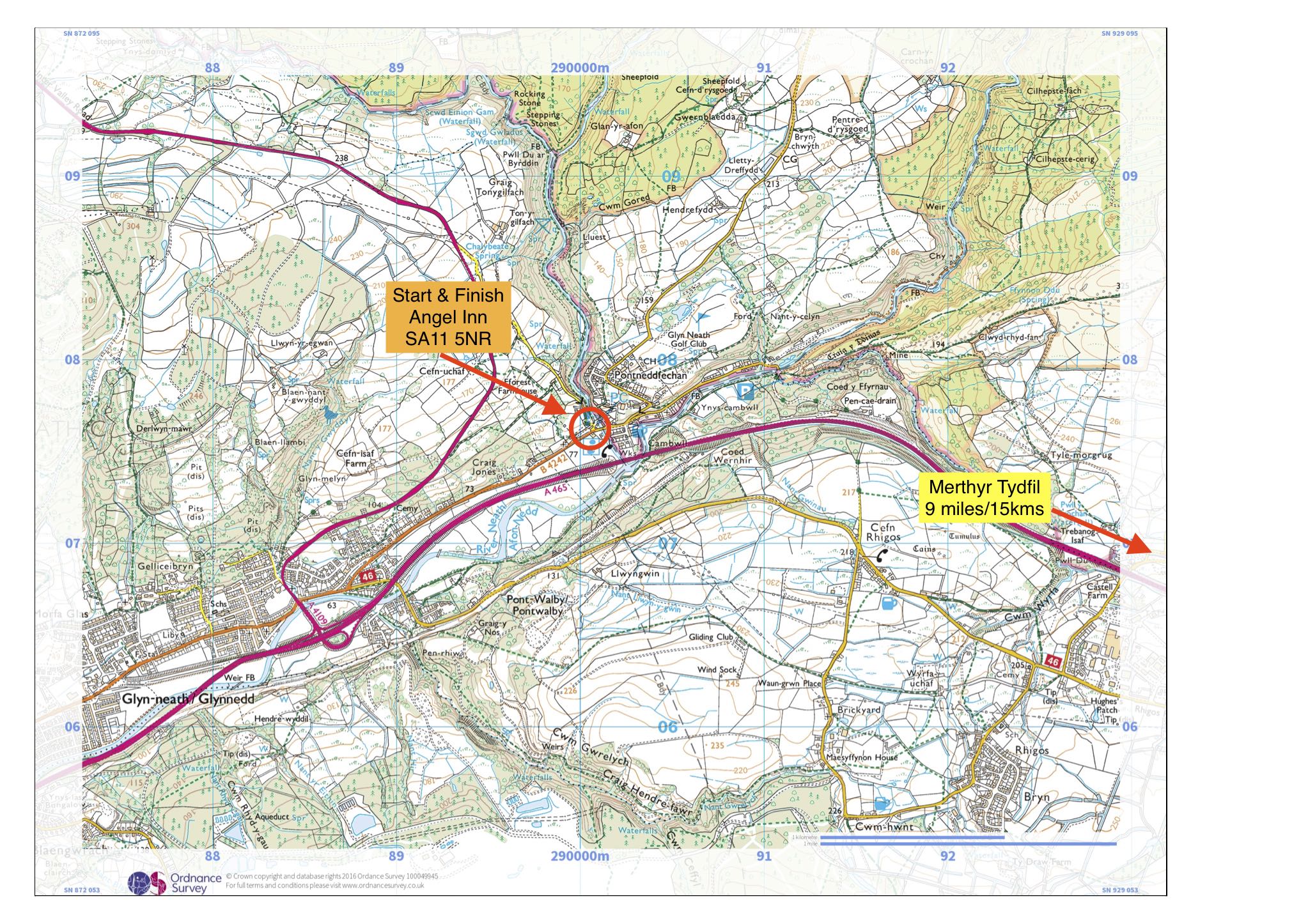 Who is leading this event?
Your leader for this event is Dave Stewart, MD of The Fresh Air Learning Company. Dave has led at senior levels across private, public and not-for-profit sectors; and is also an experienced facilitator and coach. He is also a qualified and experienced Mountain Leader with outdoor first aid qualifications. Read more here.
Where can I contact the organiser with any questions?
Email: dave@freshairlearning.com
How fit do I need to be? How far are we walking?
The route heads up one river valley and crosses over a low hill to head back down to Pontneddfechan by another river valley. We will be on established paths throughout. We will walk under the final waterfall of more than half-a-dozen others that we will encounter.

The total distance is 15kms, and ascent/descent is 200m. The walk will take 5 - 6 hours.

We will be walking at a pace which allows people to talk comfortably. There will be lots of stops to take in the incredible waterfall scenery around us.

If you are in any doubt about your ability to undertake this walk, consult your GP and the organisers.
What clothing & equipment will I need?
Walking boots or sturdy footwear with good grip, and ideally ankle support. Wellies are not suitable.

Waterproof over-trousers and waterproof jacket. Let us know if you need help with these.

A spare warm layer for stops.

Warm headgear and gloves and/or sun hat, sun lotion, lip salve according to conditions

Your own snacks/packed lunch and water (1.5 litre minimum).

A flask with a hot drink (optional)

Personal medication as required.

Small rucksack with a waterproof liner or bag to keep contents dry).

There is a small shop half-way round the walk, so bring some cash if you need to top up on drinks and snacks.
What about bad weather?

The walk will go ahead in all but the most extreme weather. The route may be modified to make the best of conditions. Your leaders are highly qualified and experienced outdoor leaders. You will be in safe hands.