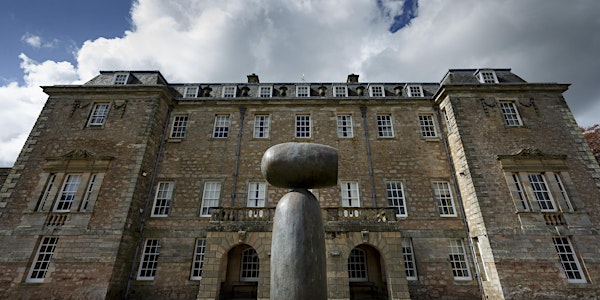 Exploring Modern Scottish Sculpture @ Marchmont House
Event Information
Location
Marchmont House
Greenlaw
Duns
TD10 6YL
United Kingdom
Refund policy
Refunds up to 30 days before event
Description
Scotland has been a source of beautiful, inspiring and internationally influential modern sculpture since the Second World War, but this work has often been under-celebrated. This event unveils, explores and celebrates modern Scottish Sculpture and is lead by experts, industry leaders and artists who will seek to define what Scottish Sculpture stands for, and to shine a light on the giants like Eduardo Paolozzi, William Turnbull and Gerald Laing, to uncover the hidden stories and support a new generation of talented sculptors working in Scotland today.
Bringing together a world class group of speakers, an interesting mix of artists, curators, auctioneers, dealers, collectors and enthusiasts including; Richard Demarco CBE, Kenny Hunter, Keith McCarter, Andrew Patrizio, Charles Poulson and Sandy Stoddart FRSE to explore a fascinating topic. The event will be located in beautiful surroundings of Marchmont House, in the Scottish Borders, which has an extraordinary collection of modern sculpture from Scotland and around the United Kingdom.
This event is brought to you with sponsorship support by: PANGOLIN LONDON & LYON AND TURNBULL.
Additional event:
We are running two special 'Scottish Sculpture Tours' on Sunday 22nd September (at 10:00 and 14:00) which will be lead by Marchmont's Curator and Archivist, and will last approximately 2 1/2 hours and will also take in all of Marchmont's principal rooms with a focus on this celebration of Modern Scottish Sculpture. Tickets are available by clicking on the link above.
** Provisional & DRAFT running order for Saturday 21st September**
9.15-45am – Arrivals – welcome refreshments
9.45am - Welcome
Marchmont & Scottish Sculpture
Hugo Burge - Director, Marchmont Farms Limited
10.00am - Introduction
Intro to Modern Scottish Sculpture (Post War to the Present Day)
Andrew Patrizio - Edinburgh College of Art - 45 mins + 15 mins discussion
11.00am Collecting Scottish Sculpture for Public & Private Collections
Panel Discussion with speakers from public and private sculpture institutions
Clare Feeley - Jupiter Artland
Matthew Jarratt - Edinburgh Park
Hugo Burge - Marchmont (Panel ONLY - not talk)
Chair: Philip Smith, Lyon & Turnbull
10 min presentation each followed by 20 min discussion.
11.45pm Tour of Sculpture at Marchmont House
This tour will include William Turnbull, Gerald Laing*, Eduardo Paolozzi, Steve Dilworth* & our local artists Keith McCarter*, Charlie Poulsen* & Frippy Jameson*.
1.15pm BUFFET LUNCH ** included **
2.15pm What is Contemporary Scottish Sculpture today?
Presentations & Panel Discussion with some established and emerging sculptors

Chair: Polly Bielecka, Gallery Director, Pangolin Sculpture Gallery
- David Mach RA - Artist
- Alice Strang on Monster Chetwynd - Sr Curator, National Galleries of Scotland
- Kenny Hunter - Artist
- Sandy Stoddart FRSE - Sculptor
3.15pm Two Giants of Scottish Sculpture: Eduardo Paolozzi and William Turnbull
- Bill Hare, Edinburgh University
3.45pm Tea
4.05pm Local Heroes - Scottish Borders Sculptors
Local artists will have time on the tour to explain their work, but will also have a short slot to introduce their work:
- Charlie Poulsen
- Frippy Jameson
- Keith McCarter
4.45pm Supporting Scottish Sculpture
Panel Discussion with speakers from public and independent groups discussing how they are supporting the arts in Scotland and what more can be done.
Chair: Andrew Patrizio - Edinburgh College of Art
- Audrey Carlin - CEO of wasps_ Studios - a social enterprise providing 700 maker units in Scotland
- Giles Sutherland - Trustee, Tim Stead Trust. Art critic. Journalist.
- Richard Demarco, CBE - Scottish artist and promoter of the visual and performing arts
- Laura Simpson - Director, Edinburgh Sculpture Workshop
5.45pm Wrap-up
Richard DeMarco
6.00pm Closing comments
Polly Bielecka - Pangolin London
Philip Smith - Lyon & Turnbull
Hugo Burge - Marchmont
6.15pm Drinks Party - for all attendees
7.00pm ** Drinks Party Ends **
*** End of event ***
7.15pm Speakers Dinner ** invite & ticketed only **
** Limited accommodation available for booking at Marchmont & locally **
** Pls enquire about transport to and from Edinburgh in the morning and evening - subject to demand **
***************
N.B. Please note that this programme is provisional and based on the availability of the speakers and is therefore beyond the control of the organisers Marchmont Farms Limited. We reserve the right to make any changes to the advertised program that may prove necessary. In this instance substitute speakers may not address the same topic as that advertised. Any such changes will be communicated as early as possible.
****************
**********
Thank you kind supporters of this event, who help make it happen in addition to supporting the funding of apprentice/ bursary positions & extra trimmings at the event:
-- Pangolin London - Sponsor - www.pangolinlondon.com
Pangolin London is one of the city's few galleries dedicated to exhibiting sculpture. Representing a solid stable of both established and emerging artists and artist estates, Pangolin London curates a dynamic exhibition programme that focuses on the historic developments of British Sculpture as well as the cutting-edge contemporary.
-- Lyon & Turnbull - Sponsor - www.lyonandturnbull.com
Operating since 1826, Lyon & Turnbull are one of the longest established fine art and antiques auction houses in the United Kingdom. In the 21st century, we combine dedicated personal advice and attention with innovative, thoughtful marketing and a deep understanding of the world of art and antiques to offer an unparalleled auctioneer service.
**********
BIO's:
POLLY BIELECKA - PANGOLIN LONDON
Gallery Director at Pangolin London for 11 years, previously worked at The Fleming Collection after graduating from Edinburgh University with an MA in History of Art.
Pangolin London is one of the City's few galleries dedicated to exhibiting sculpture. Affiliated with Europe's largest sculpture foundry, Pangolin Editions, we show a wide range of bothestablished and emerging artists.
Pangolin London is based at Kings Place a new arts venue in Kings Cross that contains, 2galleries, 2 concert halls, restaurant and bar as well as a sculpture trail around the building andwaterfront.
AUDREY CARLIN
Audrey Carlin is Chief Executive Officer at Wasps Studios, Scotland's largest provider of affordable, high-quality studio space to the creative sector.
A Chartered Town Planner by profession, Audrey has over 25 years' experience in regeneration. She has led over £50m of regeneration initiatives across Scotland, primarily working within Scotland's Urban Regeneration Companies in the West of Scotland. A strong advocate that art defines place, Audrey has commissioned many artists, and award-winning sculptors, to work closely with local communities in the design and delivery process in their area, using art to reflect their heritage and future aspirations in the built environment.
Audrey joined Wasps in 2015 and it is now home to Scotland's largest cultural community with 20 properties providing studio space for over 900 creative people. Audrey has ambitions for Wasps to lead the way in cultural regeneration across Scotland, starting with a base in every Scottish City. Over the past four years she has delivered five new studio facilities for artists including new Creative Hubs in Inverness and Perth.
In 2018 Audrey was appointed by the Scottish Government as a Trustee of the National Galleries of Scotland and now sits on their Major Capital Programme Committee.
Originally from Northern Ireland, Audrey graduated from the University of Dundee and now lives in Glasgow with her husband, two sons and a very spoiled dog.
RICHARD DEMARCO CBE
Richard Demarco (born in Edinburgh, 1930) is an artist and promoter of the visual and performing arts.
He has been one of Scotland's most influential advocates for contemporary art through his work at the Richard Demarco Gallery and the Demarco European Art Foundation, as well as his professorship at Kingston University in London.
His contributions to contemporary art internationally have been recognised on numerous occasions, receiving the Polish Gold Order of Merit, the Cavaliere della Republica d'Italia, the Chevalier des Arts et Lettres de France and the Order of the British Empire.
He was co-founder of the Traverse Theatre in Edinburgh in 1963. Three years later he and other organisers of the gallery space left the Traverse to establish what became the Richard Demarco Gallery.
For many years, the Gallery promoted cross-cultural links, both in terms of presenting artists such as Marina Abramovic within Scotland and in establishing outgoing connections for Scottish artists across Europe.
His involvement with Joseph Beuys led to various presentations, from Strategy Get Arts in 1970 to Beuys' hunger strike during the Jimmy Boyle Days in 1980.
Also particularly notable were the presentations by Tadeusz Kantor's Cricot 2 group during the 1970s and 1980s. An unofficial performance of The Water Hen at the former Edinburgh poorhouse during the Edinburgh Festival in 1972 was a notable success. Cricot 2 returned to Edinburgh in later years. Demarco introduced Beuys and Kantor to one another and in one performance of Lovelies and Dowdies Beuys performed under Kantor's direction.
Since the early 1990s, Richard Demarco's activity has been manifested through the Demarco European Art Foundation.
Richard Demarco has attended every Edinburgh Festival. He has attended, or been extensively involved with, the Edinburgh Festival (and Festival Fringe), the largest arts festival in the world, since its inception in 1947.
CLARE FEELEY
Claire Feeley is Head of Exhibitions and Audience Development at Jupiter Artland. A writer, producer and curator, Claire has devised exhibition projects, curatorial programmes and public artworks globally through her roles at British Council, the Barbican, Oslo Pilot, Folkestone Triennial, Situations and the Serpentine Gallery, as well as independently through self-initiated platforms. She is most known for her unique approach in supporting artists to realise major artworks – ambitious either in scale, duration or through collaborative models of community co-commissioning. Previous curatorial projects include Katie Paterson's Future Library, a 100-year-long publishing project in Oslo; Michael's Sailstorfer's commission for the Folkestone Triennial, where the artist buried gold on an unmarked beach; Theaster Gates' Sanctum, which saw the people of Bristol sustain an unbroken performance for 552 hours, Annika Kahrs' A Concert for the Birds, where 100 songbirds performed in concert with piano-players and The Art of Dissonance, an exhibition project exploring histories of social protest presented in Seoul, Korea.
BILL HARE
Bill Hare studied art history at the University of Edinburgh (1972-6) and the Courtauld Institute (1976-7).Since then he has taught art history with the University of Edinburgh, Edinburgh College of Art and the Open University and in 1985 he was appointed Exhibition Organiser at Edinburgh University's Talbot Rice Gallery. Since 1995 he has concentrated on teaching and curating, with a specialist interest in Scottish art since 1945. He is currently an Honorary Teaching Fellow in Scottish art history at Edinburgh University and completed a three year period as Honorary Curator of the University's Fine Art Collection. He has also been a part-time lecturer in modern art history and contemporary critical theory with Edinburgh College of Art for the past 30 years and was appointed Exhibition Curator of the ECA Cast Collection (2009-2011). He has originated and organised many exhibitions both in Britain and abroad, working with major artists such as Sam Francis, Alan Davie, Eduardo Paolozzi, Craigie Aitchison and Boyle Family, for whom he published a catalogue essay for their major retrospective exhibition at the Scottish National Gallery of Modern Art (2003) He has curated two important thematic exhibitions-Divided Selves-The Scottish Self-Portrait from the 17thCentury to the Present(2006)and Beyond Appearances-Painting and Picturing in Scottish Modern and Contemporary Painting (2007) along with two exhibitions on the Glasgow and Edinburgh Schools of painting (2008-9). More recently he has co-curated an exhibition on post-war Scottish art entitled The Scottish Endarkenment(2016) which was in the Guardian'stop ten international exhibitions of 2016. Throughout his career he has continued to publish extensively on Scottish modern and contemporary art. He is the Scottish editor of Galleries magazine and the author of Contemporary Painting in Scotland (1992). He has written for monographs on Barbara Rae and John McLean, published by Lund Humphries as well as for another on Kurt Jackson for the same publisher. He wrote a book on the portraits of Alexander Moffat Facing the Nationin 2018 and has just published a collection of his interviews and essays, Scottish Artistsin an Age of Radical Change 1945 to the 21stCenturyboth for Luath Press. He has been Chairperson of Art in Healthcare (Scotland) for three years (2011-2014) and is now the Honorary Curator of their Collection. He is also a Trustee of the Friends of Visual Arts of Edinburgh University and is member of the International Association of Art Critics (AICA).
KENNY HUNTER
Born in Edinburgh in 1962, Kenny Hunter studied sculpture at Glasgow School of Art between 1983 and 1987. Since then he has exhibited extensively in both Britain and abroad including solo exhibitions at Arnolfini 1998, Scottish National Portrait Gallery 2000, CCA 2003 , Yorkshire Sculpture Park 2006 and Tramway, 2008. Hunter has also created a number of high profile, public commissioned works in including; Citizen Firefighter, 2001, outside Glasgow's Central Station, Youth with Split Apple, 2005, Kings College, Aberdeen and iGoat 2010 in Spitalfields, London. He has recently completed a large frieze entitled "Blackbird (the persistence of vision) for Leicester Square, London. In 2015 Kenny Hunter was given the role of Programme Director for Sculpture at Edinburgh College of Art.
He is represented by Galerie Scheffel in Germany and Connersmith in the USA.
With unexpected uses of scale, material and subject matter the sculpture of Kenny Hunter runs counter to the expectations of traditional monuments. His artworks avoid singular readings preferring to embrace ambiguity as a positive position that will encourage the viewer toward ethical engagement.
His most recent public commission is a War Memorial for the London Borough of Southwark and as well as being a lecturer at Edinburgh College of Art he is also their current Director of Outreach.
FRIPPY JAMESON
Frippy Jameson studied Fine Art Sculpture at Camberwell College of Art and Design and City & Guilds of London Art School. She studied sculptural stone-carving at The Portland Sculpture Trust, Tout Quarry and came to sculpture through her first tutor, ceramicist Richard Dzadiek who shared his extensive knowledge of clay and casting. She trained in figure sculpting with Kim Amis.
Her work reflects aspects of stillness and quiet. The relationship between fragility and strength is a thread that links her work through bronze figures and horses. Her sculptures increasingly move toward life size work integrated into the landscape, she's currently working on a life size Horse and Boy sculpture.
Frippy works from her studio in the Scottish Borders.
KEITH MCCARTER
Born ; Scotland 1936
Education ; The Royal High School of Edinburgh 1948 - 1954
Military Service ; 1954-1956 Royal Artillery
Further Education ; Edinburgh College of Art 1956-1960 Andrew Grant Scholar
Career ; Designer with Steuben Glass, New York , WG Mitchell , London
Self employed sculptor 1964 to date
Works mainly in bronze or stainless steel, often incorporating water in the concept, also many works in two-dimensions in concrete, grp, etc ranging from murals to complete cladding design. Has over 30 works in the public realm in the UK and abroad and has worked with several eminent architects and landscapers - Niemeyer, Foster, Tange, Jellicoe, etc
ANDREW PATRIZIO
Andrew Patrizio holds the Chair of Scottish Visual Culture at the University of Edinburgh, Edinburgh College of Art, where he has worked since 1997. He focusses on two areas: firstly, Scottish post-1945 art – writing texts for artists and exhibitions since the late 1980s; and secondly, ecological themes and methods. His new monograph The ecological eye: assembling an ecocritical art history is just out (Manchester University Press, 2019). His first book Contemporary Scottish Sculpture (1999) was an overview of sculpture in this country, profiling 24 artists. Other books and exhibitions with sculptural content are Christine Borland (1990); Art Unlimited: Multiples of the 1960s and 1990s from the Arts Council Collection (1994); Giuseppe Penone (1999 and 2000); Stefan Gec (2002); Anatomy Acts (2006), which won Medical Book of the Year from the Royal Society of Medicine; Ilana Halperin. STEINE (Berlin, 2012); and co-curated (with Bill Hare) The Scottish Endarkenment. Art and Unreason. 1945 to the Present. This exhibition featured in The Guardian's top ten UK exhibitions of 2016. Prior to his academic career, he had curatorial posts at the Hayward Gallery, London and Glasgow Museums. He is currently on the Little Sparta Trust (Ian Hamilton Finlay's garden) and is a founding member of the European Forum for Advanced Practices. He took early retirement from making sculpture shortly after his degree show at Edinburgh College of Art in 1986.
CHARLES POULSEN
I have been making for nearly 30 years since a degree in Fine Art at Loughborough and MA in Fine Art at Nottingham (1986). I now live and works in the Scottish Borders with my wife Pauline Burbidge (textile artist). Since 1994 they have had an Open Studio with a guest artist at the beginning of August. I work in three distinct areas: Drawing, sculpture and growing sculpture
Drawing on paper has taken a much more central part in my artistic life in recent years. These striking drawings are large (1500mm sq.) abstractions in layers of pencil wax and gouache. In the last two years I have been moving from more gestural expressionist work toward a quieter contemplative form without narrative or direct observation, looking beyond physical matter to the invisible energies, the basic form of things. I was particularly influenced by something in an exhibition catalogue of Agnes Martin. It said 'the root word for 'grid' in both Latin and Greek denotes 'wickerwork'. It released me from the idea of grid as a rigid structure of straight lines to start drawing looseoverlayingstructures of irregular spatial elements based on fragments of a grid: a cross or short overlaid lines.
In the last couple of years, I have increasingly seen sculpture as three-dimensional drawing. I have packed twigs into a box and cast lead into it and then sawn down the sides to produce columns a bit like core samples.
In 2016 I started to cast in wax combing it with various materials like paper and twigs. Wax has a light translucent quality giving a greater feeling of layers in my pursuit of the idea of three-dimensional drawing.
Having a garden has created an interest in plants and their presence in the environment. I have made a series of ambitious landscape projects such as the 2005 'Point of Resolution' on the Southern Upland Way in the Scottish Borders, 'Host' where I planted daffodils to form the word host in Dumfries and 'Black is White' planted in snowdrops to form the word black in Hawick. My focus in recent years has been on the Spottiswoode Project a series of eight tree-based projects, the first planted in 2009. It will be many years before they are complete. In 2019 I met Hugo Burge of Marchmont and we are collaborating on a number of ambitious growing sculpture for his grounds which involve objects with trees. Skyboatis a large wooden fishing boat (11.2m in length) to be suspended in the air on a frame and oak trees planted underneath. Eventually the trees will take the weight of the boat. Three other projects are in place or will be in the autumn when the trees are to be planted.
To see more of the work please visit:
www.charlespoulsendrawing.co.uk
www.charlespoulsen-sculpture.com
LAURA SIMPSON
Laura Simpson is the Director of Edinburgh Sculpture Workshop which provides subsidised access to studios, workshop facilities and residencies for artists; alongside a programme of public courses, discursive events, community engagement and exhibitions. Partners range from Ukrainian Institute, Kyiv; TOKAS, Tokyo; Multi Cultural Family Base, Edinburgh; local primary schools; and National Network of Production Facilities.

Previously she was Programme Manager at Hospitalfield working on residencies, commissions and public events. These have included the work of artists John Smith, Andy Holden, Claire Barclay, James Rigler, Lubaina Himid and Tamara Henderson. In 2015 Hospitalfield organised Graham Fagen's exhibition for Scotland + Venice at the Venice Biennale. Laura was involved in the Learning Programme with 27 emerging artists and students.

From 2007 - 2013 Laura was Assistant Curator at Duncan of Jordanstone College of Art & Design in Dundee. Laura is a Board Member for Bothy Project and part of the advisory group for Curatorial Studio in 2019 - 20. She was on the jury for the Margaret Tait Film Award (2015 - 2016) and a Board Member for Fife Contemporary Art & Craft (2010 – 2016).

Laura completed an MFA at Duncan of Jordanstone College of Art & Design, then was Chair of the artist-led group Generator in Dundee.

www.edinburghsculpture.org
PHILIP SMITH - LYON & TURNBULL
Philip Smith is an auctioneer and specialist in 20th Century Design and Modern & Post-War British Art, heading up these departments for Lyon & Turnbull in the South of England.
After graduating with a Masters from the Courtauld Institute in 2007, Philip has over 10 years' experience within the auction industry, beginning his career at a leading provincial auctioneers in the South of England, leading both the Design department and Modern & Post-War Art department nationally. Within this time he developed sales that were considered to be some of the leading sales in the country within these fields and was particularly known as a leading specialist in studio & contemporary ceramics, post-war art and artist's studio sales.
Philip is a trustee of Court Barn Museum, the Guild of Handicraft Museum, in Chipping Campden which includes curating and organising exhibitions for the Museum, and he has lately been involved in Design: Head, Hand, Heart in 2018, an exhibition devoted to nine leading contemporary designers who follow the rich heritage of architect and designer Charles Robert Ashbee.
Philip has regularly contributed to a number of publications including Ceramic Review, contributed to articles in The Times and The Telegraph, and has given lectures on the changing nature of Studio Ceramics reception in the art world at the Ashmolean Museum in Oxford and Arts & Crafts Jewellery at Court Barn.
SANDY STODDART FRSE
Alexander "Sandy" Stoddart (born 1959) is a Scottish sculptor, who, since 2008, has been the Queen's Sculptor in Ordinary in Scotland. He works primarily on figurative sculpture in clay within the Neo Classical Tradtidion. Stoddart is best known for his civic monuments, including 10 feet (3.0 m) bronze statues of David Hume and Adam Smith, philosophers during the Scottish Enlightenment, on the Royal Mile in Edinburgh. Stoddart says of his own motivation, "My great ambition is to do sculpture for Scotland", primarily through large civic monuments to figures from the country's past.

Stoddart was born in Edinburgh and raised in Renfrewshire, where he developed an early interest in the arts and music, and later trained in fine art at the Glasgow School of Fine Art (1976–1980) and read the History of Art at the University of Glasgow. During this time he became increasingly critical of contemporary trends in art, such as pop art, and concentrated on creating figurine pieces in clay. Stoddart associates the lack of form in modern art with social decay; in contrast, his works include many Classical allusions.
ALICE STRANG
Alice Strang worked as a Specialist in Christie's Impressionist and Modern, Twentieth-Century and Contemporary Art departments before joining the National Galleries of Scotland (NGS), where she is now a Senior Curator of Modern and Contemporary Art. Highlights of her curatorial career include the Scottish Colourist Series of exhibitions and books about F. C. B. Cadell, J. D. Fergusson and S. J. Peploe. She was made a Saltire Society Outstanding Woman of Scotland for her leadership of the NGS Modern Scottish Women: Painters and Sculptors 1885-1965 project. She took over the curation of the NOW IV contemporary art exhibition, on which her talk is based, from Julie-Ann Delaney. She is a co-curator of the forthcoming Paula Rego: Obedience and Defiance retrospective, which opens at the Sottish National Gallery of Modern Art Two on 23 November.
Date and time
Location
Marchmont House
Greenlaw
Duns
TD10 6YL
United Kingdom
Refund policy
Refunds up to 30 days before event