Exploring my Leadership | Archwilio fy Arweinyddiaeth
About this Event
This event will be delivered in English. Welsh documents are available upon request.
Mae'r digwyddiad yma yn cael ei gyflwyno'n Saesneg. Mae yna ddogfennau Gymraeg ar gael os oes angen.
(Please scroll down for English)
--------------------------
Beth sy'n gwneud 'arweinydd da'?
Treuliwch ddiwrnod yn datblygu eich dealltwriaeth o beth yw arweinyddiaeth ac archwilio pa fath o arweinydd yr hoffech chi fod. Byddwch yn cysylltu ag eraill sy'n gweithio er newid cymdeithasol ac yn rhannu profiadau gwerthfawr wrth i chi gychwyn ar daith eich arweinyddiaeth.
Beth fydd y digwyddiad yn ei gynnwys?
Deall beth a olygir gan 'arweinyddiaeth' a chyfrifoldebau allweddol arweinydd.
Cael dealltwriaeth gliriach o gryfderau arweinyddiaeth a meysydd i wella.
Archwilio agweddau gwahanol tuag at arweinyddiaeth.
Archwilio beth sy'n eich ysgogi chi fel arweinydd.
Sut i gynllunio i symud eich addysg ymlaen a datblygu fel arweinydd
Pam dewis y rhaglen hon?
Cysylltu gydag arweinwyr eraill.
Nodi beth mae'n ei olygu gan 'arweinydd da'.
Archwillio theoriau arwain a'u cymhwyso i'ch reality.
Adlewyrchu ac adolygu eich cryfderau.
Datblygu cynllun gweithredu a'r camar nesaf.
Ar gyfer pwy?
Dyluniwyd y rhaglen hon i bobl ar unrhyw gam o'u datblygiad proffesiynol sy'n awyddus i gael cyflwyniad i'r theori arweinyddiaeth a sut gallant ei gymhwyso i fywyd bob dydd.
Mae'r cwrs yma yn addas ar gyfer unrhyw fath o fusnes ac nid yw'n gyfyngedig i fenter gymdeithasol.
Am academi Menter Gymdeithasol
Mae'r Academi Menter Gymdeithasol yn darparu rhaglenni dysgu a datblygu sy'n canolbwyntio ar arweinyddiaeth, entrepreneuriaeth a mesuriad o effaith cymdeithasol.
Archebwch eich lle heddiw
Gwnewch yn siŵr eich bod chi'n archebu'ch lle yn gynnar gan fod lleoedd yn gyfyngedig i 15, ac yn cael eu dyrannu ar sail y cyntaf i'r felin. Os oes gennych unrhyw anghenion neu ofynion arbennig, rhowch wybod i ni, a byddwn yn cysylltu â chi i drafod.
Lluniaeth
Bydd lluniaeth egwyl yn cael ei ddarparu ar gyfer y diwrnod. Dewch â'ch cinio eich hun.
**********************************************************************************************************
AN INTRODUCTION TO LEADERSHIP
What makes a 'good leader'?
Take a day to develop your understanding of what leadership is and explore the kind of leader you want to become. You'll connect with others working for social change and share valuable experiences as you start your leadership journey.
What will the event cover?
Understand what is meant by 'leadership' and the key responsibilities of a leader
Have a clearer understanding of your leadership strengths and areas for development
Explore different approaches to leadership
Explore what motivates you as a leader
Have a plan to take forward your learning and develop as a leader
Why choose this programme?
Connect with other leaders.
Identify what it means to be a good leader.
Explore leadership theories and apply to your reality.
Reflect and review your strengths.
Develop an action plan and next steps.
Who is it for?
This programme has been designed for people at any stage of their professional development looking for an introduction to leadership theory and how they can apply it to real life.
This one day course is suitable for any business type and it is not exclusive to social enterprise.
About Social Enterprise Academy
The Social Enterprise Academy delivers learning and development programmes focused on leadership, entrepreneurship and social impact measurement.
Book your place today
Be sure to book your spot early as places are limited to 15, and are allocated on a first come first served basis. If you have any special needs or requirements, please let us know, and we'll get in touch with you to discuss.
Refreshments
Break refreshments will be provided for the day. Please bring your own lunch.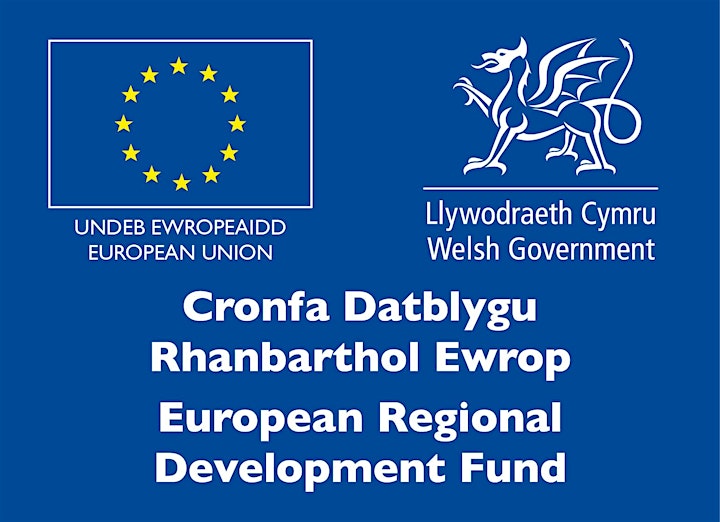 Mae Hybiau Menter Ffocws yn darparu gofod arloesol i ddeori a sbarduno busnesau newydd a'r rhai sy'n ehangu. Mae Hwb Menter Ffocws y Drenewydd a Hwb Menter Ffocws Caerfyrddin yn cael eu hariannu'n rhannol gan Gronfa Datblygu Rhanbarthol Ewrop trwy Lywodraeth Cymru
Mae'r digwyddiadau a ddarperir neu a gynhelir gan raglen Hybiau Menter Ffocws Llywodraeth Cymru am ddim ac yn agored i bobl o bob oedran, ond rhaid archebu lle ymlaen llaw. Mae'r niferoedd yn brin a disgwyliwn alw mawr am lefydd, felly archebwch yn gynnar i ddiogelu'ch lle.
Focus Enterprise Hubs are an innovative space to incubate and accelerate new, and growing businesses. Focus Newtown and Focus Carmarthen Enterprise Hubs are part funded by the European Regional Development Fund through the Welsh Government
Events delivered or hosted by the Focus Enterprise Hubs programme for the Welsh Government are free and open to all ages but must be booked in advance. Please be advised that numbers are limited and we expect high demand for places, so book early to secure your place.