Description
Tech City UK and LinkedIn are launching the second report in the Tech Nation Talent series, exploring tech skills in the UK.
In this, part 2 of 4 in the Tech Nation Talent series, we use LinkedIn insights to uncover new information on skills supply - showing how tech skills are working - the roles, sectors and functions they are used in, and their geography across the UK.
Our expert speakers include Andy Street, Mayor of West Midlands; Sue Duke, LinkedIn; Chris Meah, School of Code and Faye Pressly, Vanti, who will explore and debate the key findings and what they mean in the wider tech landscape of the West Midlands and the UK.
Speakers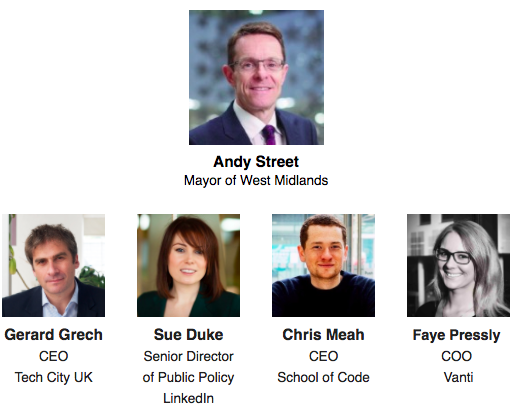 Agenda
12:00 Registration & lunch
- Welcome - David Hardman, CEO, Innovation Birmingham
- Report Findings - Gerard Grech, CEO, Tech City UK

- Keynote - Sue Duke, Senior Director of Public Policy, LinkedIn
- Keynote - Andy Street, Mayor of West Midlands
- Panel Discussion - Exploring tech skills in the UK; Moderator: George Windsor (Tech City UK Research Team), Andy Street, Chris Meah, Faye Pressly
14:00 End