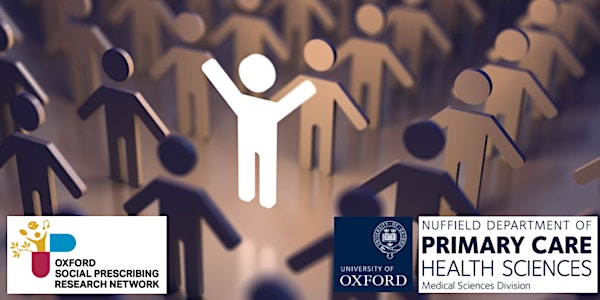 Exploring the Impact of Social Prescribing on Communities
An online knowledge exchange workshop to explore how social prescribing impacts communities.
About this event
Social prescribing has become a key policy initiative in the NHS. It acknowledges the fact that people's well-being can be influenced by their social, economic, and environmental circumstances.
Most of the academic and policy literature to date has focused on individual level outcomes (e.g. personal wellbeing) and has not fully considered the impact that social prescribing may have on communities.
Communities are central to the delivery of social prescribing; it aims to improve the range of support available to people for their health and well-being as well as improve community capacity. Social prescribing does this by establishing and integrating relationships between primary and social care providers and voluntary and community sector organisations.
In order to optimise its delivery, we need to improve our understanding of processes that shape interactions occurring as part of social prescribing. We also need to understand what outcomes are important for communities.
Researchers from the Oxford Social Prescribing Research Network are hosting a free online knowledge exchange workshop to help shape and identify priorities for future research relating to social prescribing and its impact on communities.
The workshop will be professionally facilitated by Flow Associates who will guide us all through an active learning session. The workshop will be a space for participants to share their experiences and expertise to help the group learn as well as generate new knowledge around social prescribing and communities. Participants should therefore come prepared to share their knowledge and interests to help each other learn.
The workshop will be hosted on Friday 23rd April 2021 (10am -12:30pm)
During the workshop we will have an active discussion about how social prescribing may impact communities using three lenses:
- External lens: exploring system-level factors
- Relational lens: exploring the interactions and relationships between providers, professionals, and patients
- Internal lens: exploring the impact on individuals within communities
The discussion will help shape priorities for future research by exploring how we can shift the focus from individual outcomes (Internal) to community outcomes (relational), in order to create change in wider society (external).
The workshop should be of interest to those involved in providing, running, or commissioning social prescribing services, as well as members of the public interested in this topic. The aims of the meeting will be to:
• promote knowledge exchange between different stakeholders
• develop collaborations to support research and/or implementation
• meet with colleagues with a similar interest
There are 30 spaces available on a first-come first-served basis. Additional sign-ups will be placed on a waiting list.
Please note that this online session will be recorded.
For further details, please contact Amadea Turk - amadea.turk@phc.ox.ac.uk