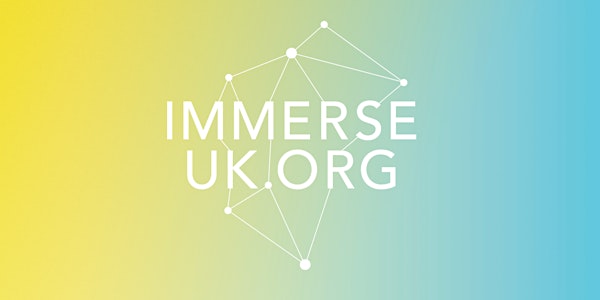 Exploring the potential of biofeedback-based VR interventions for anxiety r...
Description
About the event:
Presented by: Joanneke Weerdmeester, Radboud University
Aim: To emphasise the importance of cross-disciplinary collaboration between arts and science. To explore how VR can be a valuable tool in anxiety management, and to share theoretical and practical considerations for using biofeedback in VR
Topics:

Best research practices

Case studies

Lessons from the trenches

Recommendations for research and design
Agenda:
13.30: Welcome & Introduction - Sarah Ticho, Immerse UK
13.35: Introduction to GEMH Lab & Presentation - Joanneke Weerdmeester
14.20: Q&A
14.30: Close

Speaker Biographies:


Joanneke Weerdmeester MSc is a behavioural scientist based at the Games for Emotional and Mental Health Lab, Radboud University, Netherlands. She is the primary researcher at Deep, a meditative virtual reality game controlled by breathing. Over the last few years, she has been running extensive research on the efficacy of Deep in reducing anxiety.
Statement of Intent
The Knowledge Transfer Network is committed to increasing diversity and advancing equality of opportunity to create a vibrant climate of inclusiveness across the sectors that we serve.
As a responsible business, it is important to us that we represent the diversity of our people and communities, and that we create an inclusive innovation ecosystem in the UK in which everyone can reach their full potential.
It is vital that we monitor and analyse diversity information so that we can ensure that our processes, events and communications are fair, transparent, promote equality of opportunity for all, and do not have an adverse impact on any particular group.
Your cooperation in providing us with accurate data will ensure that we design and apply policies and processes that embrace a diverse and inclusive environment.
Any information provided on this form will be treated as strictly confidential and will be used for statistical purposes only.
No information will be published or used in any way which allows any individual to be identified.