Expression of Interest: European Support for Bio-based Industries

Wednesday, 3 May 2017 from 10:00 to 16:30 (BST)
Event Details
Brought to you by Knowledge Transfer Network (KTN), the H2020 UK National Contact Points, SusChem and Enterprise Europe Network, this free to attend event will give details about the 2017 support from the European Bio-based Industries Joint Undertaking and will provide you with the opportunity to:
Identify and link with new partners across Europe
Join consortia forming around forthcoming 2017 topics
Discuss and refine your projects ideas with potential partners
Gather information on forthcoming 2017 topics
Take advantage of the NCP, BBI, KTN and EEN support available on the day
This event is aimed at companies and research organisations that are interested in European Support for Bio-based Industries (BBI) and who wish to work with European counterparts in collaborative research and innovation projects. The morning session will highlight information about the 2017 support from the BBI Joint Undertaking and the afternoon will be highly participative in support of consortia building and proposal development.
Due to limited spaces we will operate an Expression of Interest scheme: We will confirm your space at the event within 10 working days from submission of your details.
Topics
The 2017 BBI Annual Work Plan and topic texts can be accessed via http://www.bbi-europe.eu/participate/calls-proposals-2017.
Who should attend
The event is suitable for anyone with an interest in participating in European projects in the forthcoming 2017 topics under the Bio-based Industries Joint Undertaking. The aim is to have a variety of prior experience in European projects represented, ranging from newcomers to coordinating EU projects on a regular basis.
Representatives from industry (small and large), academia, RTOs and other types of organisations with appropriate skills and expertise to address the forthcoming 2017 topics in BBI. Note, the number of spaces available for each type of organisation is limited and industry participation is encouraged in particular.
Delegates from all European Member States are encouraged to attend the event. Note, a third of the spaces available are reserved for non-UK participants.
The number of spaces is limited and we reserve the right to limit participation to one representative per organisation. 
Confirmation of Registration
In order to ensure adequate coverage of expertise, experience, type of organisation and geography, delegates will be selected according to their alignment with the topics covered by the event until all places are allocated.
We reserve the right to limit participation to one representative per organisation.
If selected, you will receive the confirmation of your booking from KTN within 10 working days from your registration.  Please note we will use the email address you provide during registration to send you the results of the selection process and for all communication related to event.  Please make sure this is an email account you have frequent access to and/or that the person who would like to attend is informed of our updates (in case different from the one who did the initial registration).
Registration will remain open until 21st April 2017 unless fully booked prior to that date. 
Queries
Should you need any further information and support please do not hesitate to contact us.
Technical enquiries: susanne.coles@ktn-uk.org
Logistical enquiries: anita.onwuegbuzie@ktn-uk.org
Programme Overview
10:00 - Registration opens
10:30 - Start of the event - Prompt.
An overview of the Bio-based Industries Joint Undertaking will be delivered by a representative from BBI covering the structure and evaluation criteria of the 2017 BBI topics.
The UK National Contact Points for BBI (Ian Holmes) will lead through the 2017 BBI topics covered and answer any questions you may have in relation to these topics.
Success Story. Hear an industrial perspective on being successful in obtaining BBI support.
An evaluator's view will provide you with guidance on dos and dont's for proposal preparation.
Flash delegate introduction. Profile yourself and make new contacts for future collaborative activities.
Proposal Workshop Session (in groups*). Brainstorming activities between potential partners on proposal ideas for the forthcoming topics covered by the event. At session end each group is invited to present and discuss progress made.
Opportunity for informal networking during coffee and lunch breaks staggered throughout the day.
During the workshop
You will be assigned a working group based on the information you provide us with during registration.  We endeavour to match you with other EU partners with similar interests in order to get the most value from the collaboration.  The working groups are potentially the starting point to a consortium - a REAL consortium. You may swap working groups if you realise that your expertise is more in line with another group/call topic.
Event Partners: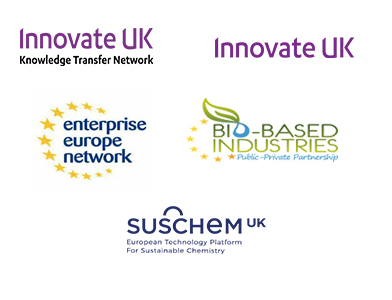 Other events that may be of interest:
ecocomp, 9 to 10 May 2017, Coventry, UK
Ecological awareness has stimulated an increased interest in sustainable materials, and issues such as recyclability and environmental responsibility are becoming ever more important for the introduction of new composite materials and products. Environmental legislation and consumer demand is increasing the pressure on manufacturers and end-products to consider the impact of their products at all stages of their life cycle.
When & Where

Ambassadors Bloomsbury
12 Upper Woburn Place
WC1H 0HX London
United Kingdom


Wednesday, 3 May 2017 from 10:00 to 16:30 (BST)
Add to my calendar
Organiser
The Knowledge Transfer Network is the UK's innovation network. We bring together business, entrepreneurs, academics and funders to develop new products, processes and services.
We can help you develop ideas, expertise and technologies, that have the potential to be world-beating products. Central to what we do is the initiation and building of collaborations.
View our privacy policy here.