A FIERY FEMINIST CROSS ARTS NIGHT PERFORMED BY ARTISTS IN THE SEX INDUSTRY
About this event
A FIERY FEMINIST CROSS ARTS NIGHT PERFORMED BY ARTISTS WHO WORK IN THE SEX INDUSTRY
As we find ourselves in an increasingly damaging political whirlwind, we bring you: a night of stigma defying poetry, theatre, comedy and dance performed by sex worker artists.
SEX WORK IS REAL WORK!!!
Anti-trafficking bills, strip club closures and the continued policing of women's bodies, it is time to stand up and make our voices heard!!!
COME HELP US FIGHT THE STIGMA
A night of art performed by REAL sex workers, sharing their REAL stories and creative talents. This is not to glamorise the industry but to share the humanity of these women and their experiences.
- POETRY
- THEATRE
- DANCE
- COMEDY
- DISCO & FUNK DJ TILL LATE
A NIGHT OF ART, ACTIVISM AND GLAMOUR
SHOWCASING WOMEN WHO ARE ACTIVE IN FIGHTING FOR THEIR RIGHT TO WORK AND TO BE RESPECTED
***LINE UP TO BE ANNOUNCED SOON***
$$$$$$$$$$$$$$$$$$$$$$$$$$$$$$$$$$$$$$$$$$$$$$$$$$$$$$
P.S - FUCK TRUMP
$$$$$$$$$$$$$$$$$$$$$$$$$$$$$$$$$$$$$$$$$$$$$$$$$$$$$$
EARLYBIRD - £5
GENERAL - £7
ON THE DOOR -£8
LAST ENTRY IS AT 12AM
- PLEASE NOTE THIS EVENT TAKES PLACE IN ROOM 2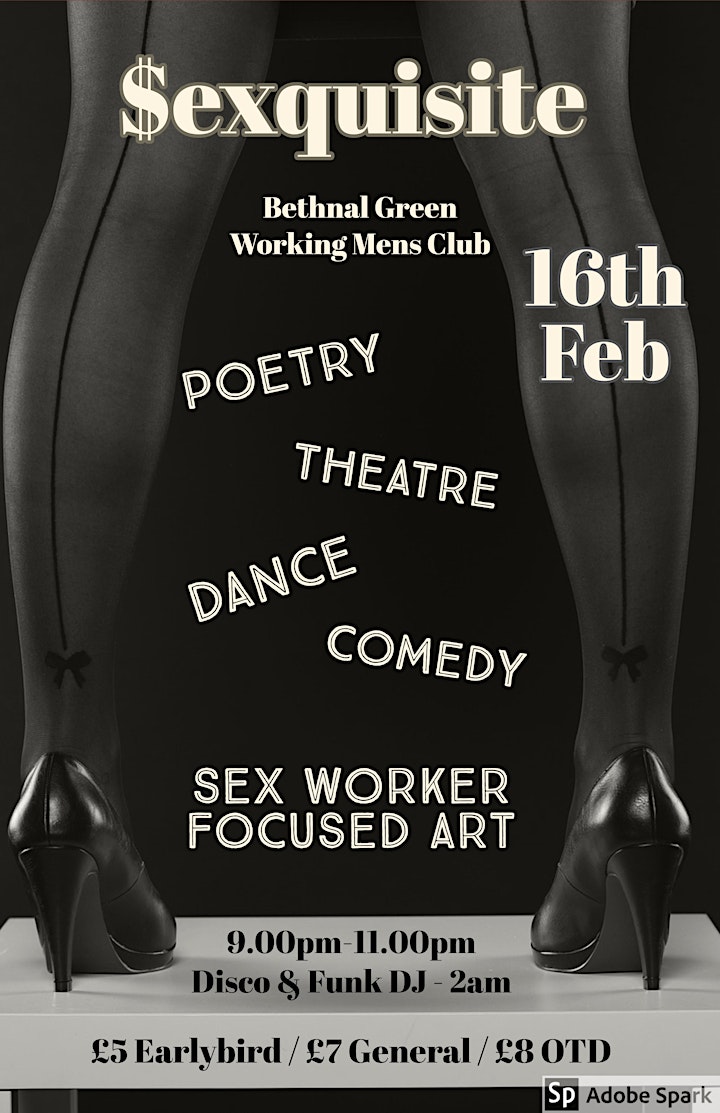 We are a celebratory, inclusive and artistic safe space for sex workers by sex workers. We host events, creative workshops, peer support groups and more. At Sexquisite we believe in art as a force for change, and do this by providing a platform for sex worker artists to make, create and share work! We are here to support, challenge and shift the damaging rhetoric around sex workers - one show (or poem) at a time.