Sales Have Ended
Registrations are closed
Thank you for registering the meeting link will be circulated shortly before the event
Sales Have Ended
Registrations are closed
Thank you for registering the meeting link will be circulated shortly before the event
This workshop is a free introduction for SMEs interested in gaining an understanding of net zero.
About this event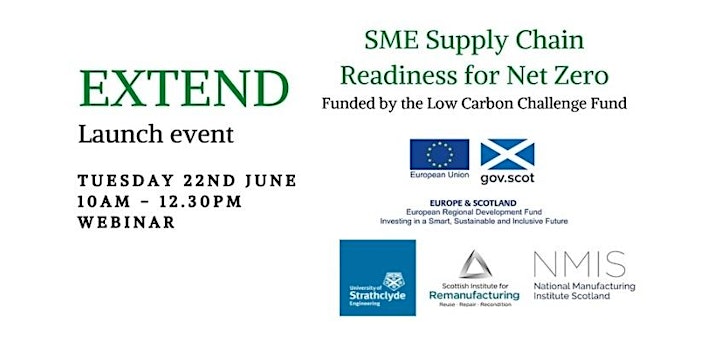 This workshop is a free introduction to net zero for SMEs that have little involvement or understanding of sustainable carbon offset supply chains and will provide insight into the process and tools required to support their journey to sustainability.
Providing a networking opportunity to connect with experts and introduce the tools to facilitate your company's net-zero transformation, the EXTEND workshop is brought to you by partners including the University of Strathclyde, and the National Manufacturing Institute Scotland (NMIS).
A forum where SMEs can define and voice their needs and tailor tools to support readiness for net zero, the workshop will explore themes including opportunity identification, and technical capability demonstration.
The programme includes invited speakers from SMEs working within the circular economy towards their net zero ambitions along with industry experts from within the University of Strathclyde, Scottish Institute for Remanufacturing and NMIS.
Privacy Statement
Your privacy and trust are important to us and our Privacy Notice provides essential information about how EXTEND, as part of the University of Strathclyde handles your personal information. This Privacy Notice is regularly reviewed and sometimes updated.
As part of the project we may share information on attendance at events with the funding body, and project partners. It is important that you check back often for updates to this Notice.
Updates may be made at any time and you will always find the most up to date version at: University of Strathclyde Privacy Notices
About EXTEND
The EXTEND is a project, funded by the ERDF through the Low Carbon Challenge Fund (LCCF) is a partnership with University of Strathclyde's Department of Design, Manufacturing and Engineering Management (DMEM), National Manufacturing Institute for Scotland (NMIS), and Scottish Institute of Remanufacturing (SIR), East Ayrshire Council, South Ayrshire Council, South Lanarkshire Council, and Smart Sustainable East Kilbride. EXTEND aims to engage SMEs through the events and projects to support the transition to a net zero economy.
The project receives funding from the European Structural Funds 2014-20 Programme Low Carbon Challenge Fund (LCCF) LCCFST2-007.