Two women from different backgrounds discuss the unexpected challenges brought by the covid-19 pandemic
About this Event
The Covid-19 pandemic has dramatically shifted our appreciation for the caring roles in our society. 'Clap for our carers' brought the nation together during the first wave of the pandemic. However, it seems that, as the pandemic has evolved, the struggles faced by 'key workers' have been hidden away from the public eye.
This discussion brings together two women's voices with two different backgrounds in caring roles to discuss the unexpected challenges of a most unprecedented year.
Discussion guided by Ren Bennet and Sophie Russell
Guests: Dr Louise Young and Rana Ibrahim
There will be time for Q & A throughout the discussion
Disclaimer and notice: this discussion may include topics on violence and sexual assault.
A note from guest speaker Dr Louise Young pictured below: My name is Louise and I am one of the junior doctors working in London. I'm currently working on a busy Acute Medical Unit seeing predominantly COVID positive patients. I spent the first wave of the pandemic providing medical care to the refugees in Samos, Greece and also refugees in Cape Town. The past year has been both challenging and unexpected in numerous ways.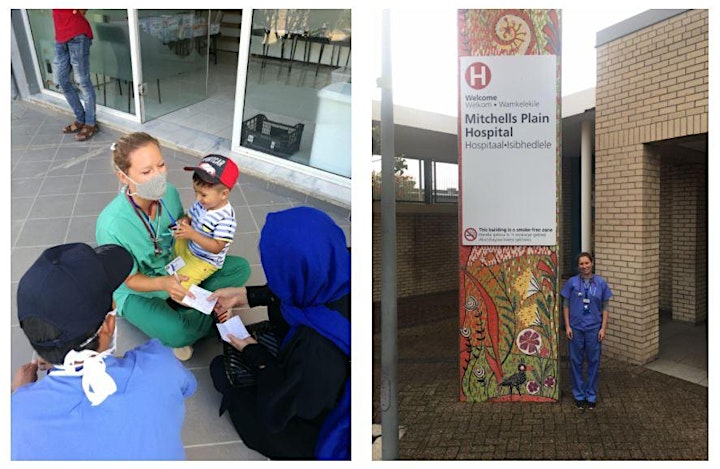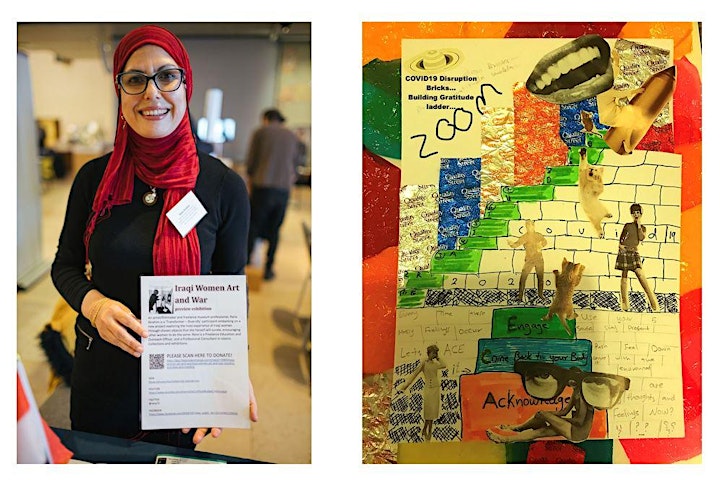 Guest speaker Rana Ibrahim (pictured above) is an Iraqi archaeologist and Artist Ambassador with Outside In. She is also the founder of Iraqi Women Art and War (IWAW) project, a freelance artist and an education and outreach officer working with Iraqi women based in Oxfordshire helping them capture their war surviving oral stories through art. Rana has been doing her own artwork through COVID19 her work displayed via Tumblr.
Rana worked at History of Science Museum, the University of Oxford as a Collection Project Officer and part of a project team called Multaka Oxford the Museum and Heritage Fund award-winning 2019 the project aim is to help refugee and forced migrant communities to integrate with Museum collections primarily through Scientific Islamic objects.
She has B.A. Archaeology (Baghdad University) and M.A. in Museum Studies (Newcastle University) and is working on a paper researching the relationship between Islamic collections and its audience at the University of Birmingham as a postgraduate researcher.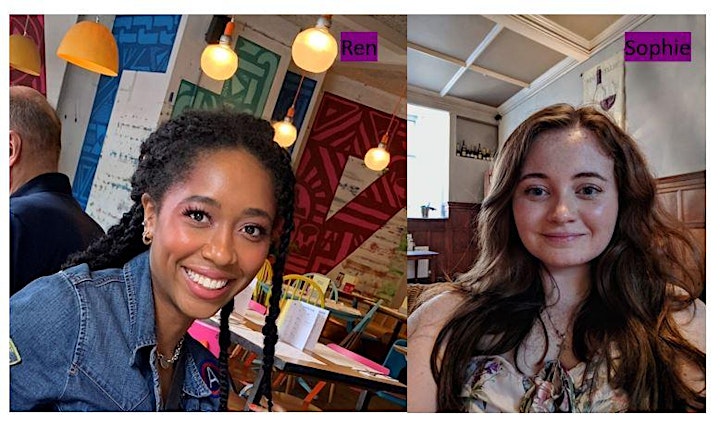 About
Sophie Russell: I'm currently a third-year BA film student at Oxford Brookes. I fell in love with film mainly because I saw it as a tool that could tell anyone's story. I joined the festival because I wanted to help people who felt like their voice wasn't being heard and hopefully bring their stories to light. 'Extraordinary Stories told by two extra-ordinary women' was an idea that my group came up with as we believe that ordinary people such as Rana Ibrahim and Dr Louise Young stories should be heard and celebrated. My team and I are so excited to share their stories to as many people as we can as we believe that their stories are important and should be told.
Ren Bennett: I am a third year BA Film student at Brookes. I greatly appreciate the power that film has to represent and amplify the voices of marginalised people all over the world through both fiction and documentary. I want to use this platform to centre the voices of people who are not often listened to. This talk is a way for us to bring forward the stories of the people who are getting through this pandemic and who have been pushed out of the public eye.
Event Notice: This event will be recorded on Zoom and published on our social media and YouTube channel after the event. If you attend you have the option of turning off your camera.
Event organiser: This event has been organised by the Oxford Human Rights Festival; Planning Committee; Centre of Development and Emergency Practice (CENDEP) at Oxford Brookes University.
When you sign up: When registering with Eventbrite to book tickets please read Eventbrite's T&Cs and privacy policy carefully about whether or not to subscribe to any additional Eventbrite marketing, please be aware that they are an external company and their privacy policy will be different to the one of Oxford Brookes University.