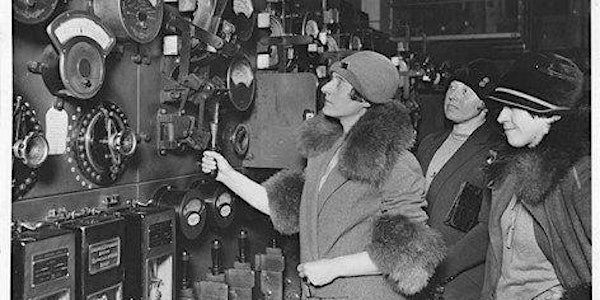 Extraordinary Women in Engineering: a WES Wikithon
Description
Join the Women's Engineering Society, Wikimedia UK, The Institution of Engineering and Technology, the Electrifying Women Project and Archives For London ONLINE for our FIRST ONLINE WIKITHON. Join us as part of INWED celebrations and our Centenary Trail Project to edit and add information about women in engineering to Wikipedia and celebrate some of the brilliant women engineers who deserve a more prominent place in the online historical record. Our online training team includes Paul Wilkinson, Richard Nevell and Dr Alice White, We can help you to develop your digital skills and learn how to edit Wikipedia in order to harness the power of the web.
Complete beginners and experienced editors are both welcome to attend - we'll provide training for anyone new to editing. In order to get the most from this training please follow the joining instructions you will receive prior to the event.
WARNING: Editing Wikipedia can become addictive... and it's FREE!
The Women's Engineering Society (WES) celebrated its centenary last year, in 2019 – one hundred years of women forging careers in the field of engineering. Our Centenary Trail Map uses Wikipedia entries to illustrate the number and variety of women who have worked in engineering across the UK. By creating and improving the Wikipedia entries of inspirational engineers you can help to really put them on the map!
Don't worry if the idea of creating a whole new page sounds daunting. Some of the most valuable work is done by people adding new information and improving data. On the day we will also be demonstrating how working with Wikidata can make women's history more searchable and accessible.
Take a look at @WESCentenary on Twitter or @wes_centenary on Instagram to learn more about some of the brilliant women engineers who don't have a Wikipedia page … yet.
The WES Centenary Trail is funded by a grant from the National Lottery Heritage Fund www.wes.org.uk/wes-centenary.
TIME: 13:30 GMT