Description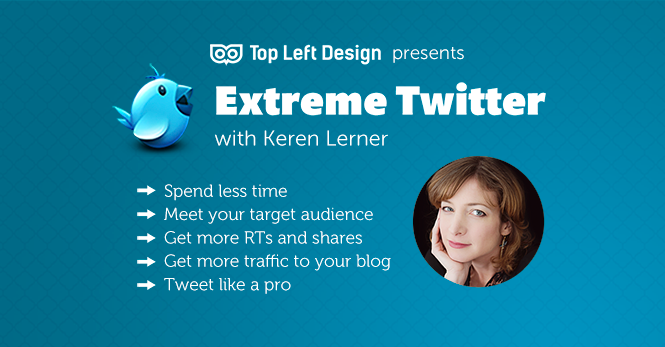 Keren at Top Left Design will lead an interactive workshop all about Twitter covering
Which types of businesses can use Twitter

Why Twitter is unique in its potential

Maximising your Twitter Profile

Twitter background and banner design

How to talk in the Twitter Lingo

Types of Tweets

Types of ReTweets

What are hashtags?

What are lists and how should you use them?

Using Twitter for event marketing

Live Tweeting

Twitter and your blog – a love love relationship

Automation or not automation?

Banter and the Fun vs Business and Promotion – finding the balance for business

Time saving tips for Twitter

Networking on Twitter

Q+A session

Takeaway notes

Refreshments - tea, coffee and some sort of cake

Join us for an information packed interactive session at our offices in Soho Twitter is incredibly powerful and flexible and there is so much you can do on it.
The seminar will be led by Keren Lerner, director at Top Left Design. Below are some testimonials from people who have attended recent presentations or experienced our advice before.
What others say about learning from Keren and the Top Left Design team
--------------------------------------------
I didn't klnow exactly what to expect as I've never been to a workshop before but the whole seminar was packed full of useful tips and information. Keren was really informative and really easy to listen to. Her knowledge of social media and marketing is extremely broad and it was really easy to understand how things are connected since she is pretty much a fountain of knowledge on these subjects! I would definitely reccommend this workshop!
Nick Thompson, Halfpipe London
I cannot rate Top Left Design's Content Marketing Workshop highly enough! Speaker Keren not only has a great accent (makes for a more entertaining workshop in my opinion!) but presents what can often be a complex/daunting topic in and engaging and accessible way. After our first exercise ideas for future blogposts just kept popping into my head as she was speaking. I think I walked away with about 6 months worth of headlines. Plus she gave us treats! Highly, highly worth 3 hours of your time. Book now.
Natalie James, Make Up Artist
After attending the TLD Social Media Seminar I have a much, much clearer idea of the strategy to use for my business when it comes to incorporating social media into my P.R campaign.The venue, TLDs offices, is fantastic and makes for a very "comfortable" environment to learn.Keren's moral view is also refreshing when it comes to social media for business and shows you don't need to bombard people with information they don't necessarily want or need to create a fantastic network. I will be working with TLD again in the future and will be attending future seminars. I have no hesitation in recommending Keren or her team.
Adam Cox, Corrective Exercise Specialist
I recently attended a workshop organised and given by Keren of Top Left Design on Social Media for Business. Keren's knowledge in this field is exemplary and she was able to deliver this in a clear, concise and easily understandable manner. I have already began to put knowledge acquired at the workshop to use and they have already started showing results. I highly endorse the services that Keren provides.
Yemi Osunkoya, bespoke wedding dress designer
As a writer, I was looking for ideas on how to make better use of blogging for my business. The Top Left Design seminar was excellent. Keren is a charming host and a fluent and accomplished presenter with a relaxed style all of her own. She explained the 'who' and 'why' as well as the 'how' of blogging and I especially liked how she encouraged participation without interrupting the flow of information. We all had an interesting and enjoyable time - even the food was well thought out. Highly recommended.
Brendan Staunton, Copywriter
I had the privilege of having an hour's chat with Keren from Top Left Design, during which I learned about so many things I could do to improve my web presence and therefore increase client enquiries. Keren told me about a number of resources which are easy (and free!) to use, as well as suggesting ways I could tweak my existing site to make it more attractive to potential clients. I had expected to come away from the conversation with a list of expensive services they could perform but it couldn't have been further from the truth! Instead, I came away feeling inspired, empowered and excited about making my mark on the internet. And yes, I'll definitely be coming back to Keren for her expertise when I need help along the way. Thanks so much, Top Left Design!
Claire Bradford
Keren delivered her presentation to a mixed audience, ranging from technophobes to web designers; it is my opinion that she held all present equally enthralled by the clear and informative content of her talk and by her honest approach to sharing her companies guidelines to impactful web sites. If you have the opportunity to attend one of her seminars. Grab the chance, you will not be disappointed!
Mark Keatley-Palmer
Great presentation Keren! Very informative, useful and understandable. I took a lot of notes! I am very impressed with all your work and the numerous websites which you showed. I'm so impressed with you that I will be putting my web design business your way! I will also confidently refer friends and clients to you. Now that's the BIGGEST commendation I can give you! I trust you. I think everyone else in the room feels the same way now too. You converted the audience into raving fans
Very Happy Phil
How refreshing it was to attend a seminar with a potentially technical and complex subject matter, and to be presented with a straightforward user friendly approach which even the worst technophobe could have understood. Highly informative and effortlessly delivered.
Thomas Gilder