Description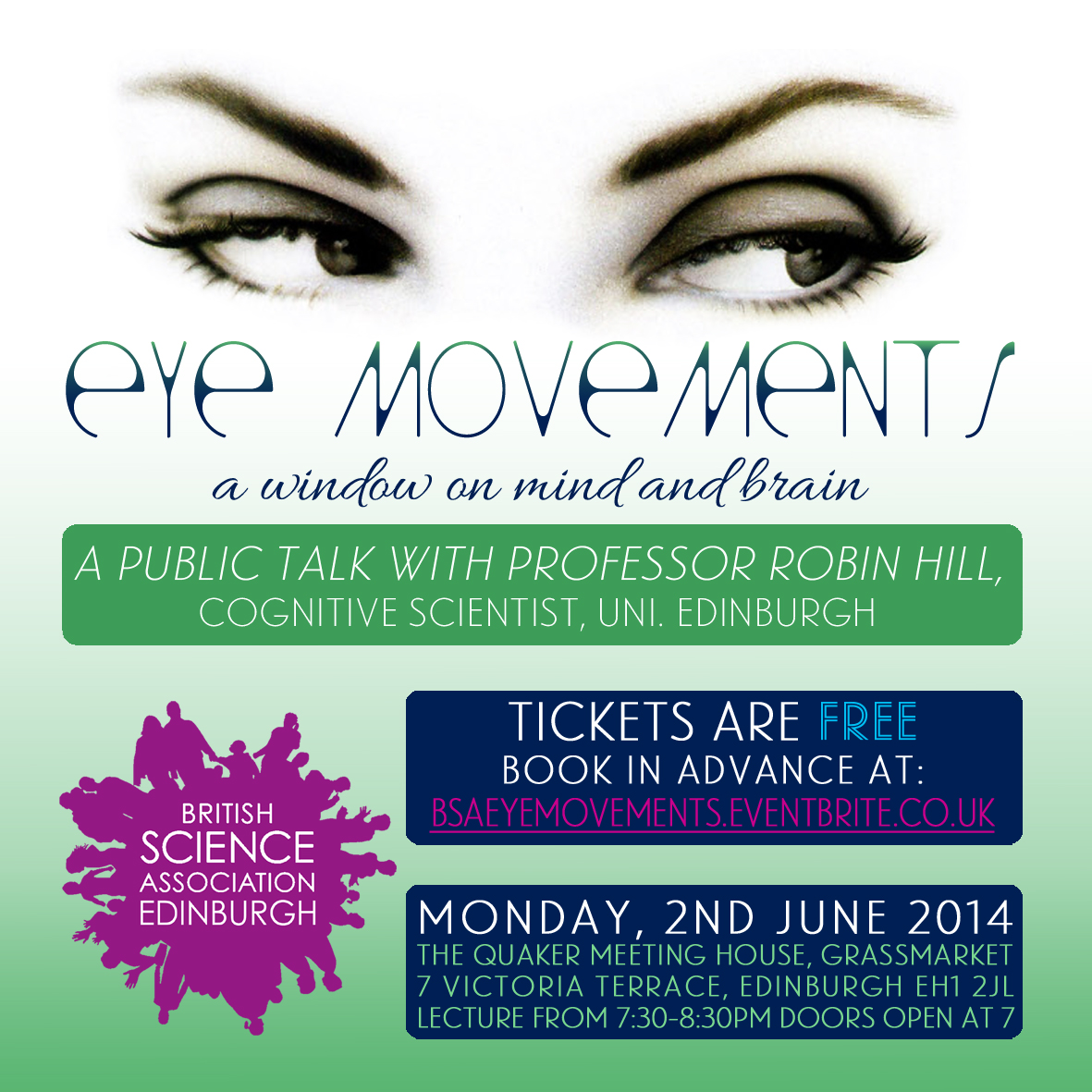 Professor Robin Hill of the University of Edinburgh will provide June's installment of our monthly lecture series at the Quaker Meeting House in the Grassmarket. Professor Hill's talk will be on "Eye Movements: A Window on Mind and Brain."
This talk will cover some of the biological aspects of vision, the cognitive control and
consequences of moving one's eyes, as well as the technology that lets us measure all this. Even without shifting position, your eyes can betray you, act faster than you realise and reveal your inner thoughts. Pupil dilation can be attributable to cognitive demand and emotional arousal, and is not just an automatic reflex to control the amount of light entering the eye. Throughout, Professor Hill will discuss a range of research topics that are both serious and fun, with the focus, if you can endure the puns, being how studying the human eyes in action can reveal more about what is going on behind them than in front of them.
"I'm a cognitive scientist (the dark-side of psychology) based at the University of Edinburgh in the Institute for Language, Cognition and Computation, and the Human Communication Research Centre, specialising in perception, communication, joint action, ageing and Human-Machine Interaction. A substantial amount of my life is spent analysing people's eye movements while they read, interact with technology, or engage in dialogue and co-operative actions. The purpose? To unravel the mysteries of human cognition while simultaneously improving the efficiency, interfaces and design of computer systems. There is little chance of me having to retire early.
My main projects at the moment include generating and analysing real-world navigation dialogues (SPACEBOOK) and the cognitive modelling and analysis of professional translators (CASMACAT). Recent past projects include investigating cooperative joint action and multimodal communication for Human-Robot Interaction (JAST); over in Psychology I worked on Dynamic Images and Eye Movements (DIEM), the aim of which was to model visual attention over moving, real-world stimuli."
Organiser of Eye Movements: A Window on Mind and Brain -- a FREE public talk