Description
AI is taking us to places never thought possible - and Bots are leading from the front.
Google Assistant, your new best friend who plans every detail of your day, who you now couldn't imagine your life without. Cleo, the new Bot you've been using, has been tracking your finances and tells you that you're spending too much on going out to eat. To save money, you start planning home-cooked meals and turn to Jamie Oliver for menu inspiration. With the money you've saved, you decide to treat yourself to a new lipstick. Unsure of what colour to go for, Estée Lauder Lip Artist helps you pick the perfect shade, even showing you what it looks like on before you purchase it. And when you're not feeling your best, Woebot, your daily pick-me-up and digital therapist, helps you deal with the daily stresses and strains of life.
Clever, right? If you aren't already using Bots, you definitely will be soon. But what does the future hold? And is your business prepared for a future that is a reality?
Following on from the successful London event, our latest Bournemouth edition of our Fable event will reveal the role Bots will have in the future of your business - and how your brand needs to embrace this conceptual AI technology.
Learn how:
To apply the right kind of AI to your brand

To bust myths surrounding bots and AI

Bots can understand and adapt to suit your business and brand needs

To stay ahead of your competitors with future technology

The exponential potential of AI
SPEAKERS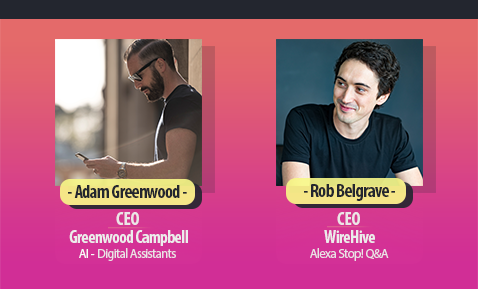 Adam Greenwood; CEO, Greenwood Campbell
A potent combination of big data, algorithms and processor power are truly enabling AI. How will this AI create a revolutionary new set of Bots that will not only change the lives of consumers - but how brands engage with them? Digital protagonist Adam Greenwood will introduce you to world where artificial intelligence will know you as well as you know yourself. Where you can live life in 360...and discover how you can use this conceptual cognitive AI to drive new experiences for your customers. Adam will also introduce IAMU, a device agnostic digital assistant that connects your banking, health, messaging, social, IOT, music, movies, shopping, travel and more.
Robert Belgrave; CEO, WireHive, co-creator Alexa Stop!
Wirehive founder, chair of BIMA South and co-creator of Alexa Stop!, the future tech podcast which has got the digital world talking, will be hosting a live panel featuring guest speakers, giving you, the audience, a chance to fire AI-related questions at the experts. Passionate about the digital community and one of the #BIMA100 Innovators & Entrepreneurs' influential people driving UK digital, Robert will discuss and challenge the weird and wonderful way technology is changing people's lives. Connected homes? Robots replacing us in the workplace? Driverless cars? We've got it covered.
Josh Sephton; Senior Developer, Push Doctor
Do You Understand?
Humans are alone in the complexity and variety of our language. Making machines understand and interact with us is wildly complicated. We've arguably solved the technical challenge of Natural Language Processing, but there's a fundamental UX problem left to solve. In this talk, Josh investigates why human-compute interaction is so hard, and suggests tips for getting it rightg. www.pushdoctor.co.uk
Timings & Venue
17.30 - Registration
18.00 - Talks
19.30 - Q&A and drinks reception
Greenwood Campbell, Granville Chambers, 21 Richmond Hill, Bournemouth BH2 6BJ
Step into the stylish Greenwood Campbell agency. Expect to be surprised and delighted by our contemporary 3000 square foot studio situated in the heart of Bournemouth.
This is an event for brands. Unfortunately we cannot accept attendee registrations from marketing or recruitment agencies.