Description
Bots mean business.
Cleo, the new Bot you've been using, has been tracking your finances and tells you that you're spending too much on going out to eat. To save money, you start to cook at home and turn to Jamie Oliver to help you find some new recipes. With the money that you've saved, you decide to treat yourself to a new lipstick. Unsure of what colour to go for, Estée Lauder Lip Artist helps you pick the perfect shade, even showing you what it looks like on before you purchase it.
Clever, right? If you aren't already using Bots, you definitely will be soon. But what does the future hold? And is your business prepared for a future that is a reality?
Our latest edition of our Fable event will reveal the role Bots will have in the future of your business - and how your brand needs to embrace this conceptual AI technology. Don't wait for tomorrow.
Learn how:
To apply the right kind of AI to your brand

To bust myths surrounding bots and AI

Bots can understand and adapt to suit your business and brand needs

To stay ahead of your competitors with future technology

The exponential potential of AI
Our masterclass will be held at Barrio Soho, a pocket of Latin attitude in central London. Join us for fresh street food, tropical cocktails and plenty of bot discussion for an informal, relaxed and most importantly, fun learning experience.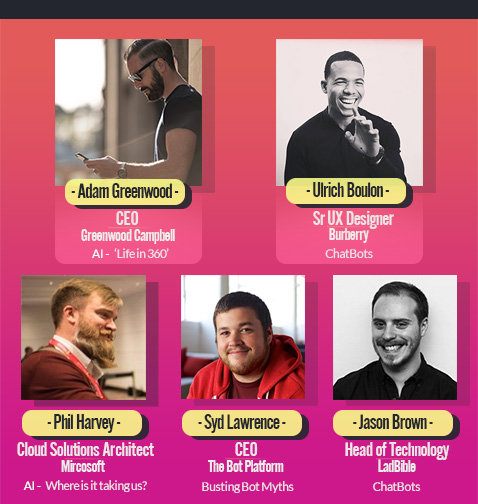 Phil Harvey: Cloud Solutions Architect, Microsoft
From folk law, fiction and film to your food shopping, your phone and your front room; artificial intelligence is finessing human folly. AI eats your data and digests it into decisions. Decisions that directly impact your businesses' bottom line. Phil Harvey, Cloud Solutions Architect or Data & AI in the Microsoft One Commercial Partner organisation, explores where AI is taking us - Bots, Decision Trees and Deep Neural Networks. Recommendation engines, fraud detection, scalable conversations, increased efficiency, better planning, and all in support of increased human wellness.
Ulrich Boulon; Sr UX Designer, Burberry
For the first time ever people are using messenger apps more than social networks, opening the realms of possibiltiy for ChatBots through this channel. Ulrich Boulon, Senior UX Designer at Burberry, discusses how these Conversational User Interfaces can be used by designers, thinkers, analysts, marketers and others for future gazing - bringing order to the complex world we live in, making it a customer centric storytelling for anyone.
Jason Brown; Head of Technology, LADbible
Bots have the potential to reduce consumer friction, increase performance and drive engagement. Learn how the LADbible drives video submissions through their intelligent ChatBOt and come on a journey, as Jason discusses how their Bot become an overnight success - which led to a unique problem...
Syd Lawrence; CEO, The Bot Platform
What are Bots anyway? What are they not? What problems can they solve? Are they useful for business? Do people even want to chat to bots? How can companies and audiences benefit from bots? Syd Lawrence, co-founder of The Bot Platform and influential technology expert (Hospital Club 100), busts the many myths surrounding the AI phenomenon, arming you with everything you could ever want to know about Bots.
Adam Greenwood; CEO, Greenwood Campbell
A potent combination of big data, algorithms and processor power are truly enabling AI. How will this AI create a revolutionary new set of Bots that will not only change the lives of consumers - but how brands engage with them? Digital protagonist Adam Greenwood will introduce you to world where artificial intelligence will know you as well as you know yourself. Where you can live life in 360...and discover how you can use this conceptual cognitive AI to drive new experiences for your customers.
Timings & Venue
17.30 - Registration
18.00 - Talks
20.00 - Q&A and drinks reception
Barrio Soho, 6 Poland Street, Soho, London W1F 8PS
Nearest tube stations: Oxford Circus, Piccadilly Circus
This is an event for brands. Unfortunately we cannot accept attendee registrations from marketing or recruitment agencies.