Description
The digital spotlight is firmly focused on latest trends - Virtual Reality, Bots, Artificial Intelligence, Moments and Augmented Reality. But what does it mean for your brand? How can you simply identify and capture the elements that will have the most impact for you?

The PlayStation VR now boasts over a million customers, Google's Cardboard and Samsung's Gear have taken this technology mobile. Bots are also now becoming a powerful mainstream technology with brand giants - Burger King, KLM and Burberry all launching into the Bot arena in the past year. Pokemon GO was the third most downloaded iOS app in 2016 - maximising the potential of augmented reality mobile tech.

These future technologies have touched a wide range of sectors from sport, business, retail, entertainment and travel. But we're just at the beginning of understanding how VR, AR and AI can drive brands growth for global and independent businesses alike.

In our latest Fable Digital Masterclass, we will uncover the art of the possible - using future tech.
Discover how:
AI, VR, Live Video and Bots have a role to play within your business

Embracing future technology can help position your brand as an industry leader

Cost effective ways to engage and inspire your prospects and customers

Technology can support better engagement and customer satisfaction
Speakers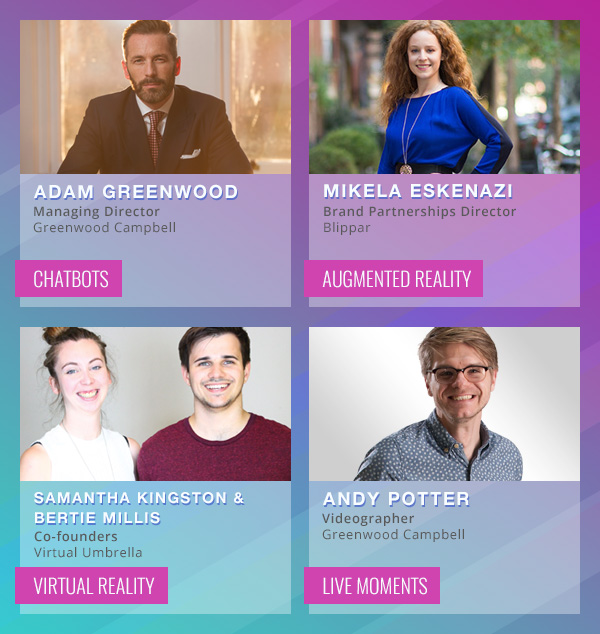 Mikela Eskenazi; Brand Partnerships Director, Blippar
Mikela has been recognised as one of the leading women in digital in the UK, has had her work covered by Marketing Week, The Retail Times, Huffington Post and has taken the stage at TEDX discussing "Future of Mobile and Mobility." Mikela is a Brand Partnerships Director at Blippar, the leading visual browser powered by augmented reality and artificial intelligence. In her role she is creating ground-breaking work for the retail sector and cosmetics category with companies like P&G and other large FMCG players.
Samantha Kingston & Bertie Millis; Co-founders, Virtual Umbrella
Bertie Millis and Samantha Kingston are the award-winning co-founders at Virtual Umbrella. Virtual Umbrella is a marketing consultancy specialising in virtual reality working in the UK, Europe and US. Virtual Umbrella has worked on a number of notable projects including creating a virtual reality cinema in Cannes, curating and running a technology hub as part of the Edinburgh Fringe Festival and providing immersive experiences along the BBC and Imperial War Museum.
Samantha and Bertie will be discussing exactly how you can use Virtual Reality effectively with your own brand - proving that the technology is not only available to multi-million pound organisations. They will be showcasing how some of their clients such as Sky, Lipton Ice Tea and Uber and are embracing new technology to get one step ahead of their competition.
Adam Greenwood; Managing Director, Greenwood Campbell
Conversational interfaces are a novel way to interact with your favorite brands and Bots are poised to transform the way consumers interact, connect with and purchase online. Microsoft and Facebook opened their messaging platforms to bots last year, Google has followed suit this year with the launch of Allo. With technology giants and brands alike investing with gusto in this area, it's clear that Bots are here to stay.
Adam will explore:
The raise of bots

How leading brands are embracing the technology

The fit and potential for your brand

Where Bot technology may be heading in the future
Andy Potter; Videographer, Greenwood Campbell
Advertising "in the moment" is the latest trend to drive audience engagement and response particularly with millennials. With the introduction of live streaming, followed by Instagram Stories and the increasing popularity of Snapchat, brands are reaching out to their potential customers live over ten times a day. Over 150 million people are now using instagram stories - this is an engagement opportunity you cannot miss.
Andy will explore:
How you can use Stories and Live Streaming to engage your customers

How brands and competitors are already using these platforms and the results they are seeing.

The future of social video technology
Timings & Venue

17.00 - Registration
17.30 - Seminar
19:30 - Q&A and drinks reception
Greenwood Campbell, Granville Chambers, First Floor, 21 Richmond Hill, BH2 6BJ
Step into the stylish Greenwood Campbell agency. Expect to be surprised and delighted by our contemporary 3000 square foot studio situated in the heart of Bournemouth.
This is an event for brands. Unfortunately we cannot accept attendee registrations from marketing or recruitment agencies.