Location
Ingleside House
5 Beeches Road
Cirencester
GL7 1BN
United Kingdom
Sit back, relax and enjoy a drink while our lovely models show you the latest fashions from Cirencester's boutiques, in a beautiful setting.
About this event
Join us at the Pavilion in the gardens of Gatsby-esque Grade II listed Ingleside House, for a fun filled evening of fabulous fashion showcased by Cirencester's boutiques. The evening will start with a glass of processo (or soft drink) and canapes on arrival, followed by a presentation of fabulous fashion from local boutiques.
The event will be a fantastic opportunity to see what's available from great local boutiques, with special discounts on offer!
This event is organised by COTSWOLD BREAST CANCER NOW and all proceeds will go to the research and care charity BREAST CANCER NOW so by supporting us, you can have fun and do good work at the same time!
Venue details: INGLESIDE HOUSE, 5 Beeches Road, Cirencester, Gloucestershire GL7 1BN
There will be a bar available to purchase further drinks and Ingleside's Firepit bar is open until 11.00pm for drinks. Should you wish to dine beforehand Téatro Bar & Restaurant opens at 5.00pm (reservations advisable)
Parking: Free parking opposite Ingleside House Hotel in Beeches Car Park from 6.00pm
Participating Stores: (click on store name to discover more)
26 Market Place, Cirencester, GL7 2NY
19 Black Jack Street, Cirencester, GL7 2AE
34 Dyer Street, Cirencester GL7 2PF
18 Castle Street, Cirencester, GL7 1QH
18 Castle Street, Cirencester, GL7 1QH
25 Castle Street, Cirencester, GL7 1QD
Schedule: To be confirmed
Date and time: Thursday 15th September 2022 (7.00pm - 10.00pm)
Tickets: £20 (+ £1.43 Eventbrite booking fee) Tickets can also be purchased from participating boutiques and from Cotswold Breast Cancer Now committee members.
PLEASE BRING ALONG SOME CASH FOR THE RAFFLE
Refund policy: No refunds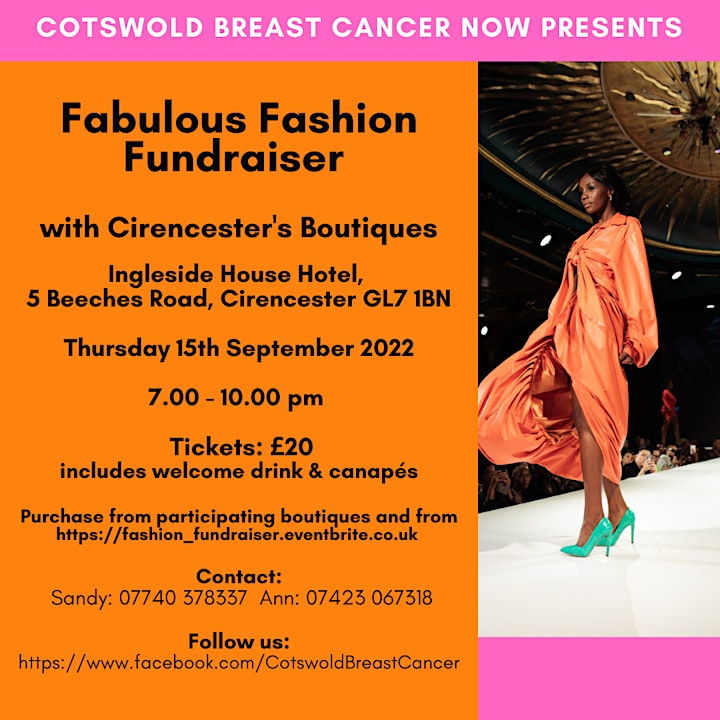 Cotswold Breast Cancer Now is a group of volunteers who organise fun, fundraising events in the Cotswolds in aid of the UK's largest breast cancer research and care charity, BREAST CANCER NOW. This charity is the place to turn for anything and everything to do with breast cancer, supporting those affected the whole way through, providing support for today and hope for the future. Laurence & Jackie Llewelyn-Bowen are patrons and supporters of our charity and host our annual Garden Party each summer.
BREAST CANCER NOW works with the brightest minds in labs across the UK and Ireland, making life-saving breast cancer research happen. They also provide support services, trusted breast cancer information and specialist nurses, ready to support breast cancer sufferers whenever they need it, as well as campaigning for the best possible treatment, services and care, for anyone affected by breast cancer.