Face-2-Face Networking for Health & Wellbeing Professionals
About this event
Welcome to Wonderful World of Wellbeing.
In collaboration with Spelthorne Business Forum; business incubator
we present WWoW Networking
Tuesday 12th October 2021
Meeting time 7.30pm - 9.30pm
Venue: Summit House. 33 Hanworth Road, Sunbury-on-Thames, England, TW16 5DA
Present your business in a 60-second pitch
121's
Open Networking
Share business cards, promotional flyers, pull up banner
This is your time to shine! Suitable for health, wellbeing, and business support services.
POPUP showcase
Why not showcase your business during our live meetings, a fabulous way for business owners to dive deeper into your business. Bookings are limited, see the ticket section here to book. When you book a POPUP, this includes the cost of your (one) entry pass
Engage, Explore, Create meaningful connections with like-minded professionals in the world of wellbeing and associated support services for our industry.
We have a fabulous group of individuals who consistently transact B2B and beyond. We are pretty relaxed and casual on coming together, yet a very supportive group of business people. This is an evening like no other an opportunity to share your offerings, collaborate, build solid business relations, and cultivate the possibilities of integrating your unique offerings with other professionals from around the country and beyond.
The Ticket sale ends 5.00 pm on the day of the event
A few points to consider for the event:
- Face-to-face meetings are subject to change in line with government guidelines relating to pandemic restrictions, or in the event of any other forces outside of our control.
- Smile, you could be on-camera... Photographs/Video: You grant Wonderful World of Wellbeing (WWoW) full rights to use the images resulting from photography/video filming, and any reproductions/adaptations of photography/video for publicity or other purposes by WWOW. This includes (but is not limited to), the right to use them in all areas we use for publicity both on and offline If you do not wish to be photographed please inform us on arrival.
A reminder email with location details will be emailed to you at 5.35pm on the day of the event.
Team WWoW looks forward to networking with you, see you there.
WWoW Networking is hosted by: Diane Mitchell, Founder; Wonderful World of WellbeingFind out more about WWoW by visiting our website
Connect to our Facebook Page online community business page
Join our Facebook networking group (simply answer the 3 questions on joining)
Join our Facebook open group
Insta: dianemitchellwwow
Twitter: @WWoWellbeing
© COPYRIGHT: Wonderful World of Wellbeing. Diane Mitchell. 2017 - 2021. No part of this listing or any other WWoW event listing or materials of any kind may be reproduced in whole or in part in any manner without the permission of the copyright owner. Thank you for your cooperation.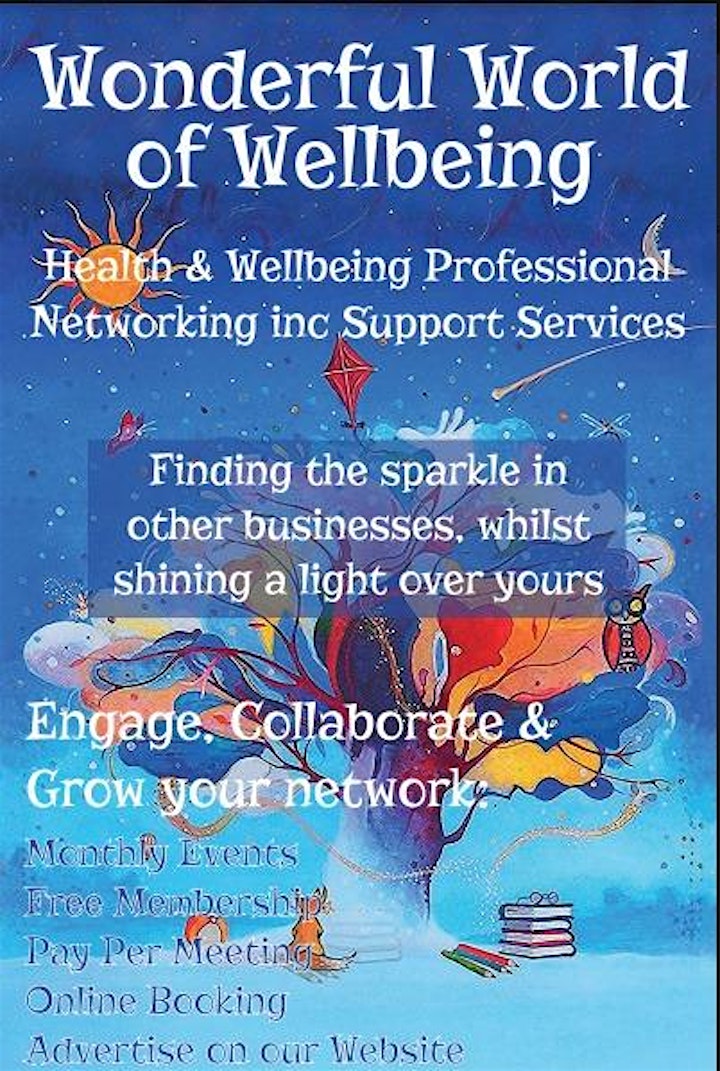 Organiser of Face-2-Face Networking for Wellbeing professionals
Helping people in three unique ways, 
Wonderful World of Wellbeing includes, networking for health and wellbeing professionals and hosting the Wonderful World of Wellbeing Festivals. Diane empowers individuals and groups alike to learn, develop and empower themselves to live a life of holistic wellness. 
Diane Mitchell is a well-being expert. Working with individuals and groups, facilitating instand change of mindset, mindfullness and meditation.
Whether you're interested in meeting Diane in person, partaking in a one-on-one therapy, attend their online networking it's safe to say that you're in great company. 
With an undivided drive to help individuals overcome their limiting beliefs, remove undermining thoughts, uplift their overall life and business:, enabling positive change is what Diane and her collective does best.