Networking for Health & Wellbeing Professionals
About this event
Wonderful World of Wellbeing Networking
In collaboration with Spelthorne Business Form
Continue your networking with people who get you and understand the importance of our wellbeing sector. Never before has health and wellbeing being at the forefront of everyone's life
This is your time to shine! Suitable for health, wellbeing, and business support services.
Engage, Explore, Create meaningful connections with like-minded professionals in the world of wellbeing and associated support services for our industry.
We have a fabulous group of individuals who consistently transact B2B aNd beyond. We are pretty relaxed and casual on coming together, yet each takeS our business and that of others seriously. This is an evening like no other an opportunity to share your offerings, collaborate, build solid business relations, and cultivate the possibilities of integrating your unique offerings with other professionals from around the country and beyond.
You will have the opportunity to present your business offering in a 60-second pitch.
Share your business card details
Shine bright in your 121`s
Make those essential new connections. Our tribe is welcoming, professional, and supportive. If this resonates with you, you are welcome to join
We are delighted to have Paul J Rose – Voice Over Artist. As an avid networker, you're regularly called upon to present your business in sixty seconds or less and some people find this to be a most daunting prospect. As a result, those people are losing out on thousands of pounds' worth of lost revenue every year. Paul is a voice over artist and presenter and he continues to help people all over the world to create presentations which lead to people queuing up to know about what they do and how they might work together. NOT TO BE MISSED !
Ticket sale ends at 5.00 pm on the day of the meeting
Get social with us:
Facebook: https://www.facebook.com/wonderfulworldofwellbeing
Facebook: Networking closed group Health & Wellbeing: https://www.facebook.com/groups/1143018099078125/
Open group: all-inclusive where you can connect with members of the public and view our showcasing guest businesses from WWoW-Online. https://www.facebook.com/groups/891616110941411/
Insta: dianemitchellwwow
Twitter: @WWoWellbeing
Email: wwowellbeing@gmail.com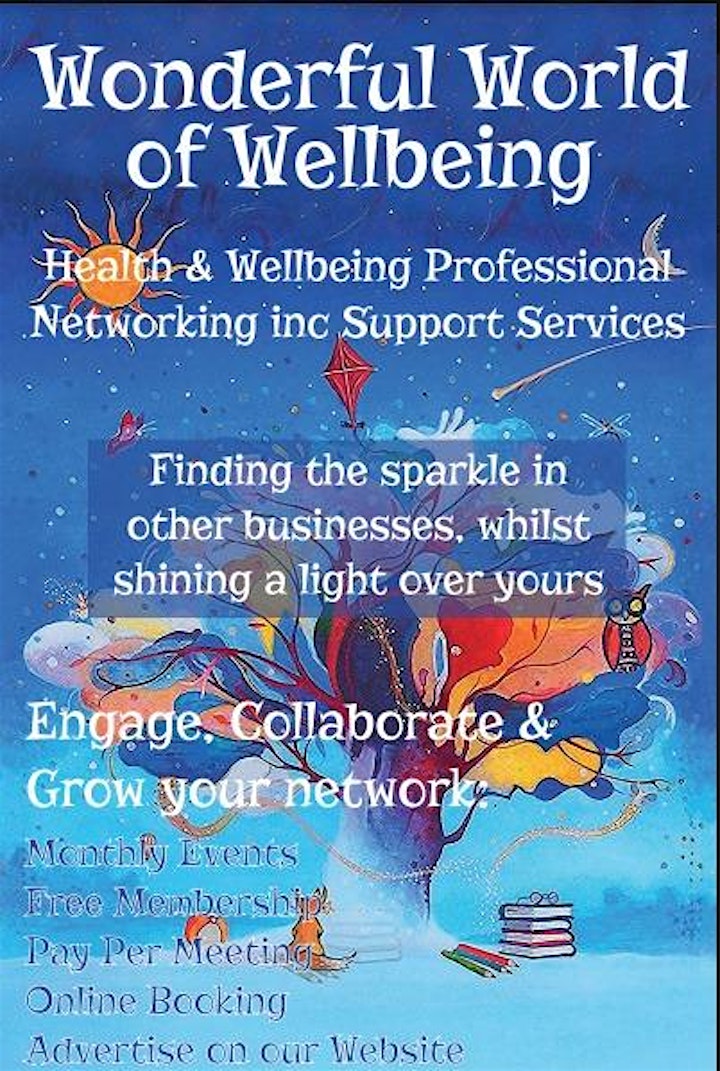 Organiser of Face-2-Face Networking for Wellbeing professionals
Helping people in unique ways, 
Wonderful World of Wellbeing includes networking for health and wellbeing professionals
Host to: Wonderful World of Wellbeing Expo.
Diane empowers individuals and groups alike to learn, develop and reinvent themselves to live a life of holistic magnitude - a full mentor program  
Diane Mitchell is a well-being expert. Working with individuals and groups facilitates instant change of mindset in a one-to-one setting.
Whether you're interested in meeting Diane in person, partaking in one-on-one therapy, attend their online networking it's safe to say that you're in great company. 
With an undivided drive to help individuals overcome their limiting beliefs, remove undermining thoughts, uplift their overall life and business, enabling positive change is what Diane and her powerful holistic organization do best.