Face to Face 2014

Friday, 7 November 2014 from 10:00 to 17:00 (GMT)
Event Details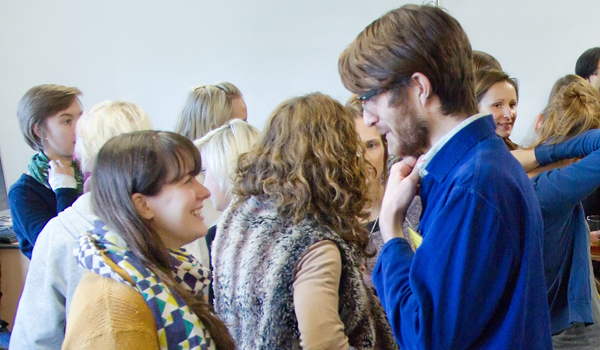 Dance Strategy Group invites you to

Face to Face 2014
Is the dance sector thriving?
Where are our audiences?
Are we flogging a dead horse?
Do you feel like you're going it alone?
Are you able to be ambitious and take risks?
Does change feel possible?

The future of dance: can we afford to take risks?
Dance Strategy Group is a collection of people committed to working together to share ideas and drive forward the development of dance in the South East. That may make it sound as though we've got it all worked out. We haven't.

Face to Face is a biennial gathering of people working in or with dance. We've run it three times before, and this time we're doing things differently. We will be meeting for one day in November when Improbable will facilitate an Open Space event. We will think, talk, work and share ideas.

We need you to join us and help us discover our collective vision, and then we need to make it happen. What are our challenges? What are our ideas? What are we excited about? How can we make a change?

If we are going to make significant and lasting changes, we've got to spend time doing some deep interrogation and radical thinking, and the best way to do this is collectively. This is our chance to embrace the power of thinking and working together – one enormous melting pot of thoughts, perspectives, inspiration, entrepreneurship, and most importantly action.

Over the day, we will also be making a tangible record - a big report - of where we are now and where we want to go, of what we need to do collectively and what we can do individually. This will be created by and sent to everyone so that we can all begin putting conversations into action.

Whether you are a dance lecturer or teacher, a programmer or producer, an artist struggling to get programmed, a passionate audience member, a student wondering which way to go next, a local authority arts officer facing further cuts or someone who just wants to get involved – join the conversation.

It is time to make a change. Do you want to be a part of it?

When & Where

Sadler's Wells Theatre

EC1R 4TN
United Kingdom


Friday, 7 November 2014 from 10:00 to 17:00 (GMT)
Add to my calendar
Organiser
A leading arts organisation focused on developing dance.
We want to ensure the best dance by the most talented artists gets made and that people from all walks of life can access greater opportunities to enjoy the exhilaration and health benefits of dance. We give artists the opportunity to discover new and surprising ways of exploring their creativity and developing their choreographic practice.
Our work happens locally in Brighton, in the South East region, and further afield across the UK, Europe and beyond. Last year we connected with over 88,000 people. We supported 666 artists, co-commissioned 43 new dance works and presented 106 live performances
We are a registered charity and a company limited by guarantee.