About this Event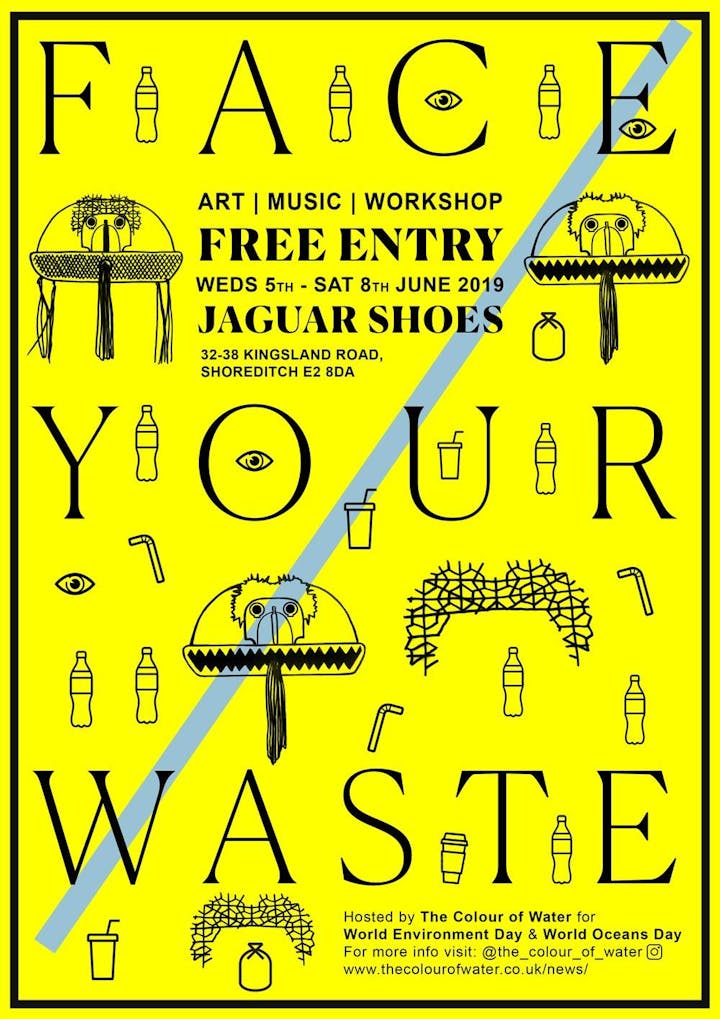 Face Your Waste is a 4 day event exhibiting the work of creatives in the art and music scene, who have taken up the challenge of finding creative solutions to the accumulation of plastic waste that is destined for landfill and the oceans. The 4 day event has been set up to show the public that big changes have small beginnings and that by using your creativity you are able to make a difference and create something beautiful out of the unloved.
Creatives have been selected from around the world including Australian artist Freya Jobbins, illustrator Isabella Cotier and costume designer Anne-Sophie Cochevelou to name a few. There will also be live music performances from up and coming rap artists focusing on environmental issues and workshops from ethical brands such as Novel Skincare and LUSH cosmetics sharing their knowledge on how to reduce your impact on waste in a conscious consumerist world.
To add, Dream Bags Jaguar Shoes will also be offering a discount on the 5th and 8th of June if you bring your own reusable drink containers.
Come and be part of positive change.
SCHEDULE OF EVENTS
WEDNESDAY 5TH JUNE: WORLD ENVIRONMENT DAY LAUNCH EVE
6pm - LATE: Exhibition screening on main ground floor
DJ Dave Jones
DJ An Trinse & TFT (tbc)
Live music / lower level
Live Rap performances by Kodi
Live Rap performances by King Reecently
THURSDAY 6TH JUNE
11am-1pm: Plastic awareness creative workshop hosted by Andrew Macgregor
3pm-5pm: TBC
8-10pm: Spoken word artists (tbc)
Playlist and DJ by Jaguar Shoes
FRIDAY 7TH JUNE
11am-1pm: GreenPeace workshop (tbc))
3pm-5pm: Novel Skincare workshop: Beauty and the future of bio-plastic workshop
8-10pm: DJ An Trinse & TFT (tbc)
Playlist and DJ's also by Jaguar Shoes
SATURDAY 8TH JUNE - WORLD OCEAN DAY
Exhibition showreel screening
11am-1pm and 3pm-5pm: LUSH workshops: activities will include hand-making Fresh products and knot wrapping; fabric wrapping that celebrates the ancient Japanese tradition of furoshiki
6pm - LATE: Live music // lower level
Dj Benji B & percussionist Cosimo Keita Cadore
Live band - Kaya & Mobius Trip
Live Rap performance by Kodi &
Live Rap performance by King Reecently (bar for bar collab)
and DJ's also by Jaguar Shoes
About The Colour of Water
The Colour Of Water was founded in 2018 and is a creative community based organisation, aiming to inspire change in local areas in the UK and worldwide on the importance of reducing and eliminating the use of plastic but also finding creative solutions with the plastic waste that currently exists through upcycling and innovation techniques. Website https://thecolourofwater.co.uk/