Description
Facebook for Business.
Confused by Facebook? Can't make sense of Facebook Ads? Unsure of how to Boost a post? Learn how to use Facebook for your business or workplace. Training is done at our offices in MediaCityUK, Manchester.
​
Facebook for Business helps you get the most out of Facebook.
Take the guesswork out of Facebook and create a strategy that works! Learn skills and tap into the experience of an expert.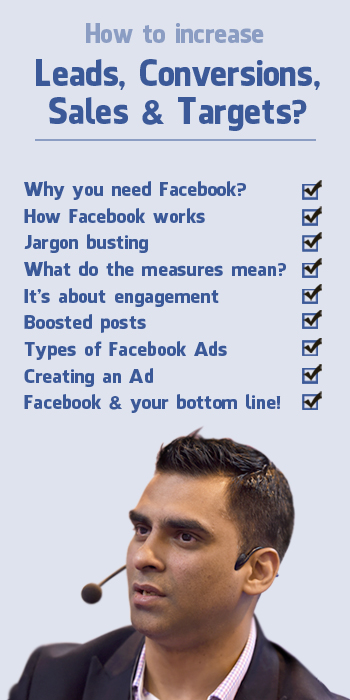 Kaz Laljee is a leading expert in Social Media training. He is a Postr-graduate in Marketing with over 20 years of experience in the subject and has been using social media since 2009.
Kaz has worked with Private, Public and 3rd Sector businesses and organisations. He founded Soc-Med: Social Media in 2015 and has worked with the BBC, Institute of Directors (IoD) and numerous SMEs harness the power of social media.
"Learn how to reach 100,000 people for just £40 in Ads spend and getting thousands of Likes at the same time!"
If booking four or more places, please call directly on 0161 410 4455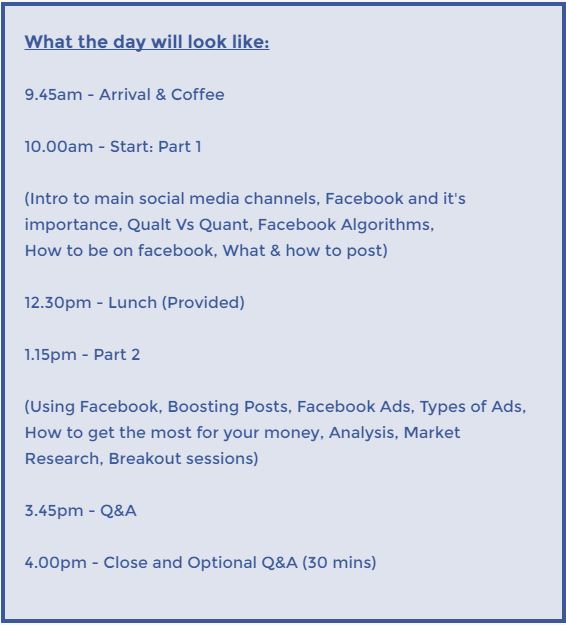 This programme will be of benefit to:
Social Media/Marketing Managers

Digital Marketing Managers
Event Includes:
Coffee & Refreshments

Lunch

Car Parking

Accessible Facilities