Refund policy
Contact the organiser to request a refund.
Eventbrite's fee is nonrefundable.
Facilitating Transformational Journeys: A Seven Week Intensive Course with Dr Anthony Hodgson
About this event
Anthony will lead you in learning the new kind of thinking, feeling and cooperative action that is required now humanity is irreversibly enmeshed in the systems of planet earth. With no way of turning back the clock we need a regenerative approach which transcends a habitual back-to-nature or a technological fix. This requires a new kind of creativity and innovation. The Covid-19 pandemic is a warning shot that we really have to do this and the two habitual ways will no longer do it.
You will learn better ways to co-create the solutions to the challenges we face for sustainability, for transformation and for regeneration and also to speed up the design of new ways of living that are urgently needed.
Whatever your interest in transformation and your speciality back ground this will be relevant to increasing your effectiveness and those with whom you work closely to transcend limitations and release untapped potential.
The basics of these methods, tools and skills accessed through this online course comprising seven 2 hour sessions over a period of six weeks. The sessions are:
1 Seeking the Necessary Synergy
– a whole systems perspective 5th November
2 Identifying the Synergy Opportunities
– the World Mandala 12th November
3 Mastering the Complexity
– Hexagon Clustering and Influence Diagramming 19th November
4 Empowering Regenerative Vision
– the Three Horizons 26th November
5 Engaging Transformative Change
– Creative Dilemma Navigation 3rd December
6 Convening Wise Action
– the Wisdom Wheel Council 10th December
7 Facilitating the Transformative Synergy
– enabling vision guided change 17th December
The course sessions are each made up from the following components:
A live talk by Anthony Hodgson
Exercises in applying concepts and methods facilitated by Anthony Hodgson
Feedback discussion and coaching using the facilities of Zoom Conferencing
Learning assignments between sessions
An asynchronous chat forum for course members with occasional coaching input
Coaching in the use of the H3Uni Resource Library
These three processes are interwoven and evolve partly in response to student learning. The number of participants is limited to 24 so that such interaction is possible and so is different from a usual webinar or course lecture. The interaction includes elements of visual facilitation and continuous visual presence for participation in discussions.
To make this possible we recommend you participate with a large screen with a as high a resolution screen as possible. Course participation by mobile phone may not support the band width for pattern thinking so a computer or large tablet is recommended.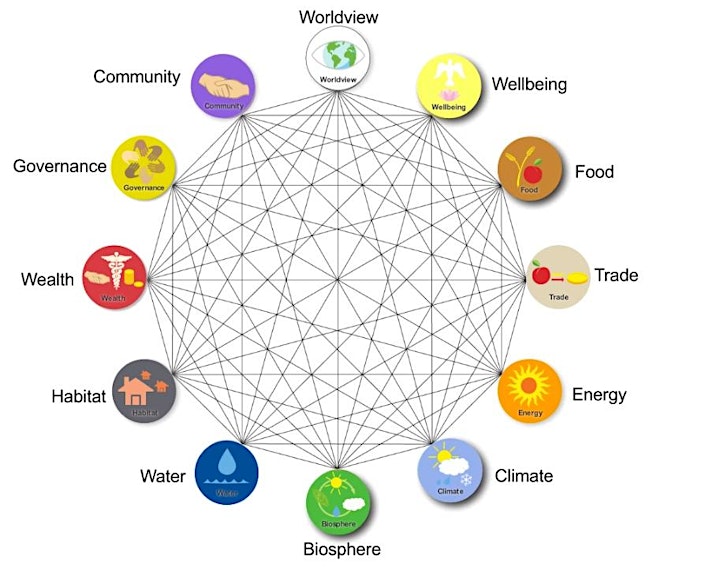 The World Mandala
Finding Synergy in a Chaotic World