Location
Friends Meeting House Manchester
6 Mount Street
Manchester
M2 5NS
United Kingdom
Description
Shindig
ˈʃɪndɪɡ/
noun informal
a) a large, lively party, especially one celebrating something.
b) a new venture by fuchsiablue to gather facilitators and to celebrate our craft
-------
Welcome to the Facilitation Shindig - a gathering space for change practitioners who facilitate team and group conversations to share ideas, experiences and learning.
This is a celebration of the art and the craft of facilitation through discussion, storytelling, experimenting and action.
What is it about?
It's about having time to improve face to face practice for facilitators.
While digital spaces and all they offer are becoming increasingly important…there is something vital and valuable about the time people get to spend with each other in real life in organisations... and this something is hard to replicate in a digital space.
Questions that drive the creation of the Shindig include:
How do we ensure that the teams we work with and facilitate get the most out of the experience of being together in person?
What can practitioners do to enable insight, learning and connection?
What are the things that enable people to talk well, build trust, have lightbulb moments or build good working relationships with each other?
How do we deal with surfacing issues and work through these effectively?
There are many ways to convene and run group conversations – formal process such as Action Learning, Dialogue Groups, Art of Hosting, Theory U, Open Space, Timeline Process, using art/writing/ movement to articulate narratives - This space will be designed to work out what it takes to apply and run these effectively, confidently and with the best possible outcomes for the people we work with.
The Shindig offers an informal way of experimenting with this formal process – bringing real practice into play...and joy... it's also about the joy of doing good work, with people who challenge and support you.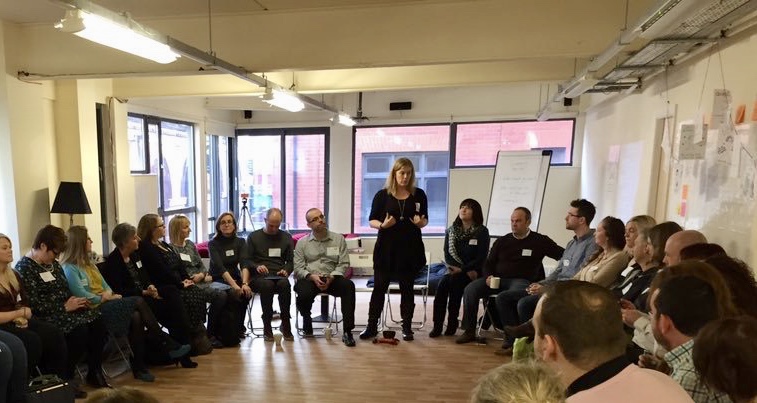 Who is this for?
Forward thinking practitioners who regularly work with (or are beginning to regularly work with) groups/ teams in transition and who are serious about developing their craft.
Practitioners who want to push the edges of their practice, experimenting with techniques and learning from others.
Facilitators who love the art of bringing people together to create difference and who want to support their personal and professional development in a challenging-yet-safe space.
What does it look like?
The first session will include:
Gathering and welcome
Walk-though a facilitation process.
Discussion and experiments.
-----------------
The January Shindig is the first of a series of events, hosted by fuchsiablue, aiming to bring together a limited number of practitioners to build a community of excellent practice.
If you would like to know more, contact Info@fuchsiablue.com