Sales Have Ended
Ticket sales have ended
We kijken ernaar uit om je te verwelkomen op één van onze toekomstige evenementen. Bezoek intussen onze website, en teken ons manifest. Zo help je het taboe rond fouten maken te doorbreken! https://metfalenenopstaan.be/manifest/
Sales Have Ended
Ticket sales have ended
We kijken ernaar uit om je te verwelkomen op één van onze toekomstige evenementen. Bezoek intussen onze website, en teken ons manifest. Zo help je het taboe rond fouten maken te doorbreken! https://metfalenenopstaan.be/manifest/
Description
De Failing Forward conferentie is een plek waar fouten bespreekbaar zijn. Maar ook waar je je kan wapenen tegen vaak voorkomende valkuilen bij het ondernemen.
Eerst kan je zelf aan het werk gaan rond je talenten, rond veerkracht en stressbestendigheid, rond een unieke positionering op de markt, rond de financiële gezondheid van je onderneming, of nog rond de vraag of ze gewapend is tegen de toekomstige trends die op ons afkomen.
Laat je vervolgens inspireren door visionaire ondernemers als Alexander Van Laer en Wim Ballieu, en ex-radio-icoon Eva Daeleman, die getuigen over hun faalmomenten én over hoe deze hen sterker hebben gemaakt.
De nieuwe inzichten, de frisse ideeën en de herwonnen energie die je nadien mee naar huis neemt, zijn goud waard!
De Conferentie brengt naar gewoonte een 150-tal gasten samen voor een dag vol inspiratie, wijsheden en netwerking mogelijkheden.
PROGRAMMA
13:30 – 14:00 Welkom en registratie
14:00 – 16:00 Parallelle Workshops
Katrien Voorspoels - Stressvaardigheid & ondernemerschap: een gouden combinatie
Sylvia Feytons - ProductIK: waar kan JIJ als ondernemer het verschil maken?
Unizo - Future Forward:

hoe zorg je ervoor dat je onderneming futureproof wordt.
16:00 – 16:30 Pauze
16:30 – 18:30 Plenair gedeelte
Keynote Alexander Van Laer
Keynote Eva Daeleman
Keynote Wim Ballieu
Moderator: Suyin Aerts
Asluiting met een panelgesprek met de keynote sprekers
18:30 Netwerkborrel met finger food
Wees er snel bij want het aantal plaatsen is beperkt!
In samenwerking met: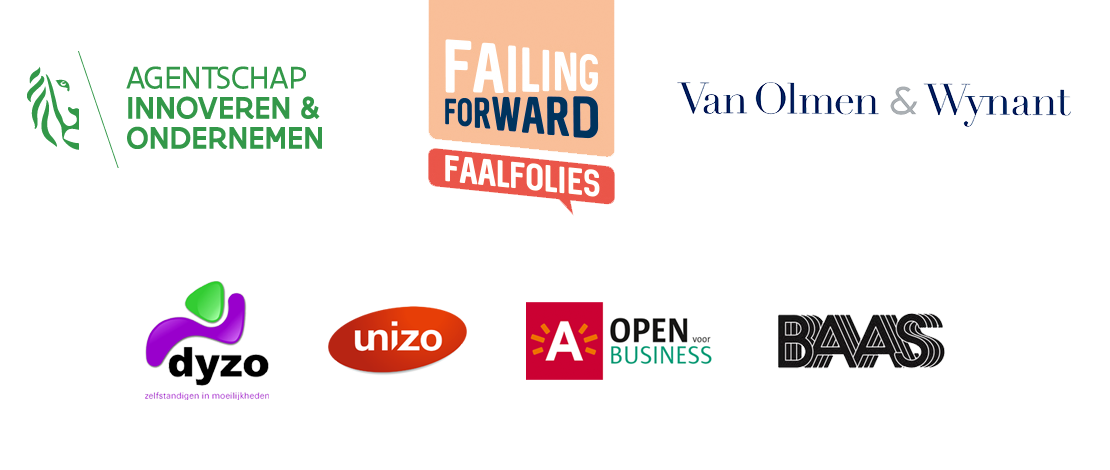 Een initiatief van:
Agentschap Innoveren & Ondernemen: Samen voor sterk, ambitieus ondernemen. Meer starters, meer blijvers en meer groeiers: daar gaan we voor! Agentschap Innoveren & Ondernemen en haar partners willen u daarbij ondersteunen.Failing Forward Faalfolie is slechts één van de vele initiatieven waar u gebruik van kan maken. Ontdek ze allemaal opwww.sterkondernemen.be. #sterkondernemen

.
Startups.be de one-stop shop voor Belgisch tech ondernemerschap, helpt Belgische startups met hun groeiplannen en met het ontdekken van interessante internationale markten. De organisatie treedt op als de stem van de Belgische startup community, verzamelt als expertisecentrum relevante data over het lokale tech ecosysteem, en brengt de verschillende actoren met elkaar in contact via tal van matchmaking events zoals The Big Squeeze (Tech Startup Day) en Antwerp/Charleroi Startup Fair. Startups.be is ook één van de drijvende krachten achter het European Startup Network (ESN), een samenwerkingsverband tussen 16 Europese startup-verenigingen dat focust op internationalisering en wetenschappelijk onderzoek over het Europese startup netwerk.