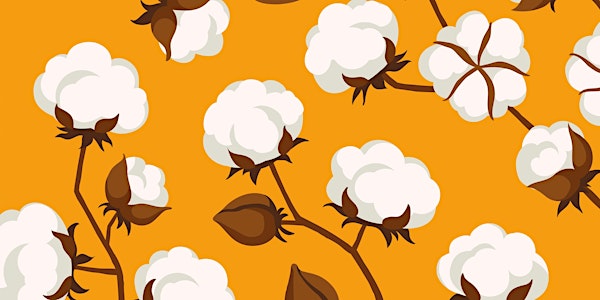 Fair Fashion? A conversation on fashion, race and climate justice
A panel discussion on the impact fashion and the legacy of colonialism has made to our planet and the lives of people who make our clothes
About this event
This event is run by Fair Trade Wales in partnership with Sub Sahara Africa Panel (SSAP) as a flagship event for Fairtrade Fortnight.
Confirmed speakers: Ophelia Dos Santos, Climate Justice Activist and Welsh Textile Designer and Simmone Ahiaku, Climate justice campaigner, activist and educator and Subindu Gharkel, Fairtrade's Senior Cotton and Textiles Lead. Facilitated by Aileen Burmeister, Fair Trade Wales.
The global fashion industry is worth $2.5 trillion and is making a sizeable contribution towards climate change. It accounts for 8-10% of global carbon emissions, and nearly 20% of wastewater. It also has a huge impact on the people that make our clothes, and has been reliant on the exploitation of garment workers since its conception.
Of the 74 million textile workers, including garment workers, worldwide, 80% are women of colour and some may only take home £20 a week. "The economic exploitation that fast fashion is reliant upon is a legacy of colonialism. From the 1500s until the middle of the 20th century, European imperialism was a way to create extractive states and oppress [racialised communities]".
An estimated 350 million people work in the cotton sector, the majority in lower income countries in Central and West Asia and Africa. Fairtrade cotton was launched to put the spotlight on these farmers who are often left invisible, neglected and poor at the end of a long and complex cotton supply chain. Fairtrade has put tools in place to provide these farmers with an alternative route to trade and higher, more stable incomes.
Fairtrade Fortnight runs from Feb 21 - Mar 6 and is a national event that takes place each year to celebrate the producers who make our food, drinks, clothing and more. It's also a chance to raise awareness of the work they do and how we can support them.
Ffasiwn Teg? Sgwrs am ffasiwn, hil a chyfiawnder yr hinsawdd
3 Mawrth 2022, 6:30pm - 7.30pm
Dyma ddigwyddiad a gynhelir gan Fasnach Deg Cymru mewn partneriaeth â Phanel Is-Sahara Affrica (SSAP) fel digwyddiad arloesol ar gyfer y Pythefnos Masnach Deg.
Siaradwyr sydd wedi'u cadarnhau: Ophelia Dos Santos, Actifydd Cyfiawnder yr Hinsawdd aDylunydd Tecstilau Cymreig, Simmone Ahiaku, Ymgyrchydd, Actifydd ac Addysgwr Cyfiawnder yr Hinsawdd a Subindu Gharkel, Uwch-arweinydd Cotwm a Thecstilau MasnachDeg. Hwyluswyd gan Aileen Burmeister, Masnach Deg Cymru.
Mae'r diwydiant ffasiwn byd-eang yn werth $2.5 triliwn ac mae'n cyfrannu'n sylweddol tuag y newid yn yr hinsawdd. Mae'n cyfrif am 8-10% o allyriadau carbon y byd, a bron 20% o ddŵr gwastraff. Mae hefyd yn cael effaith fawr ar y bobl sy'n cynhyrchu ein dillad, ac mae wedibod yn dibynnu ar ecsbloetio gweithwyr dillad ers y cychwyn cyntaf.
O'r 74 miliwn o weithwyr tecstilau, gan gynnwys gweithwyr dillad ym mhedwar ban byd, mae 80% yn fenywod croenliw a gall rhai ennill £20 yr wythnos yn unig. "Mae'r ecsbloetio economaidd y mae ffasiwn cyflym yn dibynnu arno'n dibynnu ar etifeddiaeth gwladychiaeth. O'r 1500au tan ganol yr 20fed ganrif, roedd imperialaeth Ewropeaidd yn ffordd o greu gwladwriaethau echdynnol a gormesu [cymunedau sydd wedi'u radicaleiddio]
Mae oddeutu 350 miliwn o bobl yn gweithio yn y sector cotwm, gyda'r mwyafrif mewn gwledydd incwm isel fel Canol a Gorllewin Asia ac Affrica. Lansiwyd cotwm Masnach Deg i dynnu sylw at y ffermwyr hyn sy'n aml yn anweladwy, wedi'u hesgeuluso ac yn dlawd ar ddiwedd cadwyn cyflenwi cotwm hir a chymhleth. Mae Masnach Deg wedi rhoi offerynnau ar waith i roi llwybr amgen i'r ffermwyr hyn fasnachu gydag incwm uwch, mwy sefydlog.
Cynhelir y Pythefnos Masnach Deg rhwng 21 Chwefror a 6 Mawrth ac mae'n ddigwyddiad cenedlaethol sy'n cael ei gynnal bob blwyddyn i ddathlu'r cynhyrchwyr sy'n cynhyrchu ein bwyd, ein diodydd, ein dillad a mwy. Mae hefyd yn gyfle i godi ymwybyddiaeth o'r gwaith maent yn ei wneud a sut y gallwn ni eu cefnogi.