Fair Trade Brighton and Home Bakes 2021: Virtual Baking Competition
FAIRTRADE HOMEBAKING COMPETITION & FAMILY FAIRTRADE COOK ALONG & SHOW, WITH A CHANCE TO WIN A PRIZE #FAIRTRADEBRIGHTONANDHOMEBAKES
About this Event
ENTER OUR COMPETITION THEN PLEASE JOIN US FOR THE BRIGHTON AND HOME BAKES LIVE EVENT 2021!
BUILDING ON OUR SUCCESSFUL BRIGHTON AND HOVE GREAT FAIR TRADE BAKE OFF EVENT IN 2019 (AT THE COMMUNITY KITCHEN). BRIGHTON AND HOVE FAIR TRADE STEERING GROUP INVITES FAMILIES ACROSS THE CITY AND BEYOND TO ENTER OUR LATEST COOKING COMPETITION TO FIND THE BEST FAIRTRADE HOME BAKER(S)!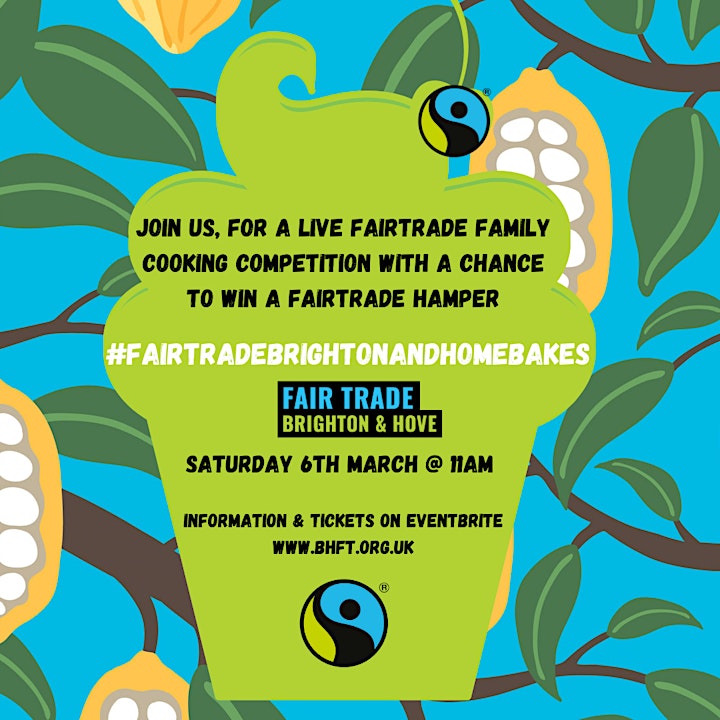 HOW TO ENTER: WIN A HAMPER OF FAIRTRADE PRIZES
1. COOK A RECIPE WITH 3+ FAIRTRADE INGREDIENTS AT HOME (WITH YOUR TEAM).
2. TAKE A PHOTO OF YOUR BAKE AND YOUR HOME BAKER(S).
3. SEND US
A PHOTO
THE RECIPE
AND TELL US WHY YOU THINK FAIR TRADE IS IMPORTANT
4. SEND US YOUR ENTRY BEFORE 5PM ON MARCH 5TH, TO ONE OF THE FOLLOWING:
VIA E-MAIL TO INFO@BHFT.ORG.UK
FACEBOOK @ FTBRIGHTONHOVE
TWITTER @FTBRIGHTON&HOVE
INSTAGRAM @FTBRIGHTONHOVE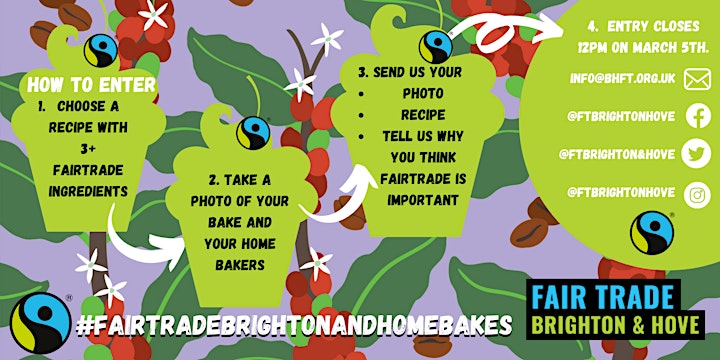 OUR EVENT:
WE ARE HOSTING OUR LIVESTREAM EVENT ON SATURDAY MARCH 6TH AT 11 AM VIA ZOOM.*
FEATURING GUEST JUDGES, BRILLIANT GUESTS, LOCAL BUSINESSES, AND YOU! JOIN US FOR A FAIRTRADE BRUNCH. COOK ALONG AND ENJOY YOUR FAIRTRADE BAKING WHILST WE HOST A QUIZ, INTERVIEWS, TALKS + MORE.
OUR EVENT FEATURES NILUFAR VERJEE FROM THE FAIRTRADE FOUNDATION, ERINCH SAHAN, CEO OF WORLD FAIR TRADE ORGANISATION, PODCASTER AND TV PRODUCER CHRIS HALL, CAROLINE LUCAS, PETER KYLE, AND LLOYD RUSSELL MOYLES (MP'S FOR BRIGHTON AND HOVE)SAM FORTH FROM THE FOURTH AND CHURCH RESTAURANT, ALEX CATCHPOLE FROM ORGANERGY AND MANY MORE...
*THE ZOOM LINK WILL BE SENT OUT FOR THE EVENT TO ALL TICKET HOLDERS THE WEEK BEFORE.
HAVE FUN EVERYONE AND FOR INSPIRATION PLEASE VISIT:
VISIT YOUR LOCAL SUPERMARKETS INCLUDING INFINITY FOODS, THE CO-OPERATIVE AND HISBE FOR FAIRTRADE PRODUCE.
HAVE FUN EVERYONE AND FOR INSPIRATION PLEASE VISIT:
BRIGHTON AND HOVE FAIR TRADE STEERING GROUP | INFO@BHFT.ORG.UK