About this Event
Dear Fairtrade Enthusiast,
We would like to invite you to the 2020 Kirklees Fairtrade Gala hosted by the University of Huddersfield on behalf of the Kirklees Fairtrade Forum. The event is a celebration of all of the fantastic work, events and activities the people of Kirklees do to support the Fairtrade foundation.
Are you new to Fairtrade and want to find out more?
This creative event of interactive activities, presentations and networking will help you learn more about this fantastic cause and what Fairtrade activities take place in Kirklees.
Do you already champion Fairtrade?
Please share us with your stories, photos or videos to us. During the event we will share your contribution as an information stall/display and a celebration presentation. So all participants during the event as a way to promote you and Fairtrade. (Please see detail requirements overleaf).
Event Details:
Wednesday 04 March | Heritage Quay, University of Huddersfield | 17:30 arrive, 18:00 start
Book your place now!
If you require any further information or have any questions, please email sustainability@hud.ac.uk or call 01484 472155.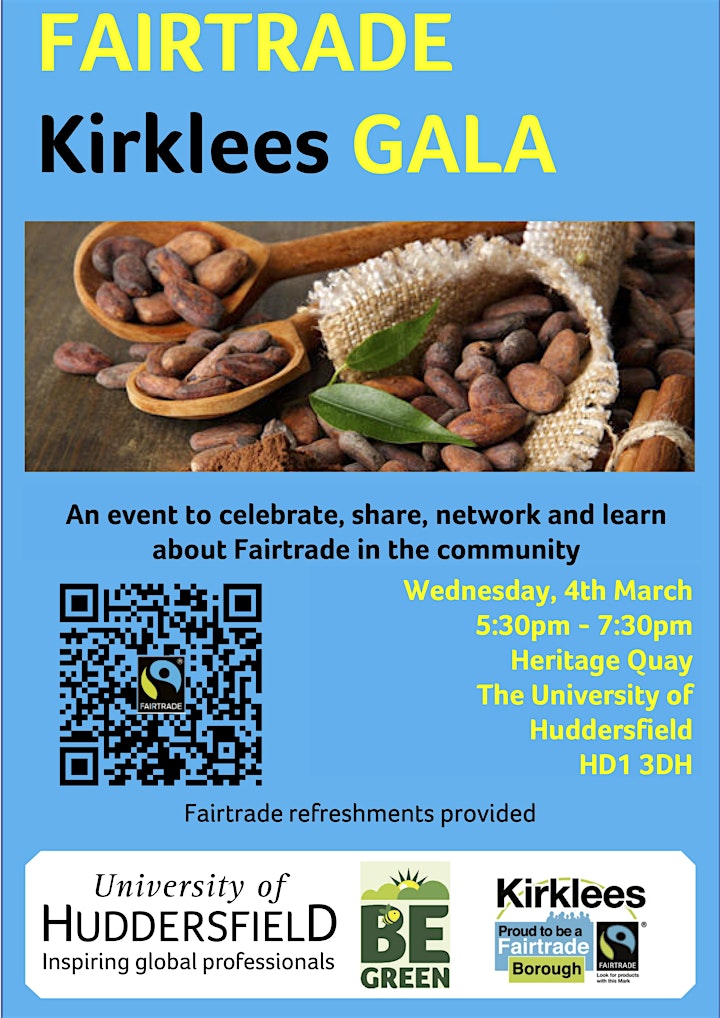 Event Day Schedule
17:30-18:00: Arrivals
18:00-18:30: Networking, Nibbles & Quiz
18:30-19:30:
Exciting opening talk and Q&A session with Adam Gardner, Head of Campaigns at Fairtrade
Presentations celebrating the annual contributions of Kirklees to Fairtrade
Closing talk from Emily Parry-Harries, new Chair of the Kirklees Fairtrade Forum
19:30-20:00: Networking and event closes