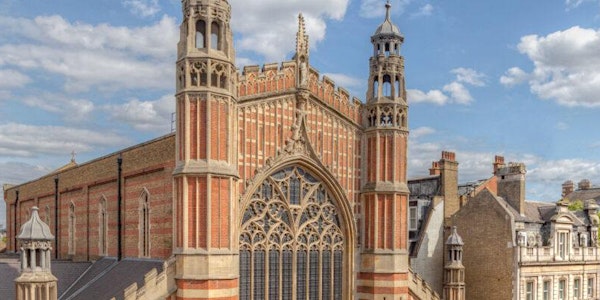 Faith in Nature: a celebration of HRH Prince Philip's environmentalism
Location
Holy Trinity, Sloane Square
146 Sloane Street
London
SW1X 9BZ
United Kingdom
Refund policy
Contact the organiser to request a refund.
Eventbrite's fee is nonrefundable.
Faith in Nature: a celebration of HRH Prince Philip's environmental awareness, practice, and spirituality
About this event
Full information and festival programme at: https://www.holytrinityartsandcrafts.org/
A very special evening with Prince Phillip's faith mentor and close friend and fellow environmentalist Martin Palmer - CEO FaithInvest.
In a world where we search for absolute answers; where the major environmental organisations think that only data will lead us out of ecological purgatory to Paradise; where only that which can be quantified is considered real, the ancient stories, doubts, beliefs and yes even humour of the world's major faiths offer alternative sets of views. Many faiths remind us that we are part of nature, not apart from nature; others remind us that we have a special place between God and Creation which calls for us to not just enjoy but also protect, care for and tend to the needs of nature.
As HRH Prince Philip said when he asked Martin to bring the world's major faiths together with the significant environmental groups in 1986, "If you believe in God then you should care for His Creation – that's obvious I think!"
What does that mean today? Find out through stories, insights, and the practical actions faiths are taking for people and planet.
​
Martin Palmer and HRH The Duke of Edinburgh launched in 1985 one of the most audacious plans to bring the major faiths of the world to work with the key environmental organisations in order to launch the largest Civil Society environmental programme in the world. Today every major religious organisation has environmental programmes and plans from how to invest, through their role in education and to understanding why humour and celebration are central to changing attitudes.
The talk is followed by an interview with Holy Trinity Festival Curator, Gerard Brown followed by Q&A
With Prince Philip whom Martin was Religious Advisor on the Environment right up until HRH Prince Philip's death in April, he founded the Alliance of Religions and Conservation (ARC) and now heads FaithInvest and is the Patron of Faith Plans. A theologian, leading translator of Chinese Classics, broadcaster, author and religious expert, Martin heads the largest coalition of faith environment groups in the world as the faith gear up to launch over a thousand plans designed to save the planet.
In 2020, FaithInvest began a programme asking the faiths to consider how they will manage their assets, investments, influence and resources to drive practical action on climate change, biodiversity and sustainable development over the next seven to ten years.