Description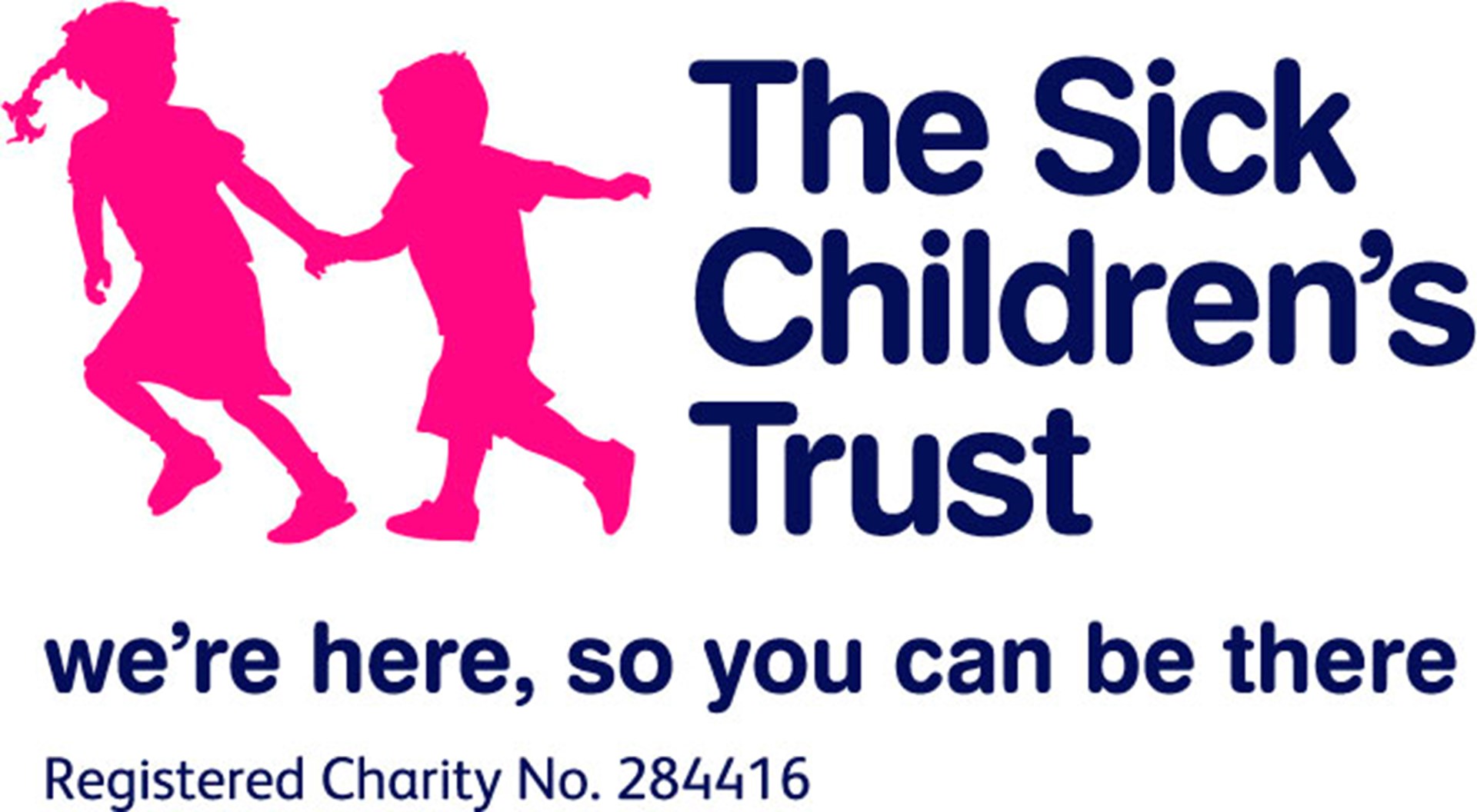 "Our daughter Jodi passed away on March 4, 2010 after a hard fight but through such immense heartbreak you are left with a gift that people rarely talk about. The gift of a heightened awareness as to what it means to be alive. You are relieved of 'sweating the little things', bemoaning life's trivialities, or getting down over stuff that doesn't really matter 'in the grand scheme of things'. A blessing that only comes from such intense loss or a valuable gifted lesson in mindfulness maybe?
At our darkest point, The Sick Children's Trust provided us with the only thing that truly mattered at such a critical point in our daughter's plight – a free 'Home from Home'."




WORLD PREMIERE of DB Morgan's Faith movie!
Friday 20th November 2020 - Firstsite Colchester - 6:30pm
An exclusive black tie event hosted by Frank Jakeman (Game of Thrones: Lord of the Vale) and leading man in DB Morgan's debut feature film, Faith. With special guest speakers including Sam Coleman: Game of Thrones' young Hodor.
MEET AND GREET GAME OF THRONES CAST MEMBERS!
Award for BEST DRESSED COUPLE on the night!
Includes VIP bar access, industry speakers, film screening, red carpet photo arrival. BLACK TIE EVENT! Though entry accepted with smart casual. #filmpremiere #essexfilm #indiefilm #faithmovie.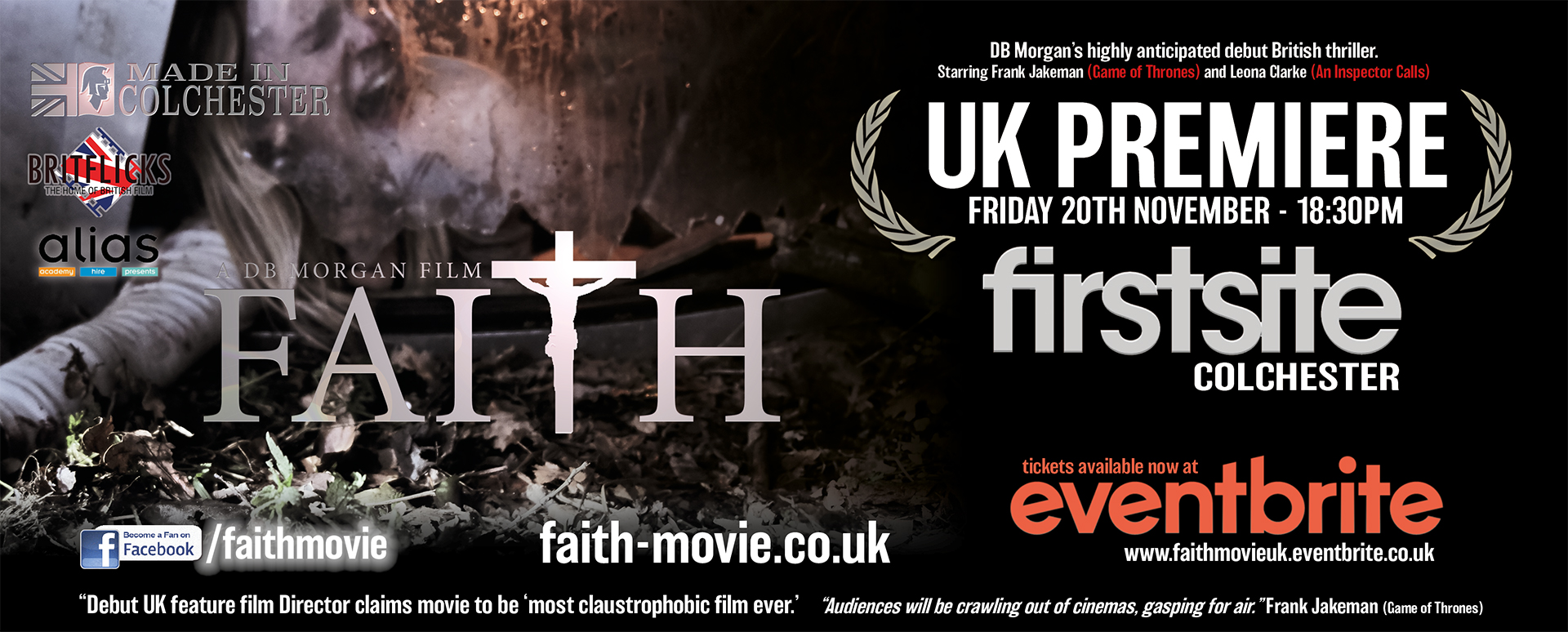 Introducing the #underdogcrew by Faith Movie writer & Director, DB Morgan
"As a mental health survivor, anxiety sufferer and general all-round underdog, DB Morgan is proud to welcome under-represented and minority groups into all his filmmaking exploits. Having trialled his 'youth involvement project' during the shoot of his 2010, MTV competition winning, short film, 'Subject 3' he quickly learned that everybody has something to offer in a creative environment and crew members on the autism/aspergers spectrum especially came away empowered and motivated from their experiences on set.
We recently completed production of Faith, my debut feature film, with a crew made up of almost 70% members on the autism spectrum - or from disadvantaged or challenging family backgrounds and minority groups.
It would be wrong of me to ask my crew to open up on their own personal experiences without offering my own into the mix. Two years of hell at a notorious Essex boarding school led to my younger life being consumed with drug abuse, leading to being an ex drug user and mental health survivor. I have been left with bouts of crippling anxiety that restrict my life in many ways. After losing our 12-year old daughter, Jodi, to aplastic anaemia in 2010 I've also been left with PTSD. I choose to rise above my limitations and slowly face my demons one by one.
I am passionate about growing my 'underdog crew' ethos into a recognised UK movement and allowing all comers to shine under the brilliance of their own light.
​There are many regional projects and community groups who allow under-represented or marginalised groups the opportunity to dabble in creative environments. It's brilliant! BUT... the 'underdog crew' takes them deep into the real-world creative battlefield, with the blood and guts flying and leads them courageously out the other side. With renewed vigour, growth, positivity and focus. Okay, that's a little dramatic. But I am a stortyteller after all, so I hope you won't judge me for it."
​Peace and love. DB Morgan
#allequal




*PRE-EVENT V.I.P CHAMPAGNE AND CANAPE RECEPTION with cast and crew
(TIER 2 V.I.P TICKETS ONLY)




EVENT ITINERARY
RED CARPET ARRIVAL WITH PRESS PHOTOSHOOT and SELFIES WITH THE STARS
​
GAME OF THRONES BEHIND-THE-SCENES TALK with audience Q&A.
An exclusive peek into the behind-the-scenes world of Game of Thrones.
Frank Jakeman, Sam Coleman and special guest (TBC) APPROX 20mns
​
Followed by a brief discussion of the importance of British independent film.
V.I.P industry guests Pat Higgins and Julien Mery (TBC) APPROX 10mns
​
An introduction to Faith Movie
with Director DB Morgan and stars, Frank Jakeman & Leona Clarke APPROX 5mns
​
DB MORGAN'S DEBUT FEATURE FILM, FAITH
APPROX - 95 MINUTES
​
​POST-SCREENING MEET AND GREET WITH CAST, CREW & SPECIAL GUESTS
WE INVITE PHOTOS AND AUTOGRAPHS APPROX 30mns
​
Approx Total event time 2.5 hours.

* 15+ only due to expected BBFC rating
A minimum of 20% of all paid entry tickets goes directly to www.sickchildrenstrust.org; together with 20% from all DVD sales sold during the event .
All proceeds raised from our charity auction also go to www.sickchildrenstrust.org
VENUE ACCESSIBILITY
Firstsite is situated on street level with step-free, level access throughout. A wheelchair is available (on a first come, first served basis). Our cinema has four wheelchair spaces and the front row also has step-free access. Assistance dogs are welcome.Personal Assistants are offered a free ticket for any session when accompanying a person with disabilities.
CONTACT DETAILS
​For all information regarding support and sponsorship opportunities please contact:
​Dominic Beresford-Morgan (07950) 593982