Description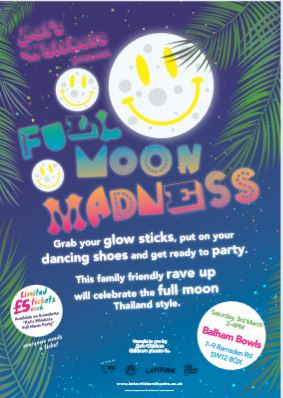 Thailand comes to Wandsworth!
Kat's Whiskers, the people behind five sell-out New Year's Eve family rave ups, are putting on a neon-tastic, day-glow bonkers family rave to celebrate the full moon Thailand style.
You can expect pumping tunes, interactive games, original characters and a healthy dose of silliness.
Still can't picture what the party will be like? Then follow this link to our Facebook page where you can watch us in action: https://www.facebook.com/KatsWhiskersTheatre/
Or check out our website: https://www.katswhiskerstheatre.co.uk/
So what are you waiting for? Grab your glow sticks, paint your face neon and come and boogie in Balham.