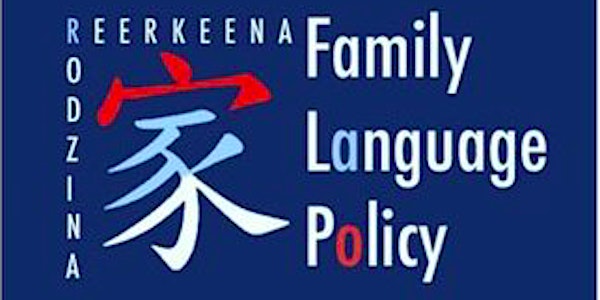 Family language policy: Connecting local, national and transnational perspe...
Location
Rooms 642 and 639, Institute of Education
University College London
20 Bedford Way
London
WC1H 0AL
United Kingdom
Description
Organising Committee: Li Wei, Zhu Hua, and Xiao Lan Curdt-Christiansen
This two-day symposium brings together scholars and researchers working in the field of Family Language Policy (FLP). In recent years FLP has become a major research area where researchers seek to generate new knowledge, employ new methods and develop new theories about the dynamic sociocultural practices of families.
This symposium is organised by the UK-based research project, Family Language Policy, 2017-2019, funded by the ESRC (Economic and Social Research Council, UK) and headed by Prof Xiao Lan Curdt-Christiansen (University of Bath), Prof Li Wei (UCL IoE) and Prof Zhu Hua (Birkbeck, University of London).
The symposium highlights recent research developments in different sociopolitical contexts, different sociocultural communities and regarding different types of linguistic/media practices. It focuses on three major research projects, funded by the national research councils: in the UK https://familylanguagepoli.wixsite.com/familylanguagepolicy; in Finland https://www.jyu.fi/hytk/fi/laitokset/kivi/henkilosto/henkilosto/palviainen-asa/whatsinapp, and in Norway MultiFam: Family language policy in multilingual transcultural families.
The symposium will contribute to discussions on local, national and transnational connections of family language policy research.
Programme
The programme includes three blocks of presentations from three project teams, covering their major findings, with emphasis on emerging themes, innovative methods and interdisciplinary approaches to the study of FLP. It features an additional keynote from Professor Annick De Houwer (Language Acquisition and Multilingualism Director, Harmonious Bilingualism Network (HaBilNet), University of Erfurt, Germany). It concludes with a panel/roundtable discussion.
Day 1: Thursday 5th September
8:30-9:00 Registration and coffee
9:00-9:05 Introduction by Professor Li Wei (UCL IoE)
9:05-9:15 Opening Speech by Professor Xiao Lan Curdt-Christiansen
(University of Bath)
9:15-9:50 Keynote by Prof Annick De Houwer (University of Erfurt, Germany)
Bringing Input Studies and FLP Research Together
9:50-10:00 Coffee break
10:00-12:30 Multilevel investigation of Family Language Policy in the UK
Xiao Lan Curdt-Christiansen, Zhu Hua and Li Wei: The National Survey
Sahra Abdullahi (UCL IoE): The role of literacy in language ideology and practice within the Somali community.
Dr Jing Huang (University of Bath): Reconceptualising heritage: mobility, diversification, and family language management in British Chinese communities.
Dr Kinga Kozminska (Birkbeck, University of London): Changing language ideologies and practices of Polish-speaking migrants in the UK post the BREXIT vote.
12:30-14:00 *Lunch
14:00-16:45 MultiFam: Family language policy in multilingual transcultural families in Norway
Keynote:
Prof Elizabeth Lanza (University of Oslo): Introduction of MultiFam
Dr. Rafael Lomeu Gomes:
Translanguaging families into being: parental language ideologies, use, and negotiation in a Brazilian-Norwegian family in Norway
Dr. Maria Obojska:
Polish adolescents and their families in Norway – multilingualism, stance and language ideologies
Dr. Kristin Vold Lexander:
Transnational family language policy? Doing family in digitally mediated communication
Day 2: Friday 6th September
10:00-12:30 What's in the App? Digitally-mediated communication within contemporary multilingual families across time and space in Finland
Keynote Prof Åsa Palviainen (University of Jyväskylä):
How and why to study what is in the app: Digitally-mediated communication within Polish-, Russian- and Swedish-speaking families in Finland
Prof Lyn Wright:
Russian speakers in Finland: Digital communication, identity, and belonging
Dr Joanna Kędra:
Mapping family constellations and communication practices of Polish transnational families living in Finland
12:30-14:00 Lunch
14:00-16:00 Roundtable and panel discussion: Connections and Future directions
Prof Zhu Hua (Birkbeck), chair
Panelists:
Dr Vally Lytra (Goldsmiths), Xiao Lan Curdt-Christiansen, Elizabeth Lanza, Åsa Palviainen, Li Wei
16:10 Conference conclusion
18:30 Conference dinner*
*Lunch is not provided free of charge, but the conference registration is free. Participants are invited to attend the dinner (expected cost around £20