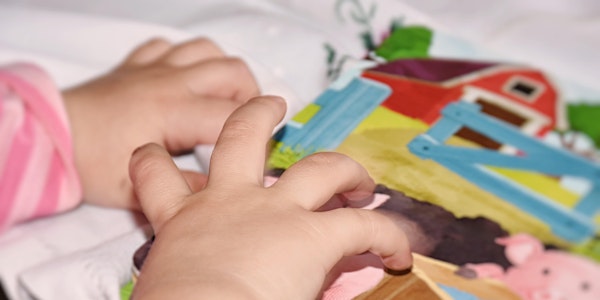 Family Learning - Storybook Fun and Crafts at Glossop Children's Centre
Location
Glossop Children's Centre
Victoria Street
Glossop
SK13 8HZ
United Kingdom
These courses are provided by Derbyshire Adult Community Education Service.
About this event
Booking for all of our Learning for Leisure courses is via our Eventbrite pages. If you are unable to open or make a booking through Eventbrite, you may need to update your internet browser or use a different one (for example, Microsoft Edge or Google Chrome). Read guidance on updating your internet browser.
You can contact your local centre or email adult.education@derbyshire.gov.uk if you are struggling to make a booking through Eventbrite or bookings have closed.
If you are no longer able to attend a course, we may be able to refund the course cost up to 7 days before the course start date. We will retain up to 10% of the payment to cover costs incurred by us.
We reserve the right for refunds to be issued by cheque.
Bring your child to Glossop Children's Centre and enjoy singing, reading and craft making together
Approximate course length:
2 weeks (term time only), 2 hours per session. Friday 1st July - Friday 8th July 10am - 12 noon
This course is for:
Families with pre-school children who would like to sing, dance and engage in creative play together.
You will learn:
• Listen to stories, sing songs and nursery rhymes
• Support your child's language development
• Get crafty and make crafts exploring different materials
• Develop confidence to try new things with your child at home to motivate and engage them to encourage a love of reading
• Read popular children's books with positive stories
• Promote the enjoyment of reading by developing creative craft skills
This is at Glossop Children's Centre it is a face to face course which will provide an opportunity to develop your creative skills in a friendly, supportive environment.
You will be given the support you require for your individual development. Your tutor will give you feedback during the course and you will be able to self-assess.
Work outside of sessions:
Your tutor will give you some ideas/suggestions which you might like to try out at home with your child.
Course fees explained
Some of our courses are free of charge. Others have a full fee and a lower 'concessions' rate for those on certain benefits. This may vary from course to course so please ask when enquiring about a particular course. For many of our learning for leisure courses we use three different fee bands:
Fee A: Full fee
Fee B: Derbyshire Gold cards holders
Fee C: Concessions for those on certain benefits/allowances – details are on our How to fund your learning page.
There may be additional costs on some courses for materials please ask for details.
If selecting one of the reduced rates, you will be asked to show proof of entitlement when attending course.
Booking:
A booking fee is charged by Eventbrite for each booking, this is retained by Eventbrite. Derbyshire Adult Community Education Service receive the course fee.
Before booking onto this course, please read the Derbyshire Adult Education Learner Entitlement
When you book onto the course you need to provide Personal Information. To see the privacy notice issued by the Education and Skills Funding Agency (ESFA), on behalf of the Secretary of State for the Department of Education (DfE), please visit Education and Skills Funding Agency privacy notice: April 2019
What can you expect from DACES?
Safeguarding and Prevent
Whilst on our on-line courses you can expect a safe space, free from abuse, bullying, discrimination or threat. Click on the following link for more information: Safeguarding and Prevent
If you have any concerns/queries regarding safeguarding/prevent please report these to your tutor or email: adult.education@derbyshire.gov.uk
Further information:
For more information and to view our Summer 2022 brochure visit our website
You can also keep up to date with the learning opportunities that we currently have through our Facebook page.
Or sign up for our newsletter Adult Community Education Newsletter
We wish you every success with your course. Please do not hesitate to contact us with any comments or enquiries at adult.education@derbyshire.gov.uk
Careers Support:
Careers Service
At Derbyshire County Council Careers Service, we provide impartial information, advice and guidance on work and learning related matters to help you make informed decisions on learning, training, work and / or volunteering.
By meeting with a qualified Careers Coaches, we can help you make career decisions throughout your life. From your chosen education route, planning a career change at any age or getting the job that is right for you.
For impartial information, advice and guidance on careers and learning visit www.derbyshire.gov.uk/careersservice