Family Matters - Silence Voices (Abuse) SW17
Sat 12 November 2016, 14:00 – 18:00 GMT
Description
Abuse affects all ages, race, sex, class and also faith communities.
How would you support a family or friend, if they disclosed someone close to you abused them?
This event will bring together a range of individuals, professionals and service providers highlighting different types of abuse and how to break the cycle and be heard.  
Additional Service 
Mind, Body and Soul based in Edgeware Road will be offering a pampering session at concession rates for those with low income on the day.  Prices from £10.00 to £30.00 
20 min Deep Tissue 
20 min Swedish Massages
20 min Hot Stone Massage 
40 mins - Swedish Massage & Express La Sultane de Saba Facial 
40 mins - Deep Tissue Massage & Express Facial
40 mins - Hot stone Massage & Express La Sultane de Saba Facial 
Which one would you prefer?  You can find out more about the different type of massages  via Facebook
We will be sending schedule of the day.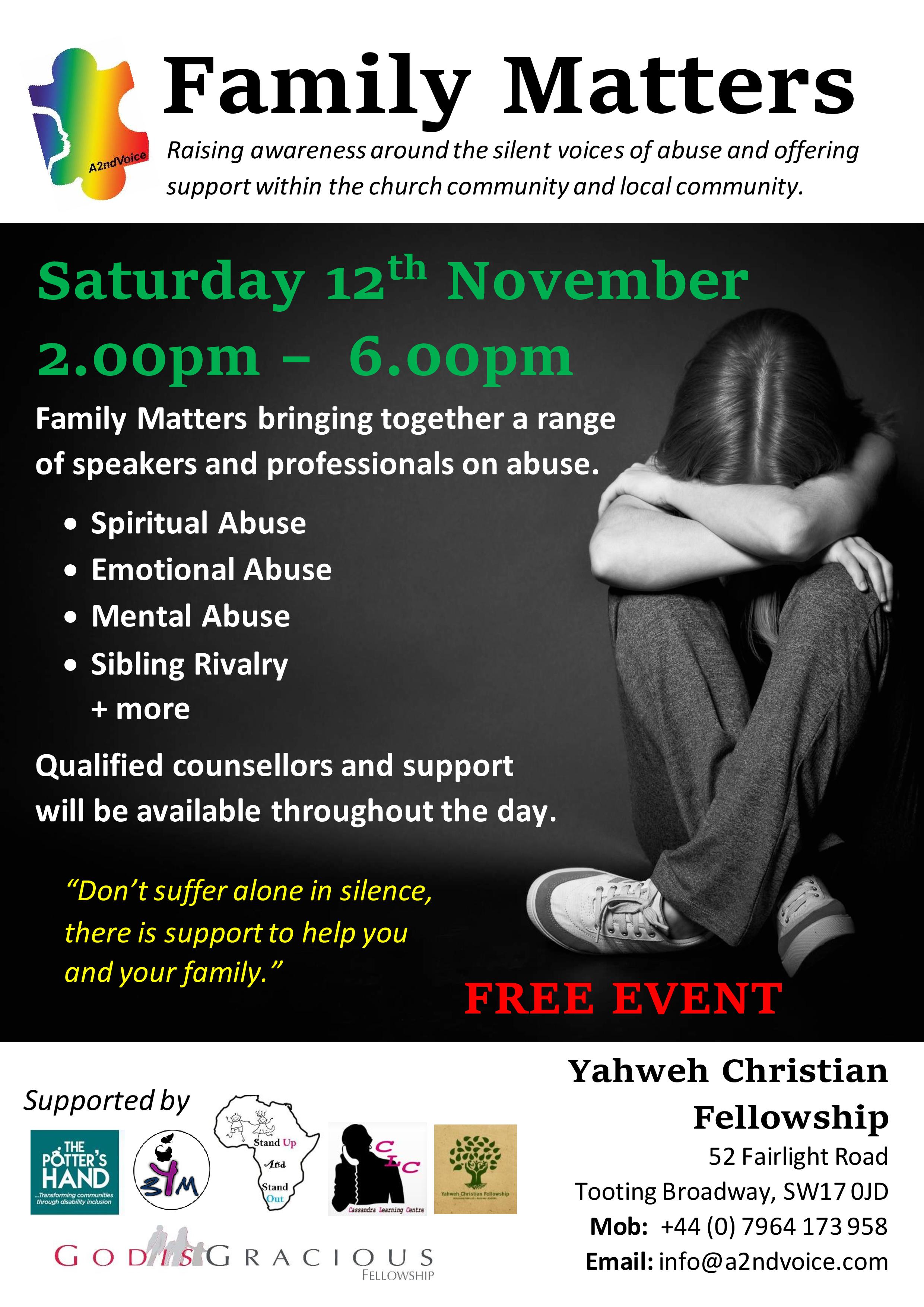 Raising awareness about any kind of abuse and 
violence
 within the church community is a challenge and obviously not on the top of the agenda in hosting Healthy Relationship Ministry Programmes for youths and also for the adults. Many testimonies have been shared, but need to be outreached into the wider communities. 
How would you help, if the following was disclosed to you? 
Discloses they experienced childhood sexual abuse and was a church member or family friend

Teenager girl gets raped or assaulted
Brother X is experiencing domestic 

violence

 or assaulted by Sister X (his wife), what support would you offer?
Your child joins a gang or ends up in prison 
Child or adult demonstrates inappropriate sexualised or challenging behaviour, would you identify a hidden condition/disability?
Sibling rivalry, how do you deal within your family?
There is a urgent need to outreach to the church community and tackle the silent voices of abuse in offering support, drop in sessions and counselling services throughout the year, but with qualified and trained staff within the churches. Not everyone wants counselling, but having a choice and to offer such a service is needed.

Pastor Noel and Sharon Mclean founders of 
Yahweh Christian Fellowship
opened their 
Family Therapy Centre 
 in September 2015 based in Tooting,off Garratt Lane. They have Christian and Non-christian counsellors who are licensed and professionally trained offering counselling services for individuals, couples and families for reasonable fee.
The 
Cassandra Learning Centre
 (CLC) based in Norbury, South West London offer support for young people (male and female) who may have experienced domestic 
violence
 and abuse. CEO Jennifer McDermott's daughter 
Cassandra
 was murdered by her boyfriend in 2001. CLC also offer counselling services, monthly coffee mornings, conferences and events on healthy relationship programs throughout the year.
Heather Ashalley a Psychologist and founder to  Free Your Mind Psychological Services Ltd
 runs a selection of events at her church at United Grace Church in Holloway Road on a range of topics Mental Health and is a counsellor, hosts children entrepreneurevents and also Women empowerment conferences.  
On the day
pampering
sessions, presentations on the different types of abuse and qualified counsellors will be available on the day.
Refreshments will be provided.
Hot food - Donations 
Sign up to our mailing list to find out more about what will take place on the day.
For more information:-
A2ndvoice
Autism Spectrum Condition
M: +44 (0) 7964 173 958
Yahweh Christian Fellowship
Family Therapy Centre
T: +44 (0) 208 682 4527
Cassandra Learning Centre
Offering support, advice and intervention for Teenagers
T: +44 (0) 203 601 7475 or 0845 604 5644
Free Your Mind Psychologist Services Ltd
Counselling Services 
M: +44 (0) 7547 733 976
Stand Up Stand Out
Albinism and Visual Impairment
M: +44 (0) 7454 748 367

The Potters Hand
Special Needs and Disability Ministry Speaker
M: +44 (0) 7960 985 869
God is Gracious Fellowship
New Programs planned in 2017
M: +44 (0) 20 8123 5683
DON'T SUFFER IN SILENT......   Any problems, please feel free to call us!