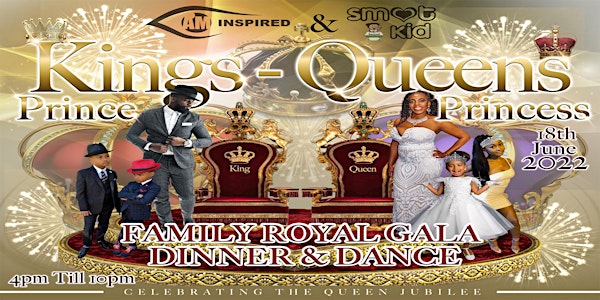 Family Royal Gala, Kings, Queens, Prince's & Princess's Dinner, Danc
Location
Tudor Livesey Sport and Social Club
225 Perry Hill
London
SE6 4HD
United Kingdom
Family & Friends its time to Break Bread together, in a Positive, Loving, Regal, Vibrant Environment.
About this event
'I Am Inspired' & 'Smart Kid' have joined together to bring to you the Kings, Queens, Prince's & Princess's Royal Family Gala Dinner N Dance to celebrate their milestones as family within the community we serve.
The purpose of this event is for the Village & Family to develop and aspire together while eating, dressed in our Royal👑 garments 🥻 regining in our glory!
On the day we welcome💫:
• Artists 💃🏾🕺🏽
• Dancers 👯🏾‍♀️👯🏾‍♂️
• Fashion Show👗👔👘👖
• Inspirational Speakers🗣
• Tantalising 3 course meal 🥙🥘🍨
Then dance it all off, Motown style with a Soul Train, 🕺🏽💃🏾.
This event is for ALL the family👨‍👩‍👧‍👧 so 'No' need for a babysitter, bring the baby👶🏾.  As Luther once said let's ' Dance with our Father/Mother in a positive atmosphere.....
Speakers:
Leticia Simpson - Founder of I Am Inspired, Co Host from L8nighttalkshow
Leon Marshall - Co Founder of the Hidden Science Academy
Marcia Brock - Co-Founder of Smart Kid & Smart World.
Ricardo Elliott - DJ RickStar
Richard  McKitty - Founder of Flat Cap Drinks, Scenic Supplies Plus, Entrepreneur
Richard Simpson - Founder of Cummings up