Practice breathing techniques, yoga poses, and mindfulness with your family.
About this event
Come and join Steph from BeActive who is delivering a 5-week family yoga programme.
The aim of these sessions is to increase family wellbeing through practicing breathing techniques and yoga poses.
The minimum age for children to attend the yoga is 5.
Please book a ticket for adults attending and provide details of how many children and their ages upon registration
1 adult and 2 children maximum per booking
Family yoga will be held in our outdoor space at the rear of Ferndale Hwb. This session is open to families based in RCT - businesses and organisations are not able to access these sessions.
Please contact a member of our community team for further information:
nicola.owen@fernpartnership.co.uk
e.villis@fernpartnership.co.uk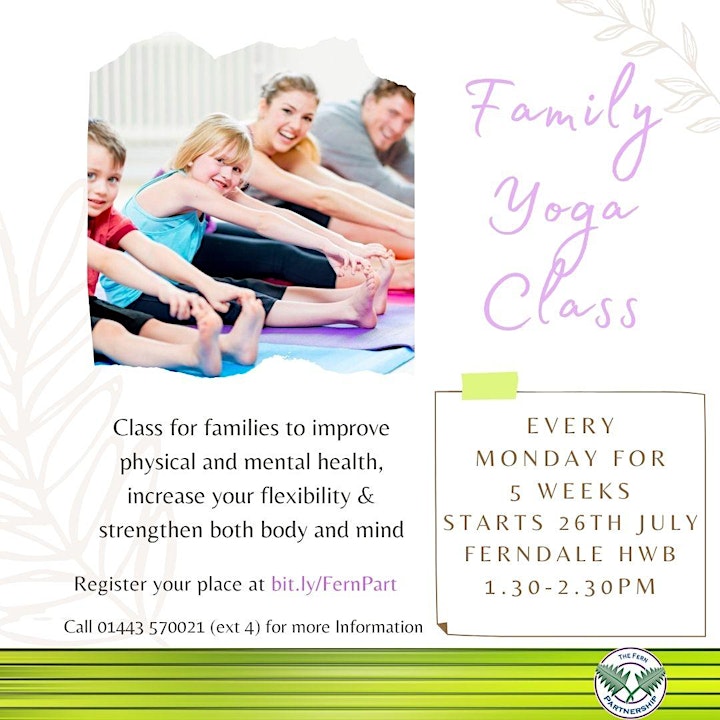 The Fern Partnership is a registered charity based in Rhondda Cynon Taff. The objective and ethos of the trust is to advance the education and opportunities for children, their families and the wider community. Our community Hub settings offer a range of engagement activities and support as well as employment support and work clubs, adult learning, training, IT Support and Library facilities. Are Hub settings based in the Rhondda are open to all ages and offer a range of services based on community need. 
For more information please email info@fernpartnership.co.uk or call 01443 570021 (ext4)