Location
Grand Connaught Rooms
61-65 Great Queen Street
London
WC2B 5DA
United Kingdom
Description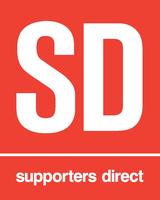 Supported by

---
Football Supporters Federation and Supporters Direct will team up this summer to bring all football supporters together at one big event - The FSF and SD Fans' Weekend (on twitter: #fansweekend).
For full event details, please visit: http://www.supporters-direct.coop/events/item.asp?e=6421
Online registration for the conference has closed but you are still able to register on the day.
FSF AGM/SD AGM
For anyone wishing just to attend the FSF AGM and/or SD AGM, please email Vicki (victoria.goodfellow@supporters-direct.coop).
Supporters Direct Cup, Sunday 8th July, Enfield Town
Tickets for the Supporters Direct Cup can be purchased on the gate at Enfield Town.
Registration for the conference and FSF Football Writers' Awards include VAT and is not refundable.