Description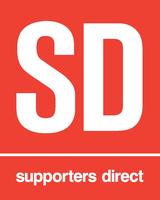 Supported by

---
Football Supporters Federation and Supporters Direct will team up this summer to bring all football supporters together at one big event - The FSF and SD Fans' Weekend (on twitter: #fansweekend).
For full event details, please visit: http://www.supporters-direct.coop/events/item.asp?e=6421
Online registration for the conference has closed but you are still able to register on the day.
FSF AGM/SD AGM
For anyone wishing just to attend the FSF AGM and/or SD AGM, please email Vicki (victoria.goodfellow@supporters-direct.coop).
Supporters Direct Cup, Sunday 8th July, Enfield Town
Tickets for the Supporters Direct Cup can be purchased on the gate at Enfield Town.
Registration for the conference and FSF Football Writers' Awards include VAT and is not refundable.
Organiser of Fans' Weekend 2012
Supporters Direct
Our goal is to promote sustainable spectator sports clubs based on  supporters' involvement and community ownership.
We also promote good governance and a level playing field in which community
owned sports clubs have the best possible chance of achieving success.
Football Supporters' Federation
The Football Supporters' Federation (FSF) is the national supporters' organisation for all football fans, representing more than 500,000 individual fans and members of local supporters' organisations from every club in the professional structure, and many from further down the pyramid.