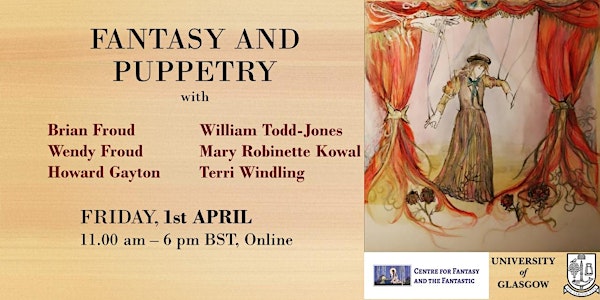 Fantasy and Puppetry: Animating the Fantastic
Join us and our host of amazing artists, writers, puppeteers and academics, for a discussion on puppets, puppetry, and the fantastic!
About this event
The Centre for Fantasy and the Fantastic and the University of Glasgow are happy to announce Fantasy and Puppetry, a star-studded event filled with puppets real and imaginary (although hopefully not haunted) as well as Brian and Wendy Froud, William Todd Jones, Howard Gayton, Mary Robinette Kowal, Terri Windling, and Marita Arvaniti.
From discussions about the creation and use of puppetry to build fantasy worlds on stage and screen, to a roundtabe panel about the use of puppets as fantasy characters and puppetry as part of the magical/supernatural elements of fantasy narratives, this event is no (April Fool's) joke!
Detailed programme and presenters info can be found here.