A farm walk for farmers: Explore benefits and challenges of living mulches in conventional, organic or regenerative agriculture systems.
About this event
Agenda:
10:30 Morning meeting for triallists only (private meeting). This meeting is open to the core group of 6 Innovative Farmers' trialists only. If you are not part of this group, we look forward to welcoming you at 12.30pm.
------------------------------------------------------------------------------
12: 30 Welcome and Introduction Delegates who are not part of the morning session (as above ) arrive for the farm walk where a light complimentary lunch will be provided .Due to current pandemic precautions, we politely request that delegates take their own flask of tea/coffee/water along.
13:10: Introduction to Innovative Farmers
13:15: Overview of the farm and tour of living mulches trial Thank you to James Alexander for hosting this walk.
15:30: Close and depart
--------------------
Thank you also to the farmers involved as well as the following organisations for supporting this field lab:
AHDB
Cotswold Seeds
Organic Arable
Organic Research Centre
To find out more about Innovative Farmers, our live and concluded field labs, and the support available click here.
Places are limited and booking is essential. If you have any questions, please contact Rebecca Swinn on 0117 987 4572 or email rswinn@soilassociation.org.
COVID- 19
Your safety is our utmost priority as we continue to monitor government policies and risk assessments, and we will be updating our policies and plans accordingly. We will share these 1 week prior to the event taking place. Please do contact us in the meantime if you have any queries.
Please do not come to this event l if you are displaying any symptoms or feeling unwell.
Filming and Photography
We will be taking photographs and filming at this event. Please let us know if you would prefer not to be included.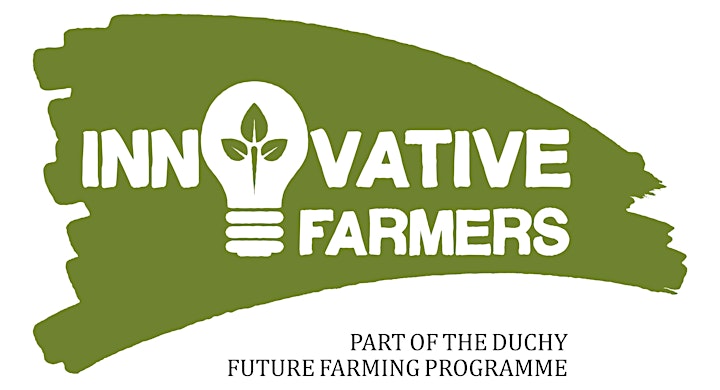 The organiser
Innovative Farmers is a not for profit network giving farmers research support and funding on their own terms. Through trialling, testing and hands-on research, we're helping farmers find lasting solutions to practical problems. The network is part of the Duchy Future Farming Programme, funded by the Prince of Wales's Charitable Fund. Innovative Farmers is backed by a team from LEAF (Linking Environment and Farming), Innovation for Agriculture, the Organic Research Centre and led by the Soil Association, supported by Waitrose. This project is also sponsored by AHDB.
Data protection
Innovative Farmers takes data protection very seriously and will only collect essential data from participants. Personal data will not be shared with any third party organisations without your expressed permission and will only be used in conjunction with this field lab. Under data protection law, we must give you information about the bases we are relying on to process your personal information. Innovative Farmers privacy policy can be found at https://www.innovativefarmers.org/about/privacy-policy-and-terms-and-conditions/
The Soil Association's full privacy policy is available here: https://www.soilassociation.org/privacy-policy/
By booking onto this event you agree to the terms and conditions stated in our privacy policies. You can opt out at any time by contacting info@innovativefarmers.org
Thank you also to the farmers involved as well as the following organisations for supporting this field lab:
• AHDB
Organiser of Farm Walk: No-Till with Living Mulches