Multiple Dates
Farm2Plate Cookery - Cuban Cookery Course
Amazing Cuban cookery experience, using fresh ingredients from local farms. Teaching you from start to finish. The course stars 6:30pm.
About this event
NB* Each session is unique with a different recipe on each time from Cuba through the lens of Chef Alain.
14th June 2021
21st June 2021
Enjoy this Cuban food experience with the incredible chef Alain Hernandez, cooking with fresh ingredients sourced from local farms, teaching you the very best in Cuban cuisine, 'only the way mama cooks it'.
Proceeds from the courses go to paying the chef, paying for quality produce and hiring the kitchen.
https://www.eventbrite.co.uk/e/farm2plate-cookery-cuban-cookery-course-tickets-154471236627
NB * PLEASE NOTE THE COURSE STARTS AT 6:30PM-9PM and all proceeds to towards the local chefs and cost of venue. Thanks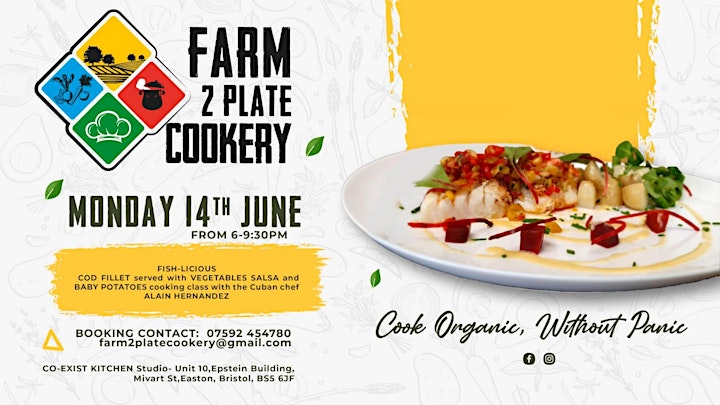 Organiser of Farm2Plate Cookery - Cuban Cookery Course
Our mission is to bring fresh, organic food, to everyone, everywhere, no matter where you live, whatever your social background, so that you can
'cook organic, without the panic'.
Edible Futures is a CSA Market Garden founded on the principles of food sovereignty and located in Bristol. We grow salad, herbs and vegetables over two sites and supply them to our local community through a weekly Salad Drop scheme, as well as direct sales to restaurants and shops.
We are bringing a series of cookery courses to the local community of East Bristol to start with, called 'Farm2Plate Cookery' classes, teaching you how to cook authentic food from various cultures who live throughout the Bristol area. The cookery courses will include chefs from Cuba, India, Somalia, Caribbean, Korea, Sri Lanka to name but a few. The ingredients provided by Edible Futures will be organic and fresh.
Please note: you will be cooking in pairs, buy 2 tickets if you want to come with a bubble buddy or buy 1 ticket and make a new friend when you arrive. For more info, please call
07592454780.
All proceeds go to Chef and venue.
'Let's cook together'