Description

Fashion Africa Conference 2019
On September 9th, Social Enterprise Africa Fashion Guide will host our 9th year annual Fashion Africa Conference and invite you to come along and join us on our anniversary event.

Held in London where the conferences started in 2011, our Fashion Africa Conference for 2019 is titled "Shift Your Supply. Africa. Fashion's Return".

Taking place in London as the prestigious Mayors Office location, City Hall London for the Fashion Africa Conference 2019 you will join many of our expert speakers and panelists sharing up to date information and knowledge on Africa's fashion manufacturing industry and how you can uplevel and shift your company supply to the continent of the moment for fashion production.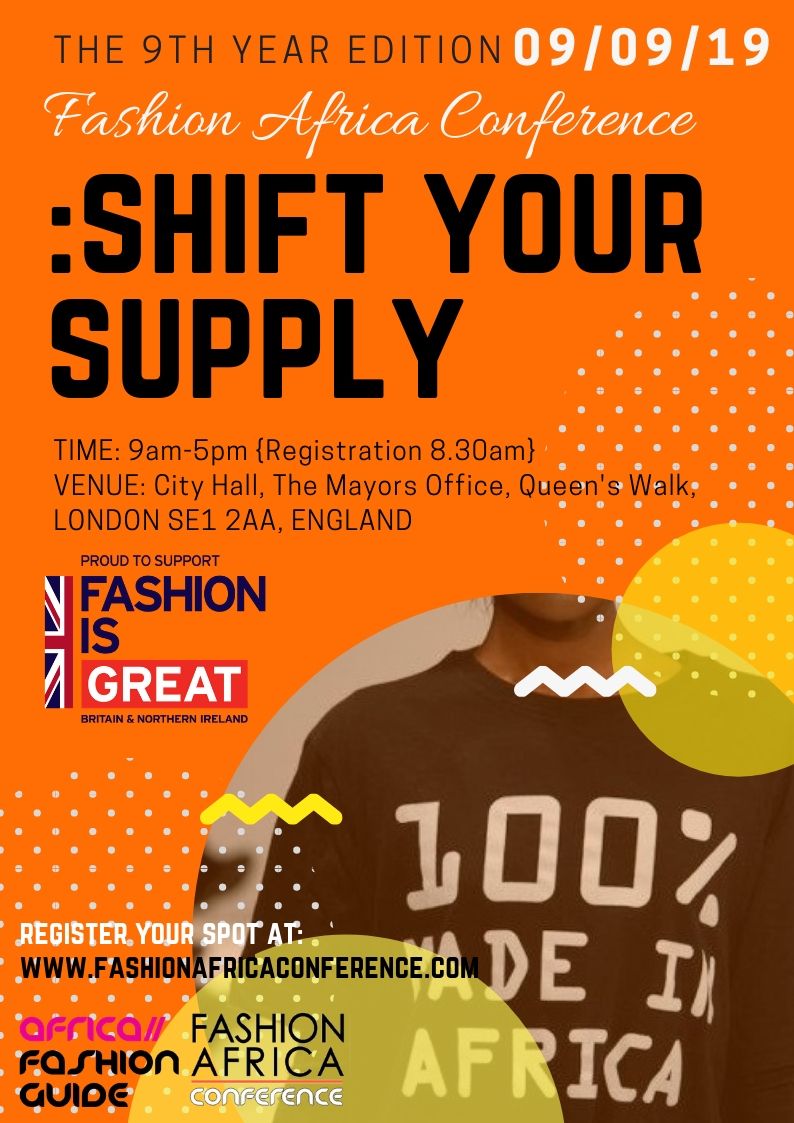 Features of our 2019 anniversary event:
One hall will host our popular panel style conferences which will raise certain questions for audience interaction.

Alongside the panel discussions we will present a concise and decisive selection of top class industry leaders and professionals to share with you their knowledge, experience and expertise on the topic of under the topic of "SHIFT YOUR SUPPLY" covering
Cultural Appropriation and African Fashion Supply - Design and Intellectual Property

Sourcing and African Fashion Supply -

manufacturing, sourcing and delivery - textiles to production

Fashion Made in Africa discussion

Finance for African Fashion Supply - Foreign Direct Investment, Designer Funding

Trade, Policies and African Fashion Supply - AGOA, Brexit and Africa and AfCFTA

SDG, Sustainable fashion and African Fashion Supply -

responsible sourcing, sustainable design, circular fashion, the women in the supply chain

Africa Fashion's Future and African Fashion Supply - A

frican retail

opportinities, Trend Africa forecasting, the African consumer market, ecommerce and the distribution issue
It's the African fashion business event of the year not to be missed!
ALONGSIDE THE CONFERENCE ... for the first time ever will be our LIVE FASHION AFRICA MASTERCLASS happening the day after the conference for those serious business owners seeking to accelerate, grow and scale their fashion made in Africa businesses to the next level.
Delivered by Africa Fashion Guide's own Director - industry expert and much acclaimed Public Speaker, Visiting Lecturer, Director of Fashion Africa Business Academy, theFATE, acclaimed Author and Fashion Design Professional Jacqueline Shaw.

Limited to 25 tickets only - this intimate Live Masterclass business training will take place over a full day on Tuesday 10th September at the prestigious Eco buidling one a kind sustainable buidling in London 'The Crystal'. Trainings will include topics concerning:
How to source your African supplier?

Which countries and where in Africa can you find suppliers for your product

Key strategy you must take to set up and build your Made In Africa brand.

Industry tips to learn how to go from Sourcing to Sampling and production so you are ready for Sales whilst beating overwhelm

Discover secrets steps to: ...Meet your supplier ...Master your sourcing strategy ...Multiply your success ...Maximise your sample strategy
You will leave the training with knowing
--The FOUR easy and practical routes to find your quality African supplier - revealing why the 'gurus' of fashion are dead wrong that fashion cannot be made in Africa. The all important MUST ask KEY questions you can use to vet suppliers for yourself that will also gain you the respect you need from the get go.
--How to STOP or avoid getting ripped off by crafting and building successful, HONEST, long-term relationships with vetted, experienced, professional quality suppliers on the ground in Africa. Even if you have never visited the continent!
--The importance of working with suppliers with ETHICAL conditions and high working STANDARDS allowing you to build a responsible fashion brand made in Africa.
--The secrets to understand how to know if the suppliers you are working with are actually RIGHT FOR YOU and right for your unique product.
PLUS, a ton of practical advice and guidance so you can go from feeling stressed out, frustrated and overwhelmed, to being an organised and over-achieving business owner getting awesome results fulfilling your African dream!


So you have the opportunity not only to join our Fashion Africa Conference this September in the prestigious City Hall, and to listen to the best industry leaders in African fashion in London, together in one place; but you can take that next step in your business by investing in the two day event that includes the Masterclass hosted at the world acclaimed eco building the Crystal. If you are a serious fashion business owner shifting your supply, sourcing and production to Africa than you absolutely cannot miss this event! REGISTER TODAY!
In the meantime follow the link to our website www.fashionafricaconference.com for more information and view our 2014/15/16 / 17 videos at www.vimeo.com/AfricaFashionGuide


The

2019 Fashion Africa conference

will act as a vehicle to create a social forum for all those attending to talk openly and share ideas, information and expertise, to raise awareness and elevate the perception of design from the continent. It acts as a means to discuss and promote the full supply chain of African Fashion Design, Textiles, and Manufacturing and thus communicate this to a larger, global audience through media.

This event is a must attend event where there will be a mix of press, brands and industry influencers and insiders with a mutual involvement and/or vested interest in elevating African trade, design and production, and who want to be part of the wider solution to raise Africa as a trailblazer in quality design and production.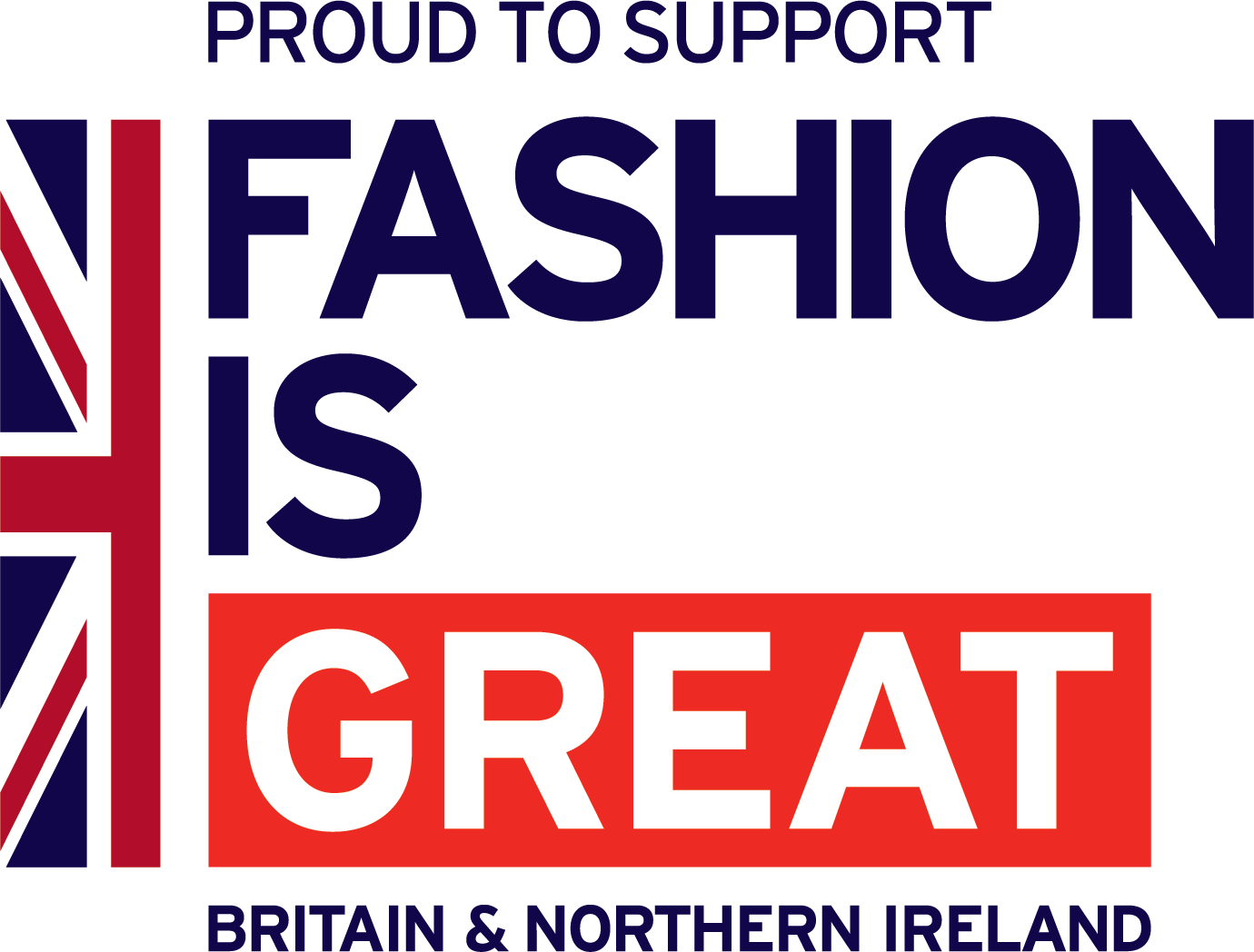 ---


To attend this event make sure you sign up quickly as space is limited!

DATE: Monday 9th September 2019

TIME: 9.00am – 5.00pm (doors open 8.30am for registration)

VENUE: City Hall, London UK

DATE: Tuesday 10th September 2019

TIME: 9.00am – 5.00pm (doors open 8.30am for registration)

VENUE: The Crystal, London UK
BOOK FAST as places are strictly limited!

Register at: Eventbrite

Please note: Seating is only available with ticketed entry, please register your space early to avoid disappointment.

---
Further details to follow!

Do follow our networks below where we will keep you updated and to stay up to date with our latest news, activities and resources, or

get in touch

to discuss our business consultancy, services and our Fashion Africa Business (F.A.B.) trainings which are tailored for your company.
FOR MORE INFORMATION
Contact us via email at: events@africafashionguide.com
See more information on the website: www.fashionafricaconference.com
See post event highlight videos at www.vimeo.com/africafashionguide
Read our blog at: www.africafashionguide.com
Follow us at: instagram/africafashionguide
Tweet us at @AfricaFashGuide
FAQs
How much are the tickets? Are any tickets free?
TICKETS ARE NOT FREE
PRICE: ONE DAY CONFERENCE ENTRANCE = £49 EARLY BOOKING FEE (full price £97 from May 31st!)
PRICE: ONE DAY MASTERCLASS ENTRANCE = £197
PRICE: TWO DAY CONFERENCE AND MASTERCLASS ENTRANCE = £247
How do I register for the event?
You must select either EARLYBIRD/STANDARD TICKET for entry to the conference AND/OR masterclass
Are there ID requirements or an age limit to enter the event?
Students are required to bring Student ID on the day to confirm entry
Where can I contact the organiser with any questions?
events@africafashionguide.com
Do I have to bring my printed ticket to the event?
Yes or show on phone
Disclaimer
Photography and Videography will be taken at the event. By taking part you will be featured in publicity and promotional materials ongoing.