Description
Step inside Bloomsbury Publishing as we celebrate London Fashion Week with a stylish and informative event dedicated to uncovering the skills every designer, professional or amateur, must have to succeed and thrive in the fashion industry today.
Our expert panel of Aisling McKeefry and RIXO London's Orlagh McCloskey and Henrietta Rix, and chaired by Barbara Brownie, will breakdown the biggest myths, share practical advice and tell all about what they've learned about success and failure. There will be plenty of time for Q&A so do come along to ask them anything you like about fashion design and working your way up!
Date: Wednesday, Februrary 21st
Timing: 6:30pm to 8pm (doors and drinks reception from 6pm)
Venue: Bloomsbury Publishing, 50 Bedford Square, WC1B 3DP
Nearest station: Tottenham Court Road
Tickets: £15 for adults / £10 students and concessions.

If you would like to bring a group of five or more together, please email institute@bloomsbury.com for a significant discount on your tickets.
Buy a copy of 200 Skills Every Fashion Designer Must Have (for only £10, saving £6!) with your event ticket and we'll keep it safe for you to collect on the night.
This event is hosted by Bloomsbury Institute, a divison of Bloomsbury Publishing. Please read our Event Terms and Conditions carefully as by buying a ticket to this event, you confirm that you accept these terms and condition and that you agree to comply with them, alongside the Eventbrite terms and conditions.
***
Aisling McKeefry
Head of Design at ASOS.com, where she oversees the design of all ASOS branded footwear, bags, accessories, and jewellery. With more than a decade of fashion design experience, she has collaborated with such notable designers as Matthew Williamson, Julian McDonald, Jasper Conran, Henry Holland, and Ben de Lisi. She is the author of 200 Skills Every Fashion Designer Must Have published by Bloomsbury. Follow her @aislingmckeefry on Twitter and Instagram.
Orlagh McCloskey & Henrietta Rix
Founders and Directors, RIXO London
Combining the young Creative Directors' own names, contemporary womenswear label RIXO was founded in 2015 by London College of Fashion alumni Henrietta Rix and Orlagh McClosky. The 20-something-year-olds' love for all things vintage led to the best kind of friendship and ultimately, the birth of RIXO. Now stocked on Net-a-Porter — as well as many boutiques around the world — RIXO is shooting for the stars and has no plans of falling short. With 68,000 followers on Instagram, RIXO certainly know how to earn attention! Follow @rixolondon
"RIXO London is the brainchild of best friends Henrietta Rix and Orlagh McCloskey, who share a passion for vintage clothes and a fearless approach to style. Reworking '70s British designs with a refined, modern edge, the collections are comprised of high-quality fabrics and original hand-painted prints. The label's grown-up bohemian aesthetic transcends the fashion cycle.
Keep a look out for our exclusive capsule of six styles featuring mystical celestial prints and embroidery, along with vintage-inspired dresses." - Net-A-Porter
****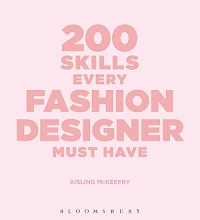 200 Skills Every Fashion Designer Must Have By Aisling McKeefry
Fashion is all about experimenting with styles, pushing the boundaries, and setting new trends.
Despite changing seasons and tastes, the staple skills necessary for a fashion designer stay the same. 200 Skills Every Fashion Designer Must Have offers a practical overview of the core concepts and techniques required. Fashion students, bloggers, and aspiring professionals alike will discover what it takes to bring their ideas to life, establish their brand, and evolve from being a good designer into a great one.
***
Main photo by Artificial Photography on Unsplash